Every bride spends months planning the perfect wedding, and if tradition is on your list of most important things, then you surely have chokers and jhumka's from your mother and grandmother's closets all picked out and ready. Even so, that is scarcely enough to have you glistening on your big day, and when its times to shop you have to know where to go.
Why Jaipur?
Jaipur creates an ambience for the soul with its intricacy seen in both architecture and arts. A one-stop city and an embodiment of tradition and royalty, the perfect for the new age bride to get in touch with her roots and at the same time quirkily combine with tradition her own style – becoming a trendsetter.
Ready to dive headfirst into the first phase of your wedding shopping spree? It's time to sift through zari, kinari, zardozi, silver jewellery, gems, kundan and meenakari.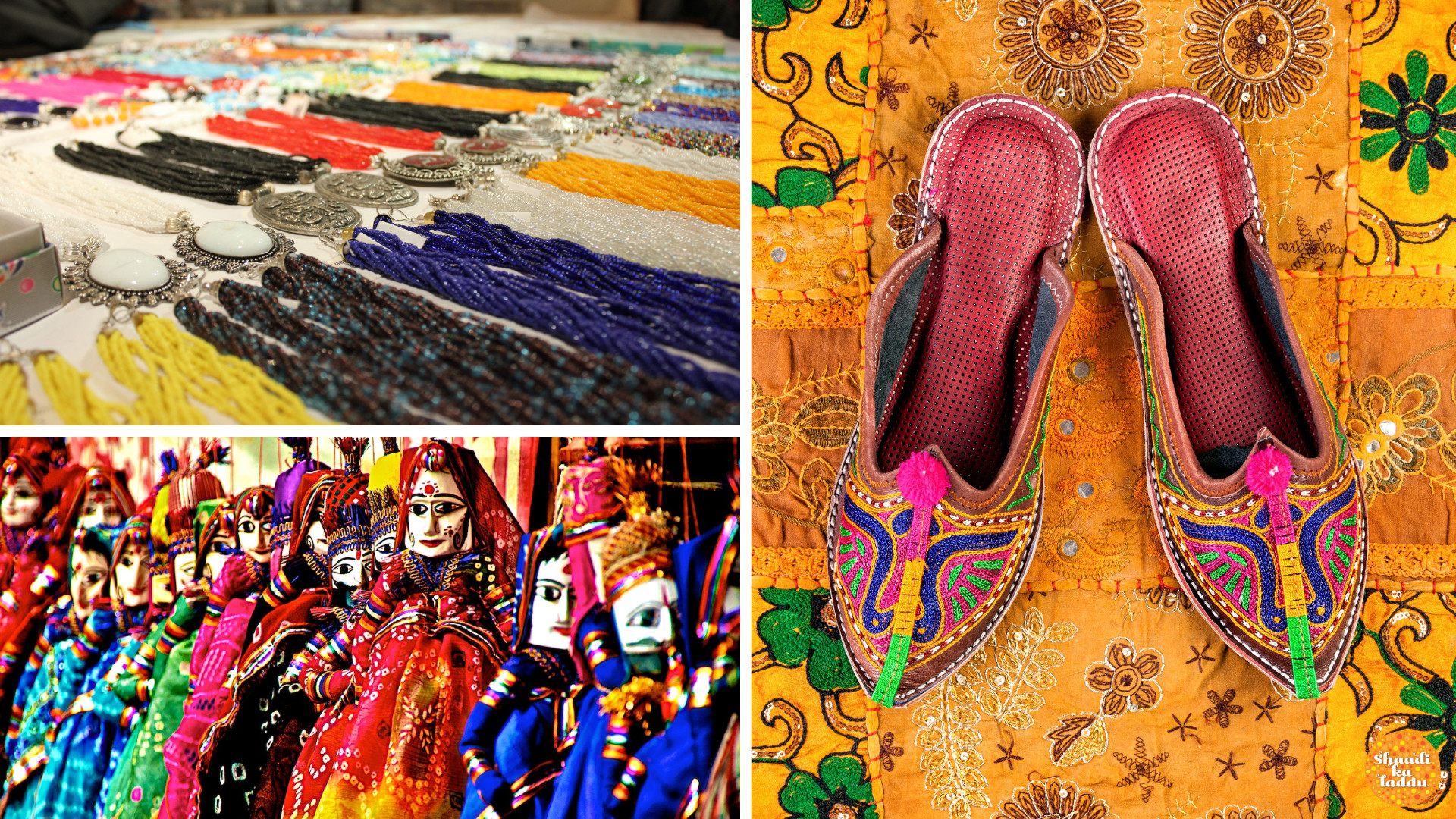 The Bazaars
The 'bazaars' are the hotspots for the most authentic jewellery shops in the city. Johari Bazaar, Haldion ka Rasta, Gopalji ka Rasta, M.I. Road, Maniharon Ka Rasta, Tripolia Bazar and Surajpol Bazaar are held in highest regard. The skilled artisans make exclusive designs and motifs, designer jewellery to match your unique style which can be customized to fit your needs. The ultimate blend of historical exuberance with its boulevards and bylanes and havelis, its majestic and royal past will make you feel not less than a princess!
Shops to look out for
The Gem Palace
The chaotic MI road houses India's oldest jewellery store the Gem Palace founded in 1852 in a haveli by the Kasliwal family now being run by their ninth generation. Everything from 18 karat gold contemporary designs to Mughal-Rajasthani pieces for the traditional seekers, their products are not limited to fashion for the bride! Intricately crafted gem studded cuffs, walking sticks with bejeweled handles and tuxedo and sherwani buttons make lovely gifts for your bridegroom as well.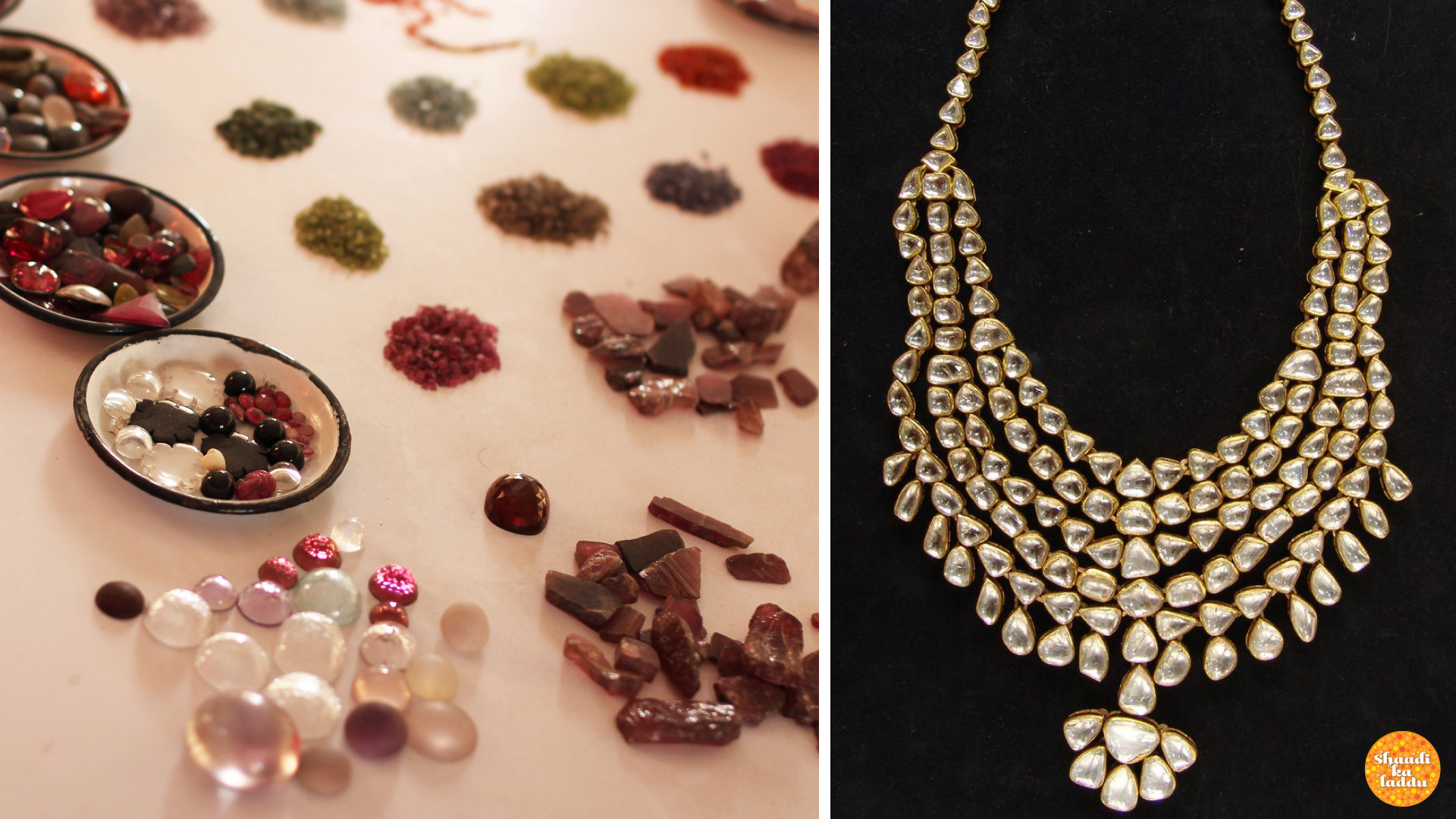 Amrapali
Taking a route similar to that of the Gem Palace, Amrapali's original store in Jaipur is stocked with some of the most exquisite jewellery designs in both precious and semi-precious metals and stones. Most often erring on the side of the traditional, the store is a must for all brides during their shopping escapade.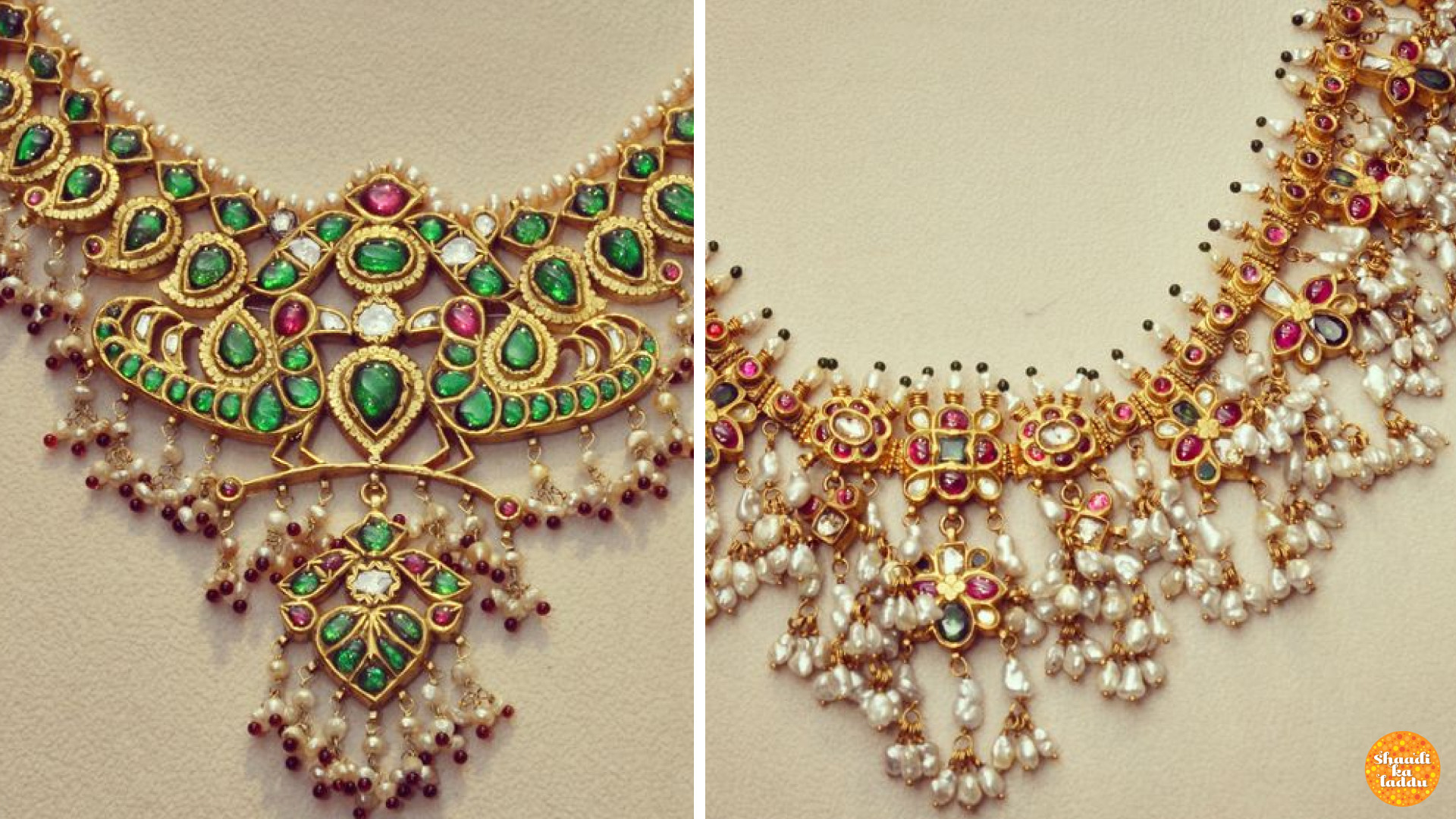 Bhuramal Rajmal Surana Johuree
Known yet again for their consistent craftsmanship and involvement with the Royal family seven generations ago, Surana Johuree brings to the table specialized pieces in Kundan, diamond work, and even Victorian styles.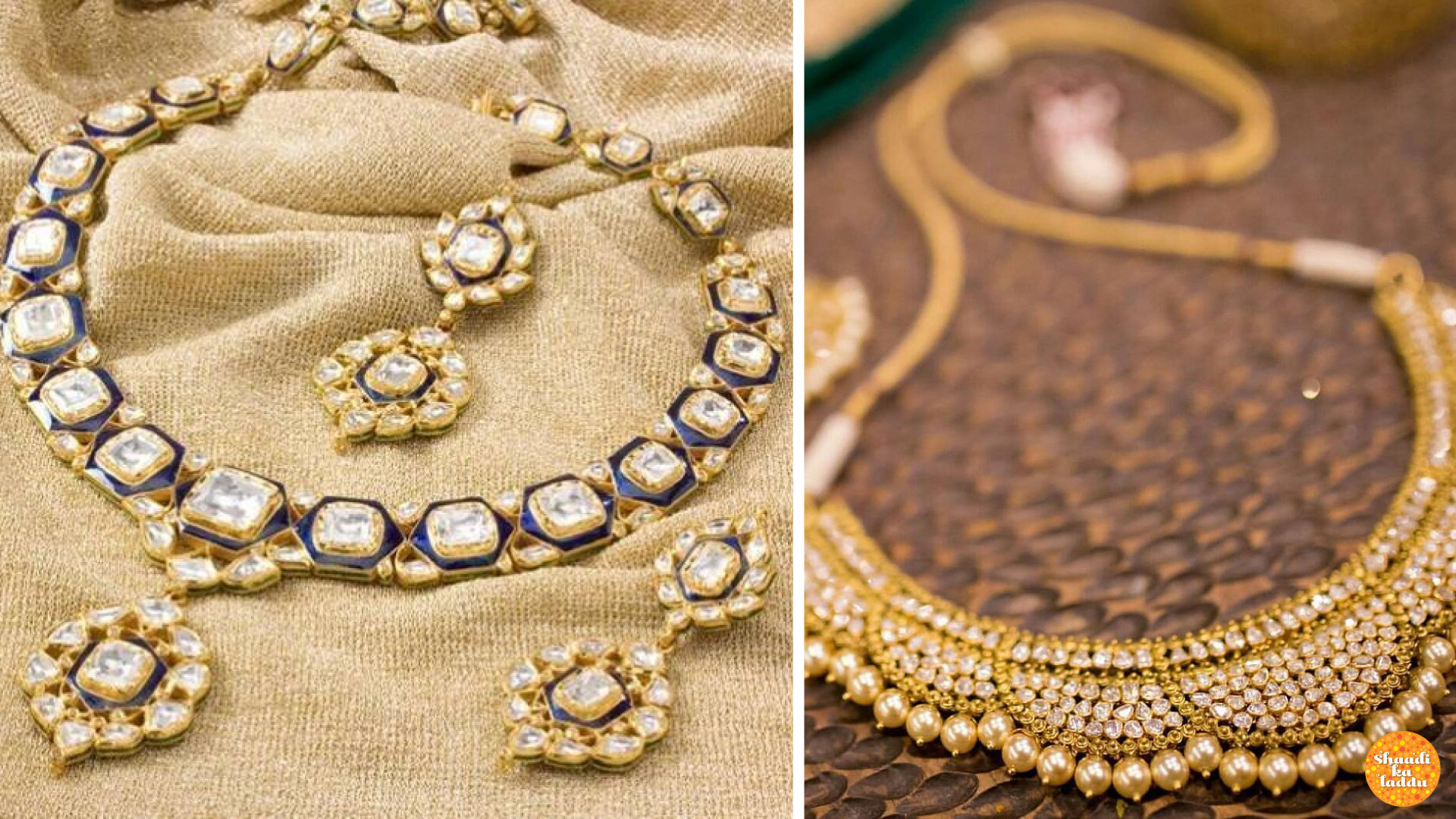 Independent Designers
Designs by independent designers such as Astha Jagwani and Sunita Shekhawat are also an area you should try and explore, as well as the line of meenakari inspired stunners by Anita Dongre – especially if you're looking for jewellery that is more out of the box. It's your wedding day and you're the center of attention! Don't hesitate to adorn a pair of statement golden chandeliers or vintage danglers if the dress calls for it, or an elegant choker of pearls and gold filigree to offset the sangeet ensemble. It's important to keep it classy and but you don't necessarily have to be entirely modest either.
Astha J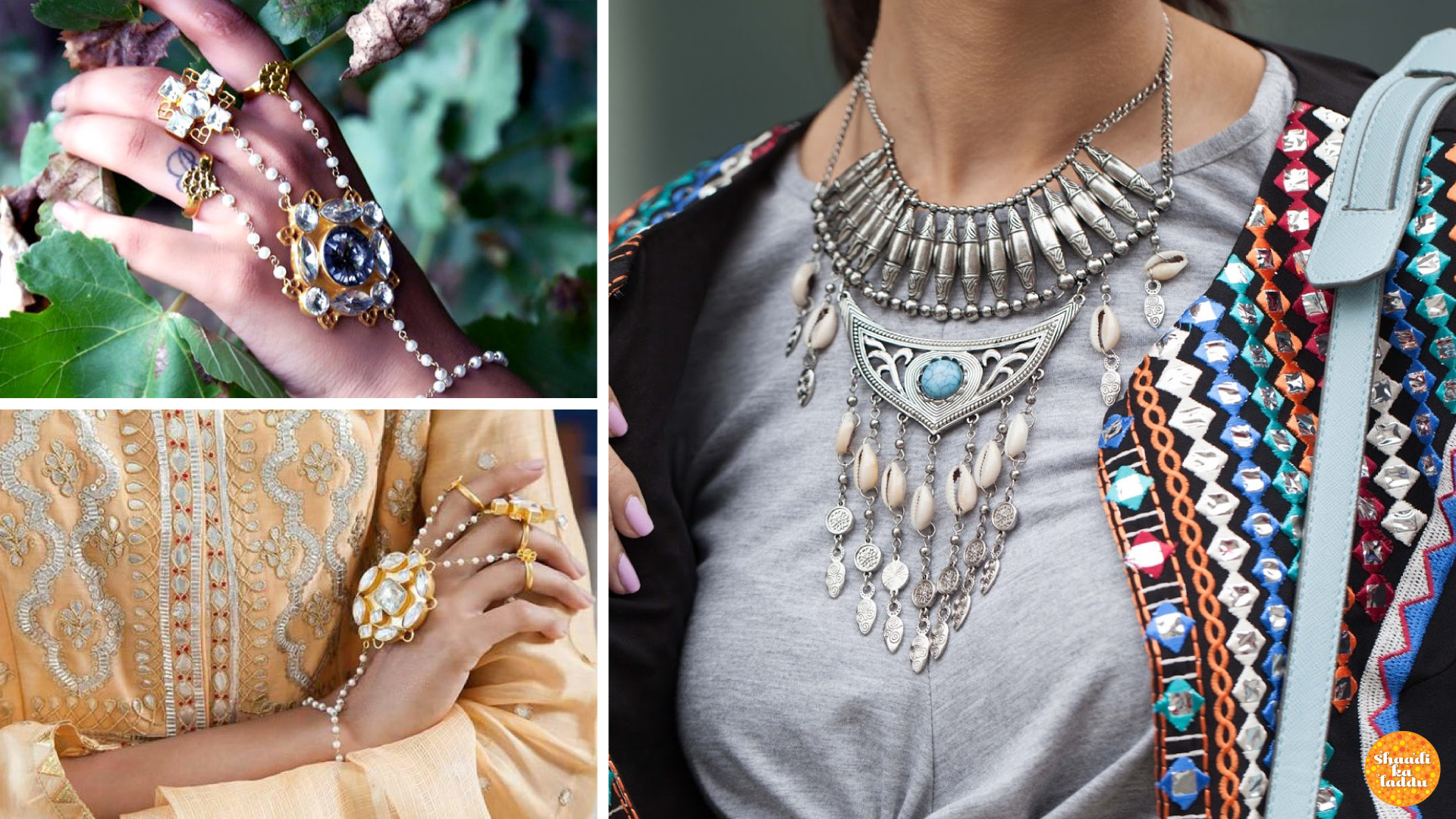 Sunita S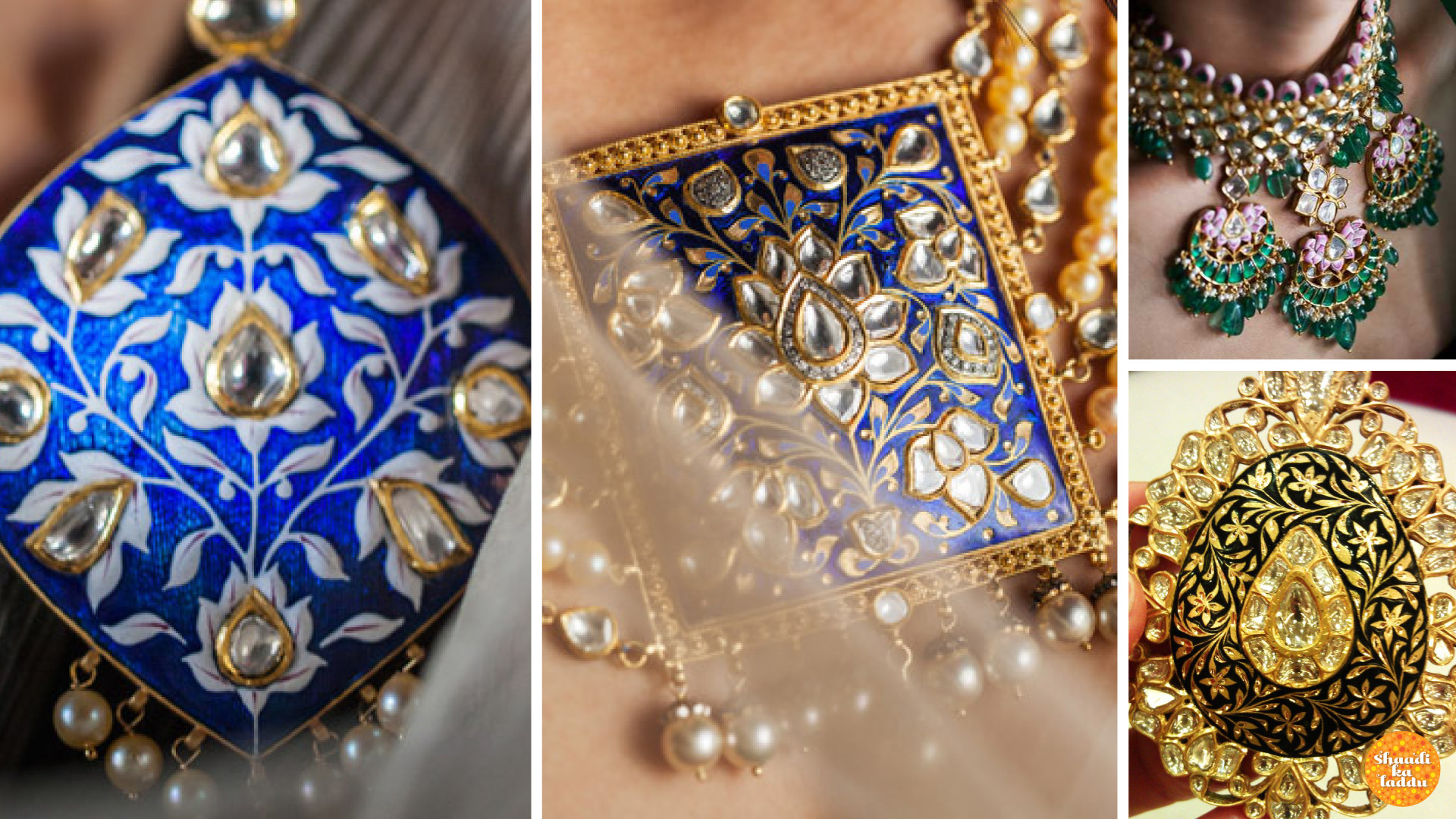 Anita D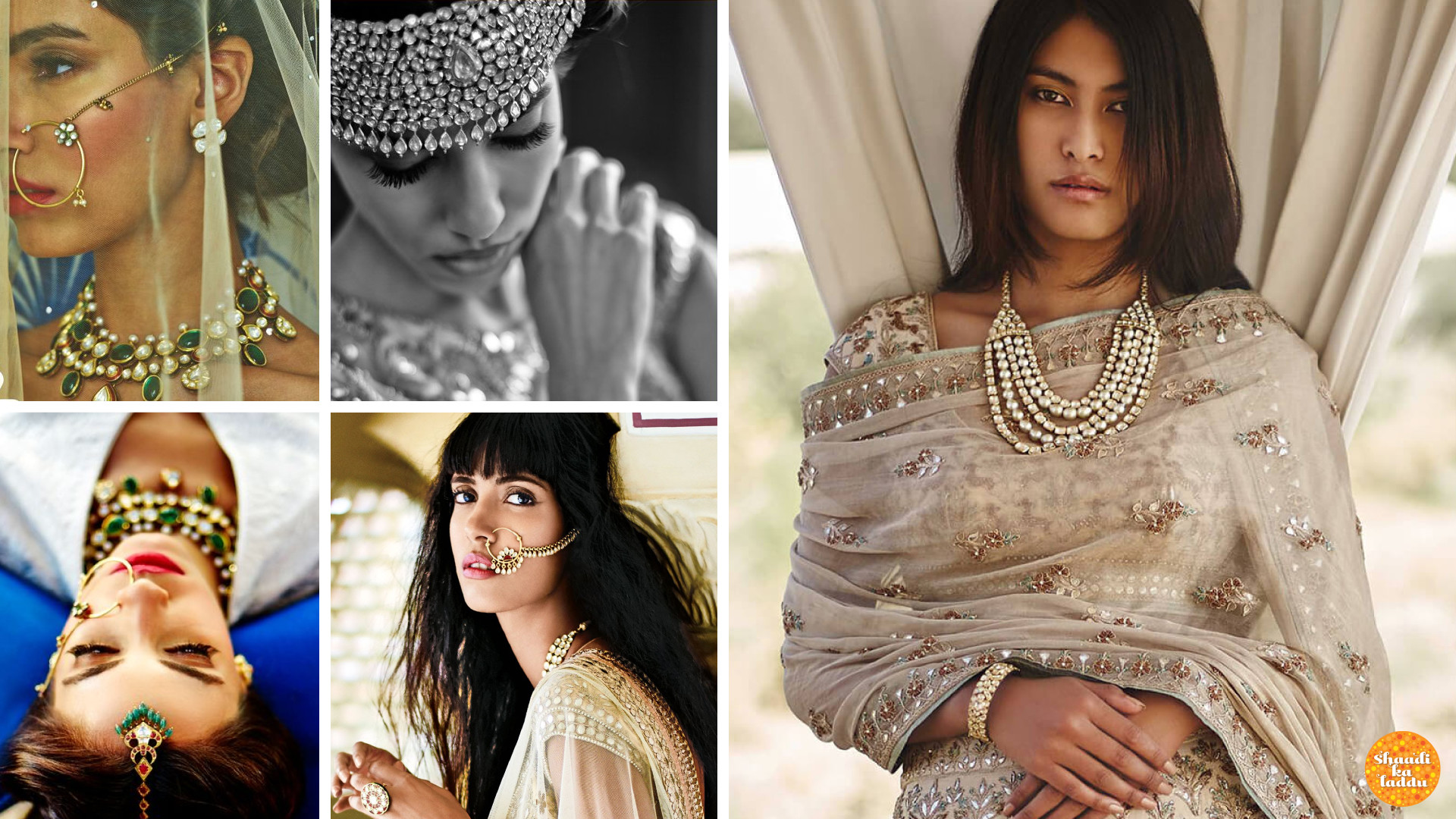 The Jaipur Specials
The distinct types of jewellery found in Jaipur are, Thewa, Kundan and Meenakari. Though many stores and designers choose to mix and match the styles, you have to know each to truly revel in their beauty!
Thewa Jewellery
Reigning back to the Mughal age, Thewa involves a unique making process wherein intricately worked-on sheet gold is embossed in the molten glass. Events from the Rajasthani tradition are also depicted.
(Note: The bride can personalize the jewellery with a depiction of the bride-groom story – a gorgeous way to immortalize your love.)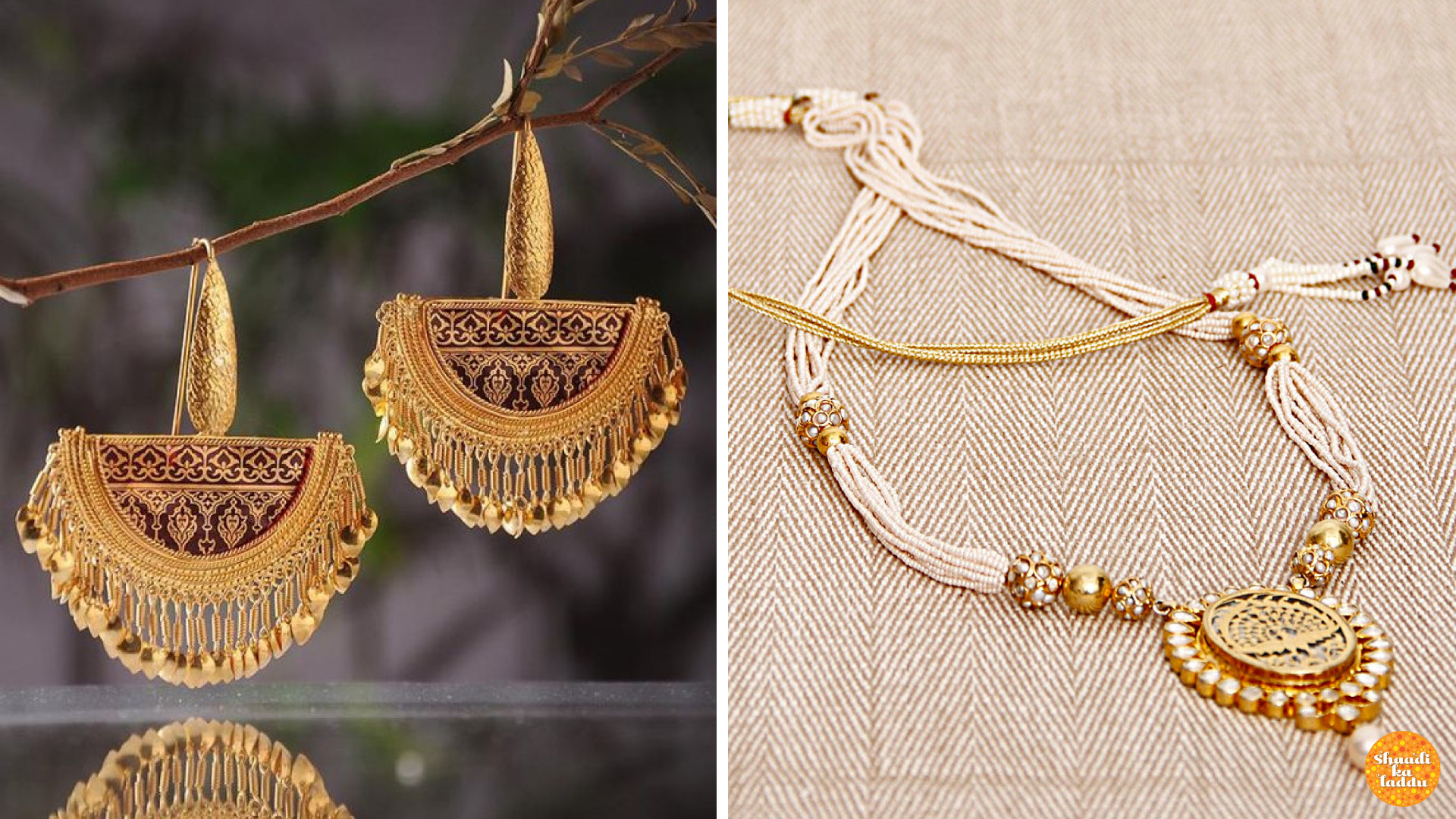 Kundan Jewellery
Central to weddings this type of jewellery is created by placing polished gemstones in varied colours set against a gold or silver base. A style that embodies the love for colour that Rajasthani traditions share, Kundan often become an ideal way to offset monochromatic choices of dress material.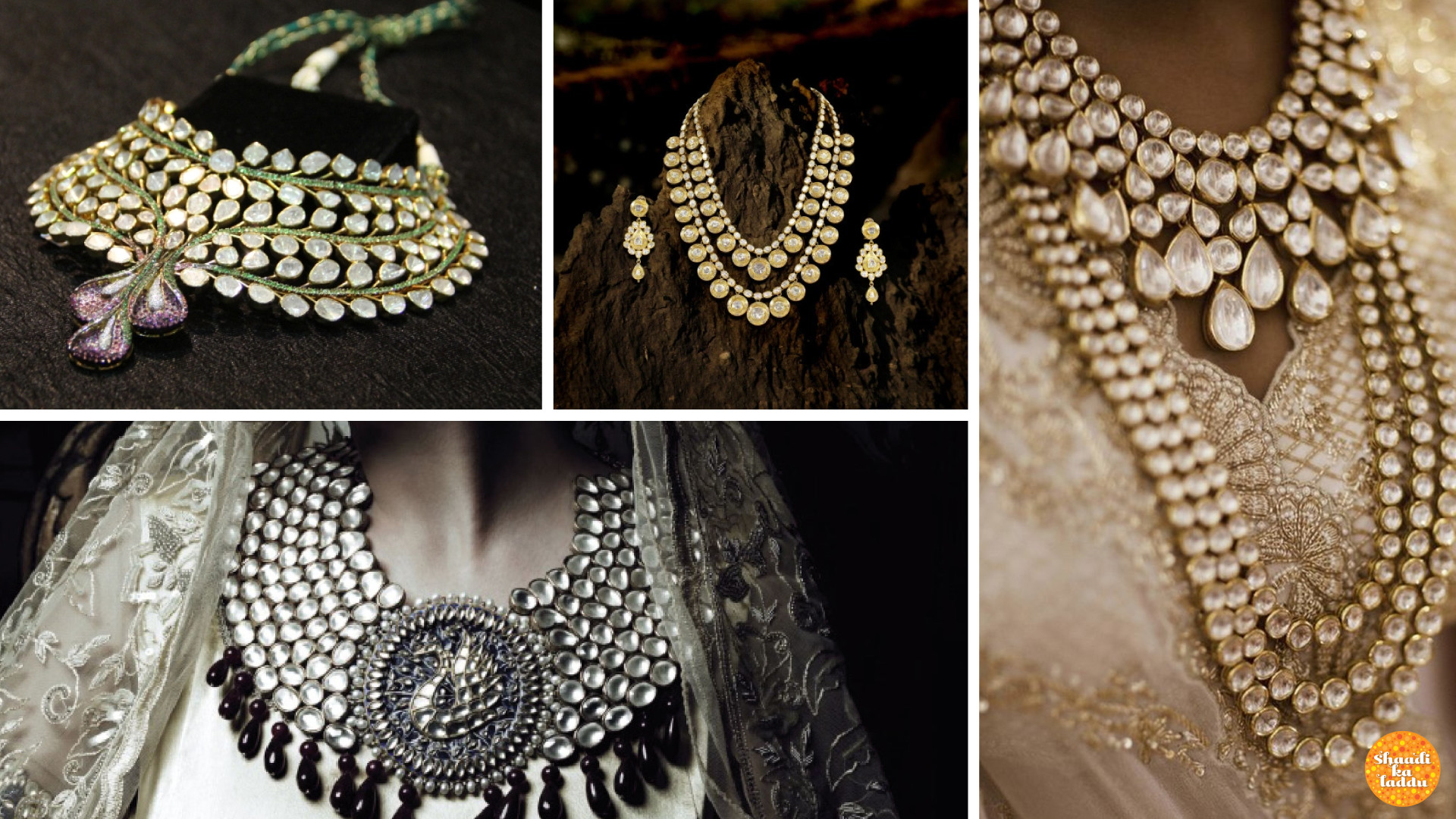 Meenakari Jewellery
Being the most important of the traditional Rajasthani jewellery, Meenakari as a style has its roots in a mix of Lahore and Jaipuri traditions. Time taking and exclusive, the motifs usually echo royalty and grandeur, often customized as per the customer's requests. Even so, it is important to note that all customization will take time, so if you are someone who is very specific about what you are looking for then it's a good idea to start early.