We live in a land so vast and expansive that it has been given the stature of a subcontinent; 29 states and countless cultures live around us. The very act of getting married is now synonymous to keeping culture and tradition alive, and is a glimpse of what brides around the nation tie the knot in!
Bejewelled and Breath-taking / The Telugu Bride
An Andhra wedding takes place in several layers, in ceremonial stages, including rituals of Engagement, Kaashi yatra, Aarti, Ganesha or Gowri Puja, the Mangalsutra Ceremony, and so on – each one calling for a change in saree! From the heavy adornment of gold to plaited hair bejeweled from top to bottom, the stunning silks of Dharmavaran and Gadwal are just one part of the ensemble.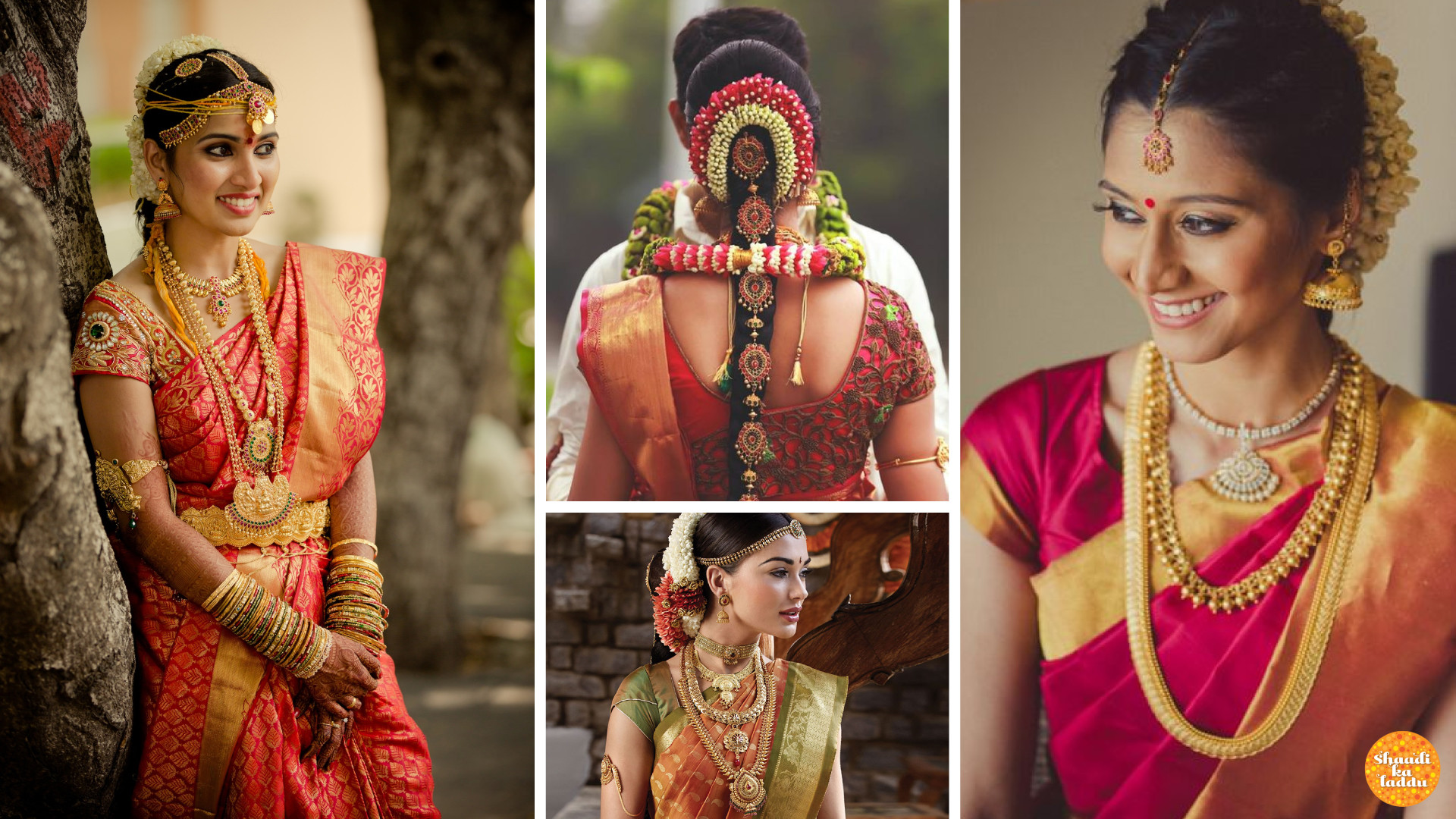 Fire and Amber / The Kashmiri Bride
A Kashmiri bridal ensemble has many elements – from the Shaneel Fyran (velvet, most often in shades of scarlet and crimson, or deep greens) to the jhoomar tikka and the traditional Dejhor (Kashmiri jewelry worn in the ears) which is a symbol of a married woman. Intricately patterned with henna, embroidery becomes an important part of the fabric.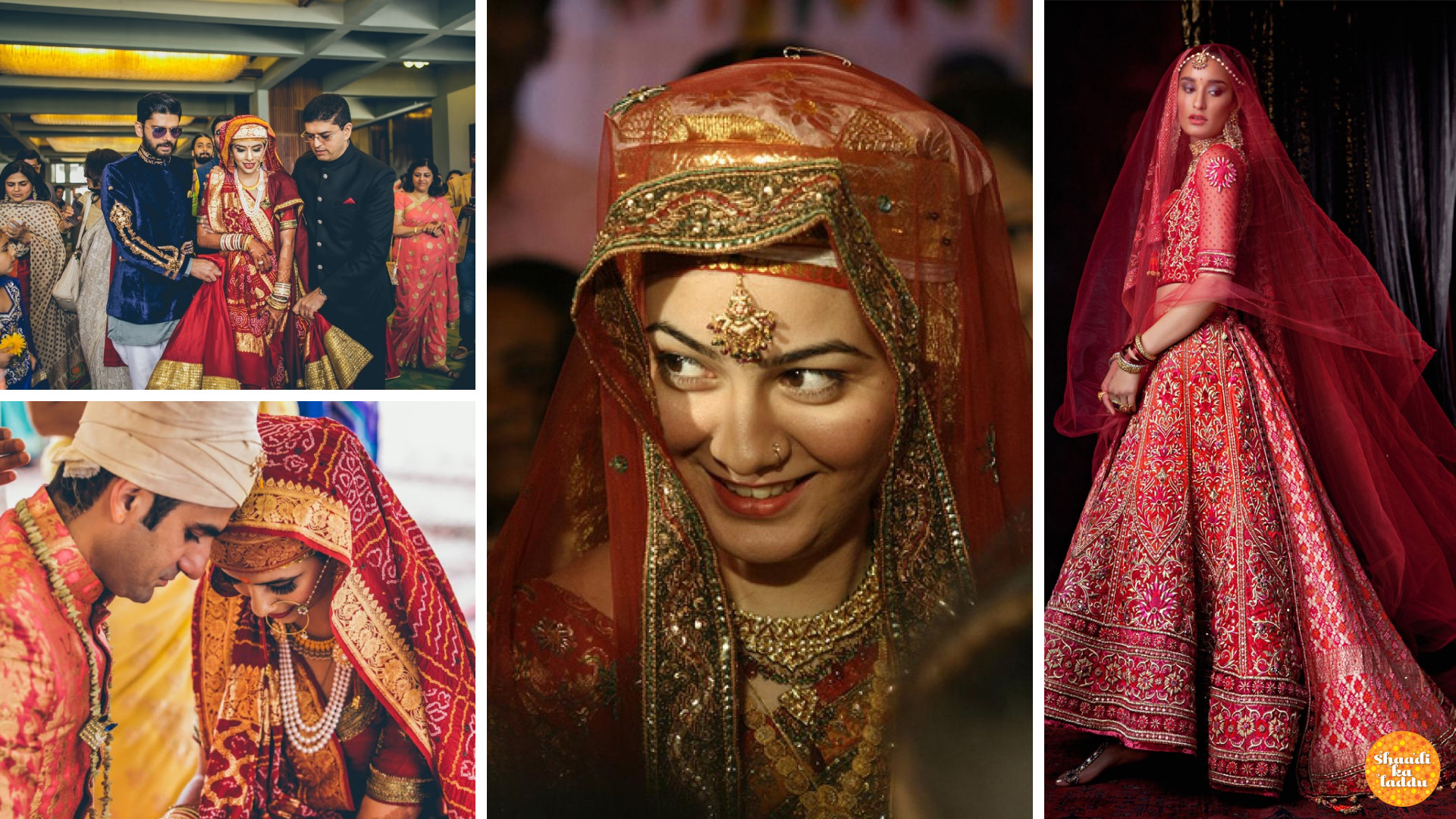 Crowned and Regal / The Bengali Bride
Dressed in maroon Benarasi Silk with heavy zari work in both gold and silver, bridal attire from Bengal is characterized by a mukut that she adorns, gold jewelry and painted traditional patterns on her forehead, speckled in red and white.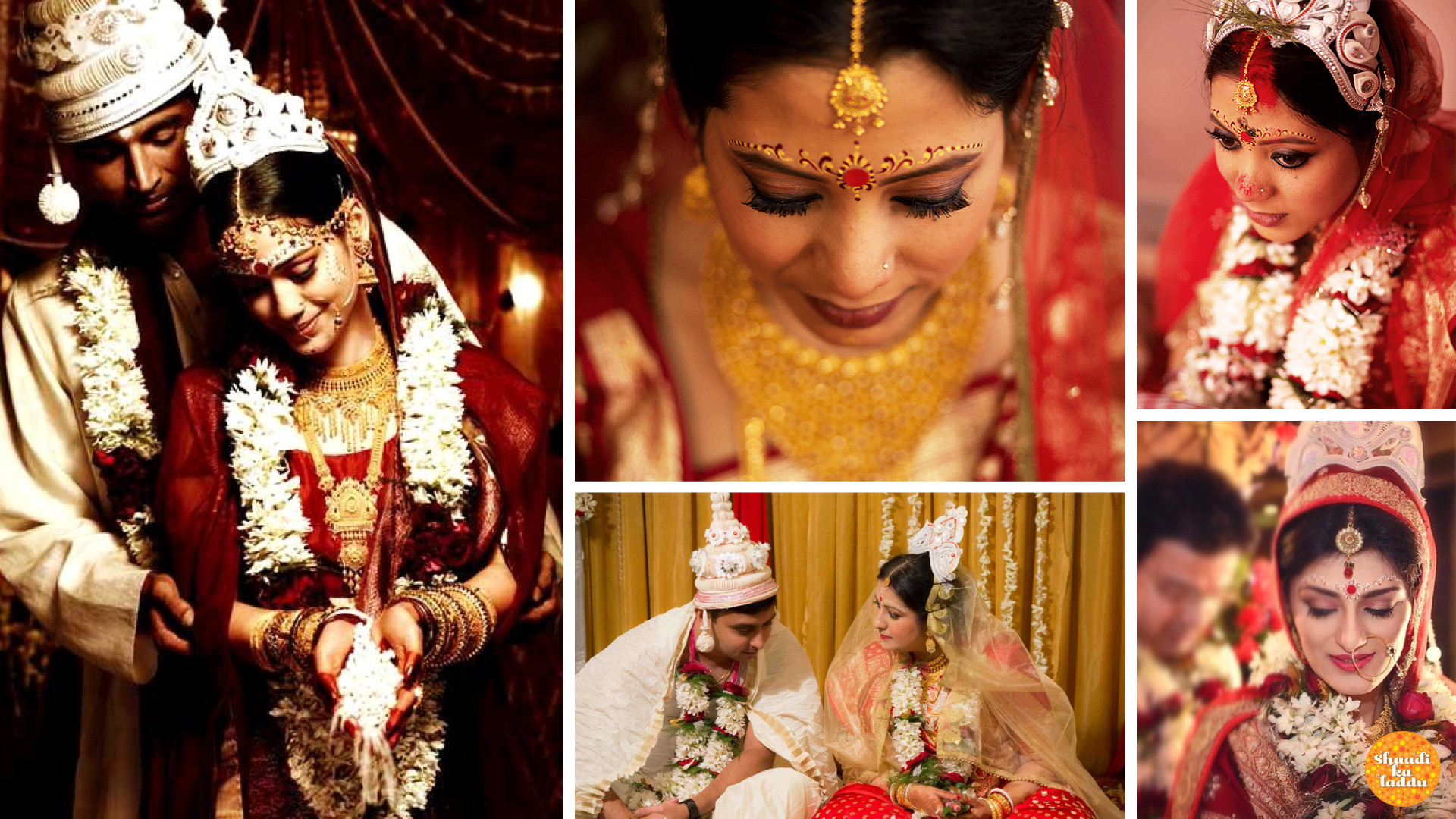 Stone Studded / The Ladakhi Bride
A ceremonial 'Goncha' of silk and brocade, with a cape-like garment which is fur-edged and fastened with silk tassels, is paired with both silver and gold jewelry that is heavily studded with semi-precious stones. The crown jewel of this attire (quite literally!) is the unique headgear donned by the bride called the 'Perak', made of black lambskin and studded with turquoise stones, atop her head like the hood of a cobra.
A Vision in White and Gold / The Malayali Bride
The traditional white and gold silk wedding saree sported by the Malayali brides, coupled with golden jewelry and jasmine garlands makes for minimalist elegance at its best.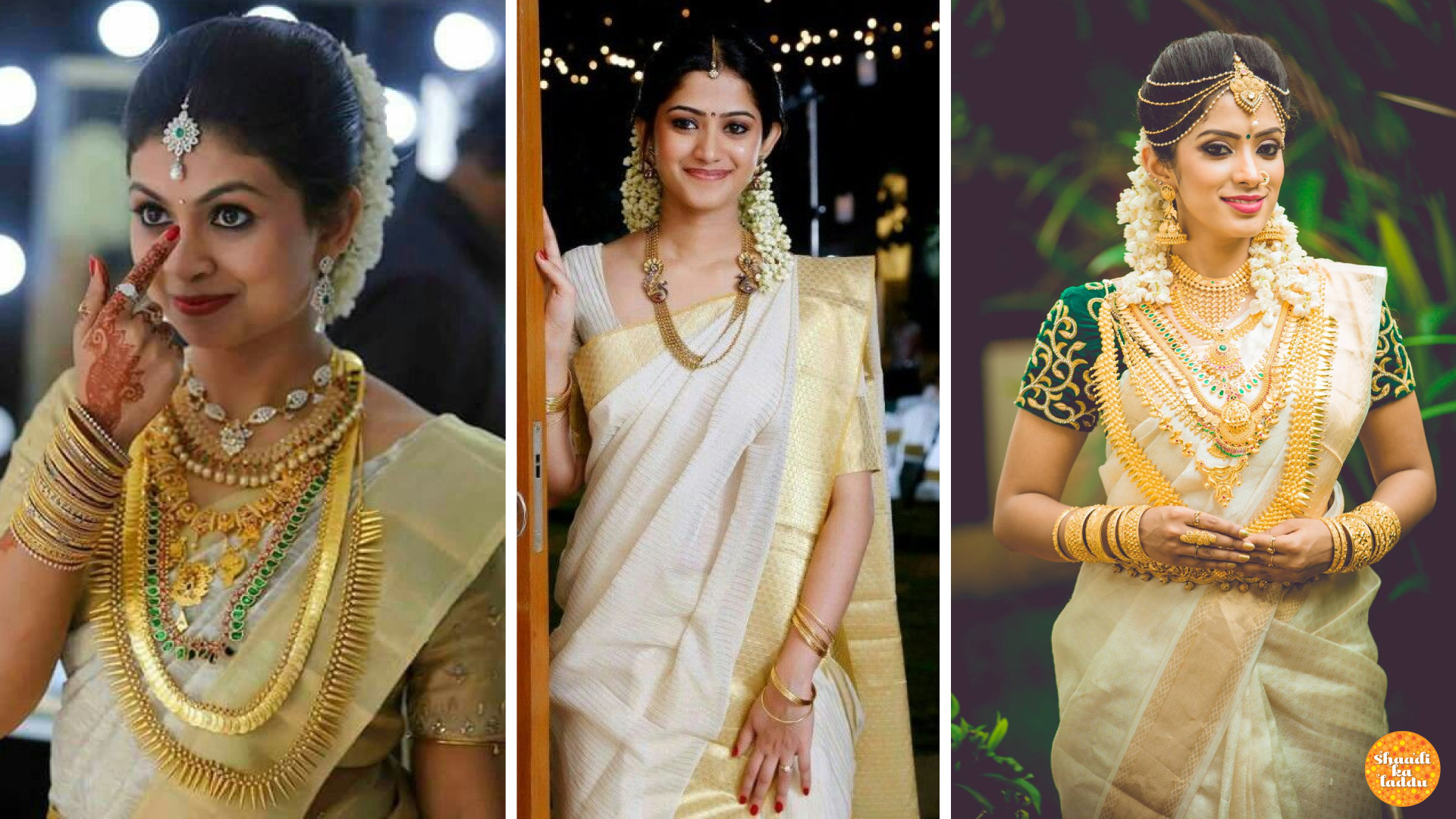 The Richest of Hues / The Marathi Bride
With the Paithani silk saree tied in the nauvari or kasta style, the bride is draped in vibrant colours with gold embroidery as both borders and motifs speckling the entire fabric. Yellow, green, red and purple colors are considered sacred, paired with green bangles (a sign of new life) and golden kangans, a nath of pearls or diamonds, and a delicate headgear of flowers, pearls or gold – with the finishing touch of the crescent bindi.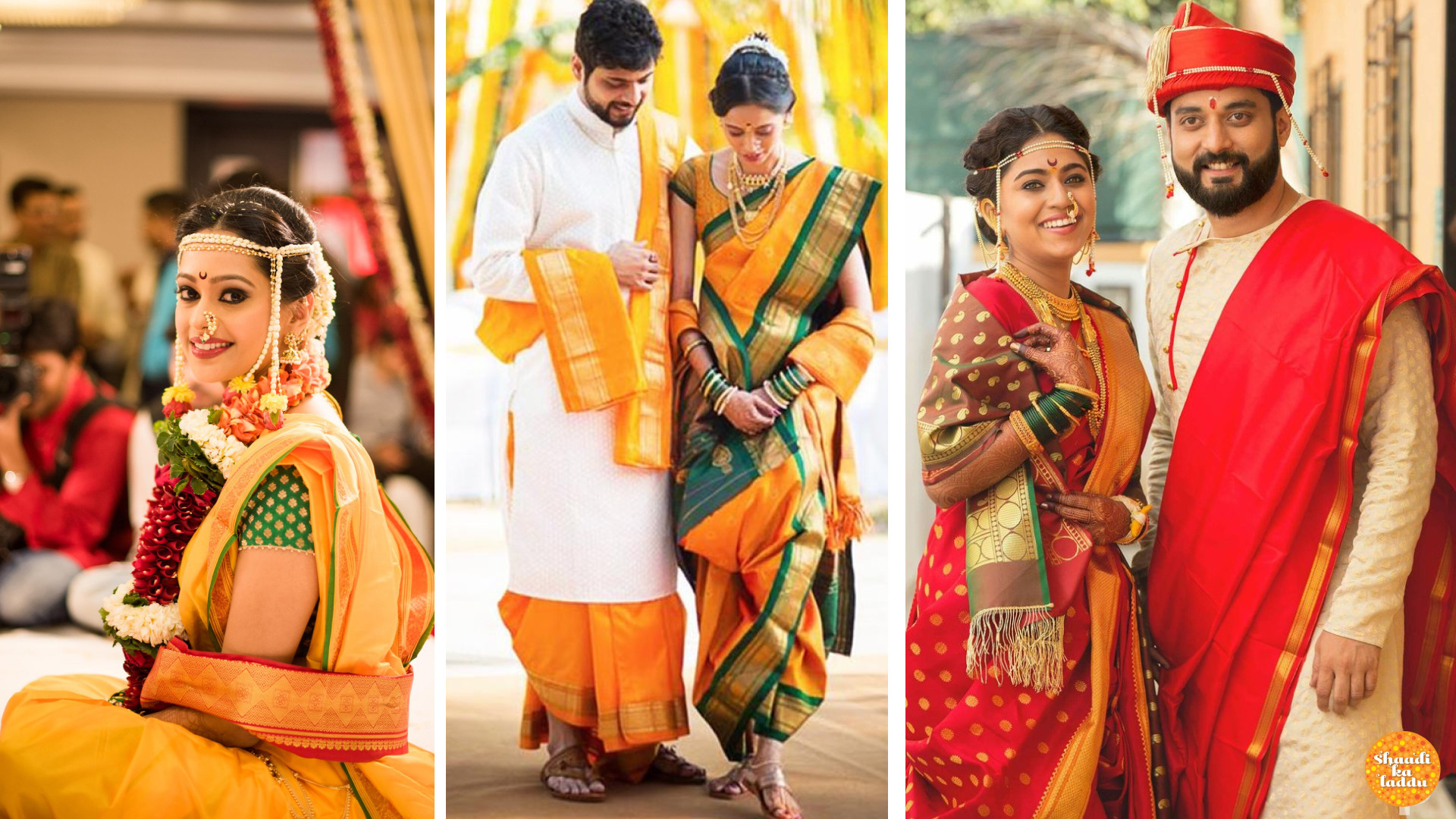 Royal Extravagance / The Punjabi Bride
Lehenga's or salwar-kameez's replacing the saree worn in other parts of the country, the Punjabi bridal attire is marked by its indulgence in colour, gold and ornamentation. A jewelled nath and maang tikka, red and white chooda's with kalire's hanging down the wrists, and an ornate dupatta with work of gold and studded mirrorwork are all essentials!