Weddings and receptions are now all about the particulars, from the personalized gifts and favours to carefully chosen dishes to suit the mood, season and theme. Exhausted with every choice you're having to make – the décor, the flowers, the lavish menu? Well, there's one detail left to iron out and we are here to make it that much easier; the reception bar menu.
Manoeuvring the alcohol at a wedding reception is often a delicate balance, especially since it often can turn out both exorbitantly priced as well as logistically hard to keep in check, considering the guests of all ages.
Creativity for the Win
Considering the dilemma, sometimes the best way to tackle problems is with creativity. While an open bar with lists of liquors can turn out expensive, a fun and well-tailored selection of cocktails with a variety of garnishes can add just the right amount of pop and sizzle to your reception.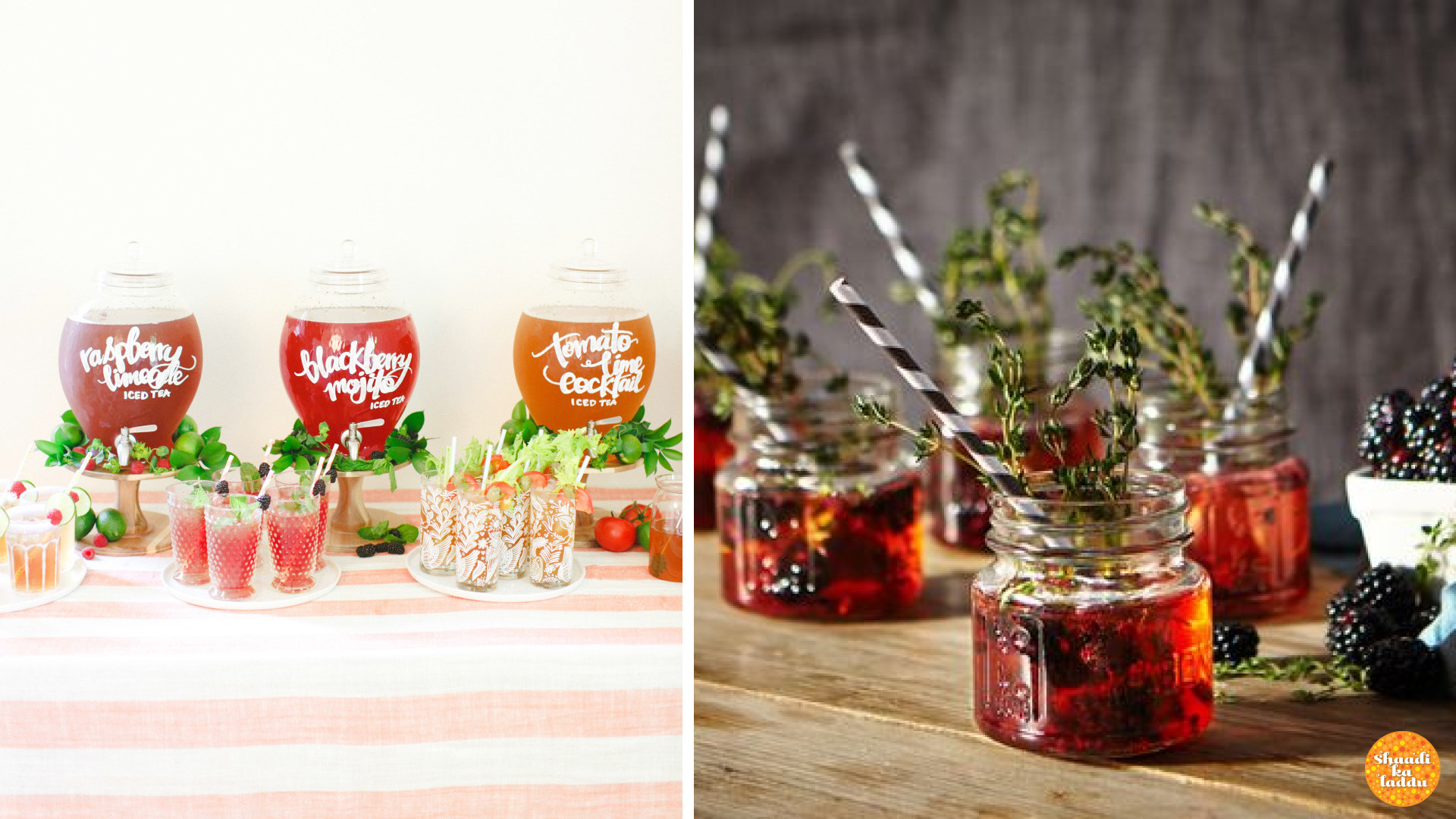 How to Start
It's a good idea to keep your caterer in the loop when you're narrowing down on the perfect signature cocktail, in fact, the designated bartender will surely love to help in the decision-making.
If you're not sure about taste, then start by narrowing down on what kind of cocktails you usually prefer – sweet, sour, strong or low alcohol.
The first and second, margaritas and cosmopolitans, for example, are a great place to start and play around with.

Low alcohol cocktails with sparkling wines as the base are perfect to keep up a steady stream of drinks for an extended period of time.

Strong mixes like Long Island Iced Tea's or even shots are usually best left off the menu, especially in large gatherings where lavish meals are to follow. Still, if you're the kind who likes to kick-off with a shot or two, you can serve them for a limited period of time.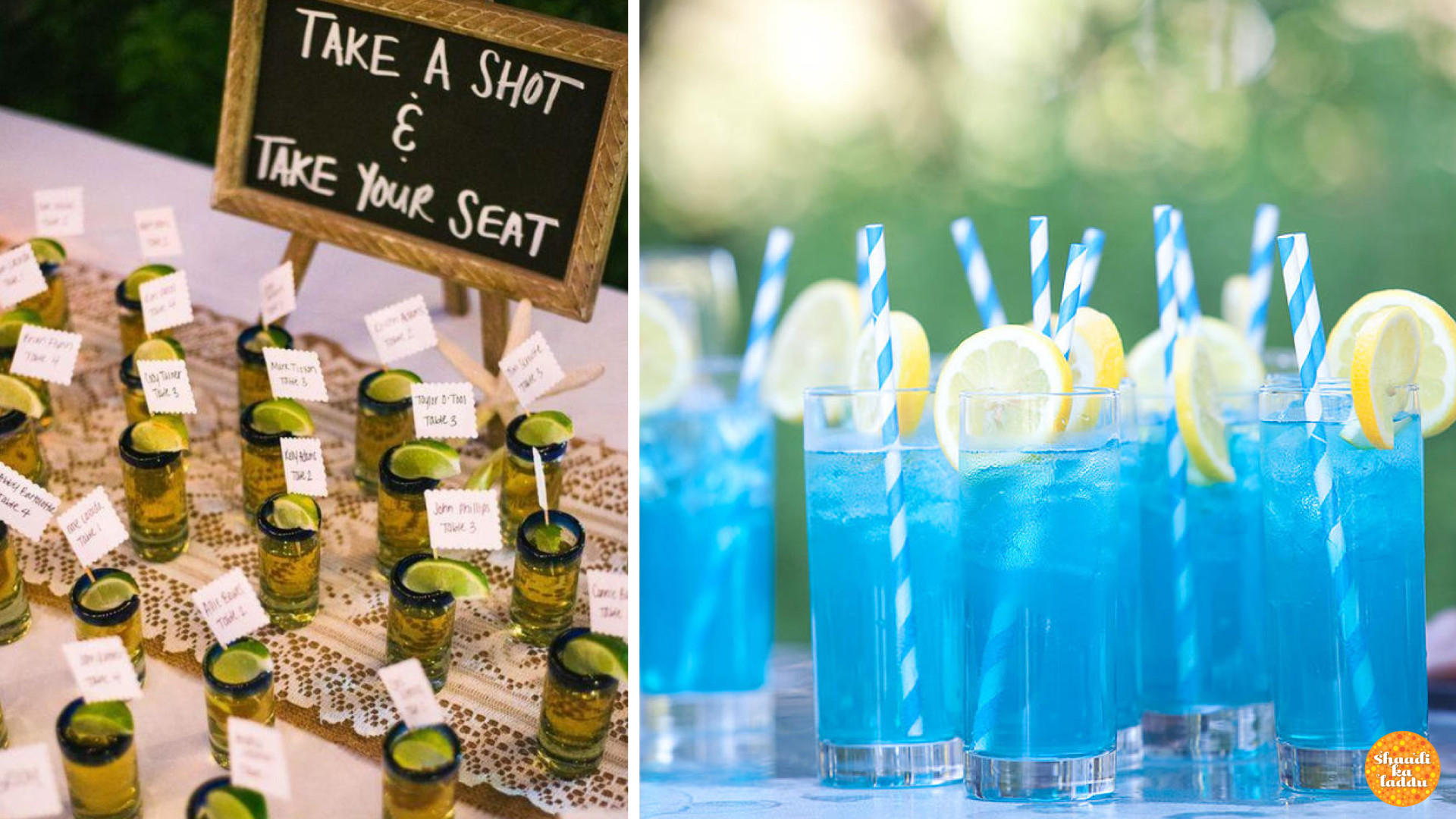 Hues, Tints, and Garnish
Cocktails are not just about the alcohol – in fact, champagne flutes filled with sparkling gold and martini glasses brimming with pale pinks and bubbling blues in every hand can even add to the decoration!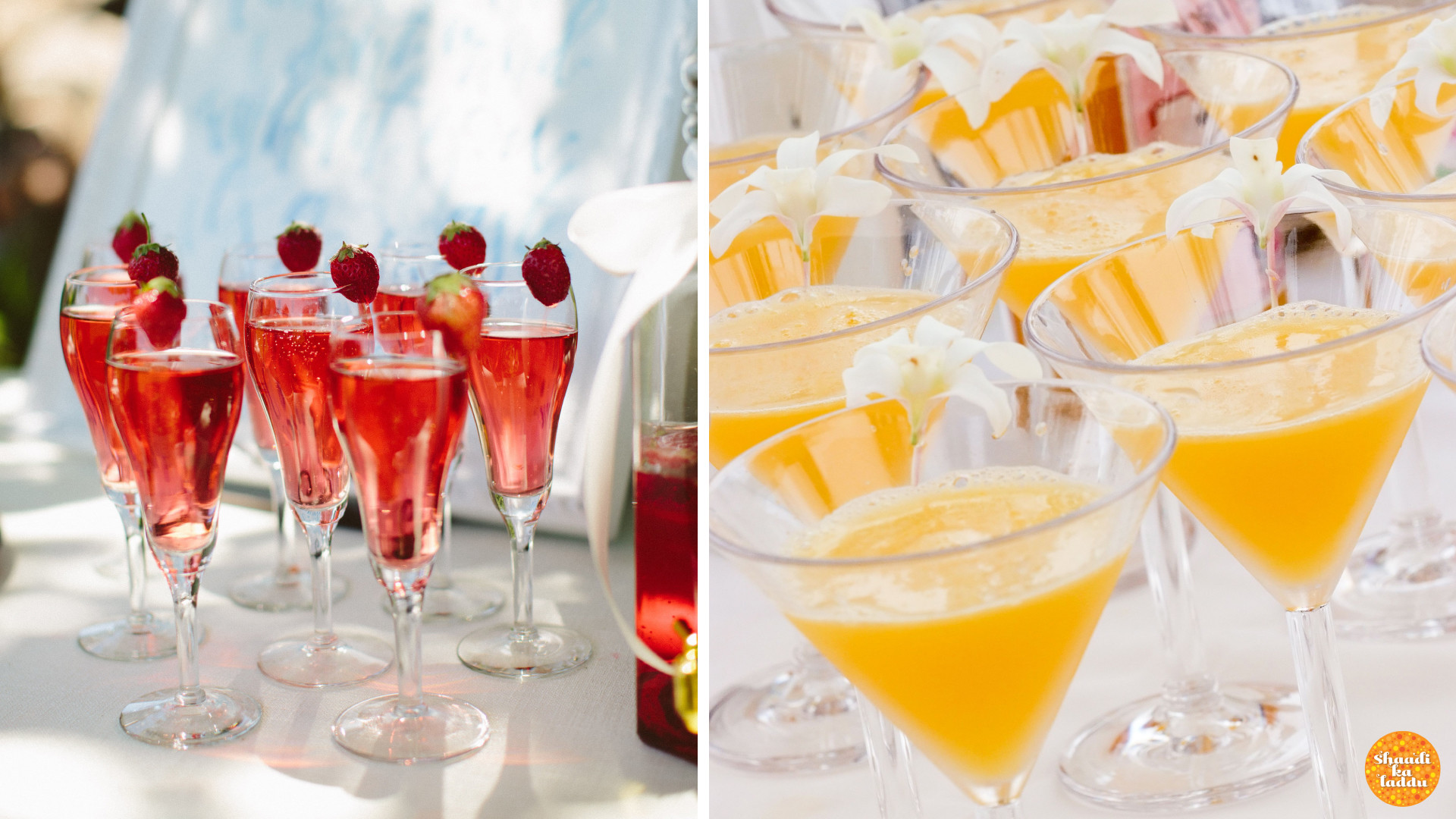 Aren't too keen on selecting your signature cocktail in a bright and prominent hue? How about adding just a splash of yellow or red with fruit garnishes, stirrers, tinted ice or umbrellas.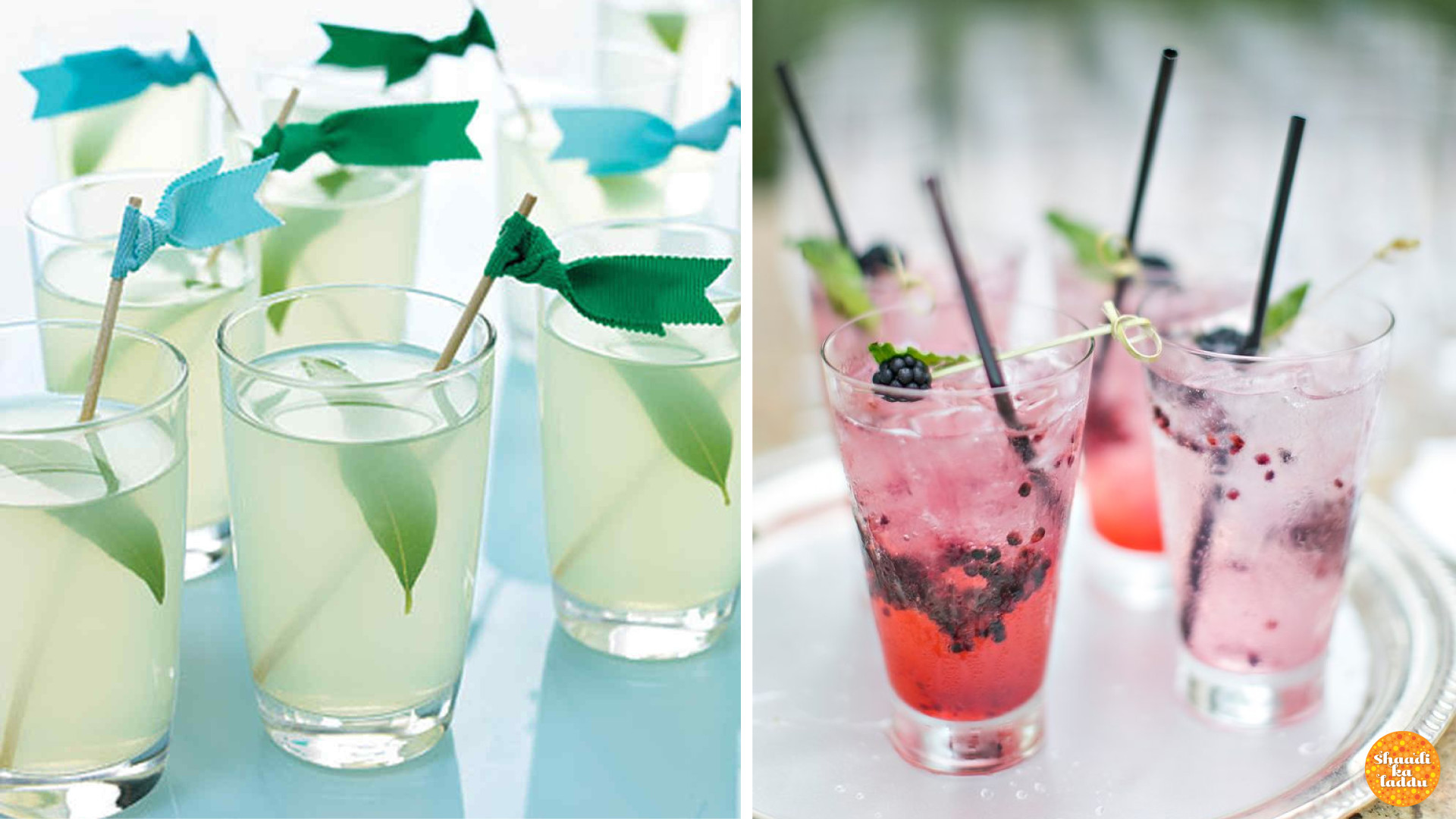 Serving with Style
If you're set on what your signature cocktail is but it doesn't quite seem to go with your theme, food and venue, then it's time to search for other ways to make it stick.
Is your go-to drink a Spritzer or a not-so-Bloody Mary? Look to serve them casual, festive and cost-effective, and take a risk or two with:
 

Mason jars,

 

Wine cooler bottles refilled,

 

Help-yourself tapped crocks and jugs

 

Glassware of different shapes and sizes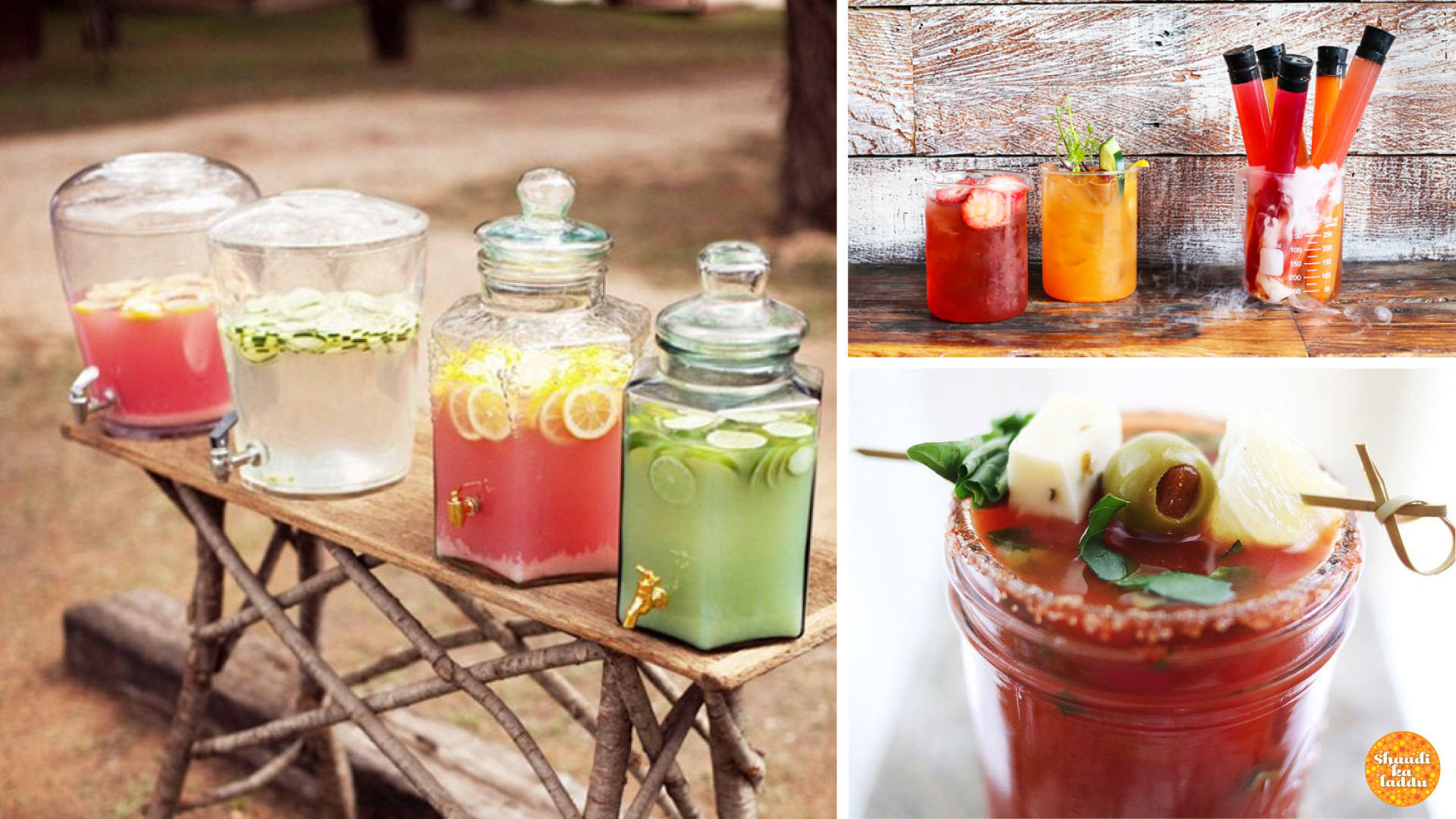 Outdoor and day-time receptions are ideal to push the limits of your whims and fancies – over-sized test tubes, Alice in Wonderland inspired potion bottles and even light bulbs have been successfully experimented with by the adventurous brides and grooms.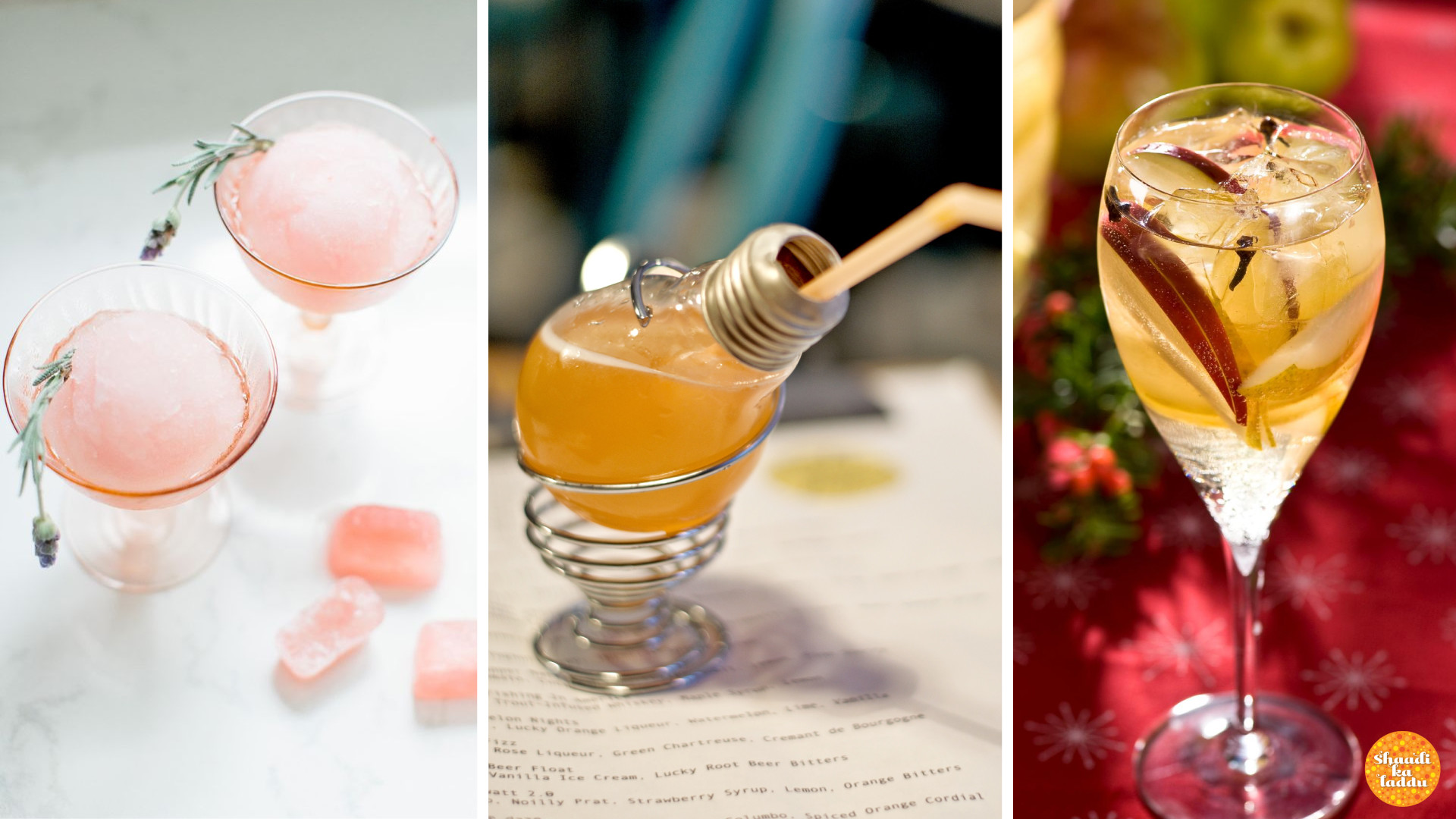 One for the Bride, Another for the Groom
The coming together of personalities is what weddings are all about, so why should you and your loved one compromise on what you love? Signature cocktails don't always have to speak to both your tastes – you can have one each, christened with their own names, glassware and garnish!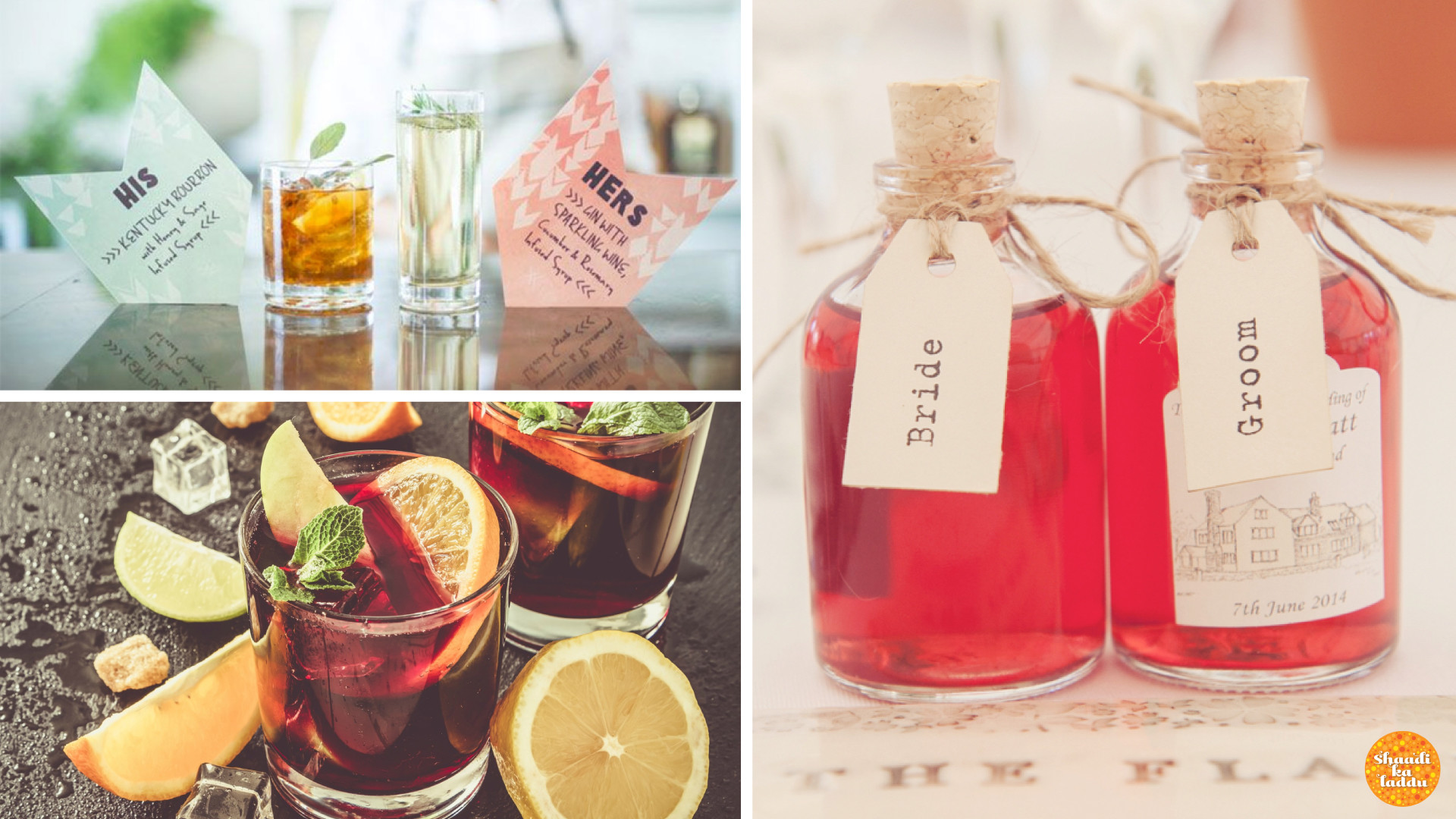 Exotic Infusions
Frozen fruits, flavored ice cubes, berry and citrus twists, olives and spices – the simplest spritzers and sparkling wines can be made mysterious with just the right brews.
The key to getting these right is experimentation, so spend a little time telling your bartender exactly what you're looking for – and maybe even have him whip up a few testers; a perfectly legitimate reason to get tipsy!
What's popular in today's mixology trends?
 

Rosemary, sage, and thyme for afternoon sparkling cocktails

 

Flavoured tea infusions with white rum, vodka, and soda

 

Spices and rum; ginger, cinnamon, citrus twists and mint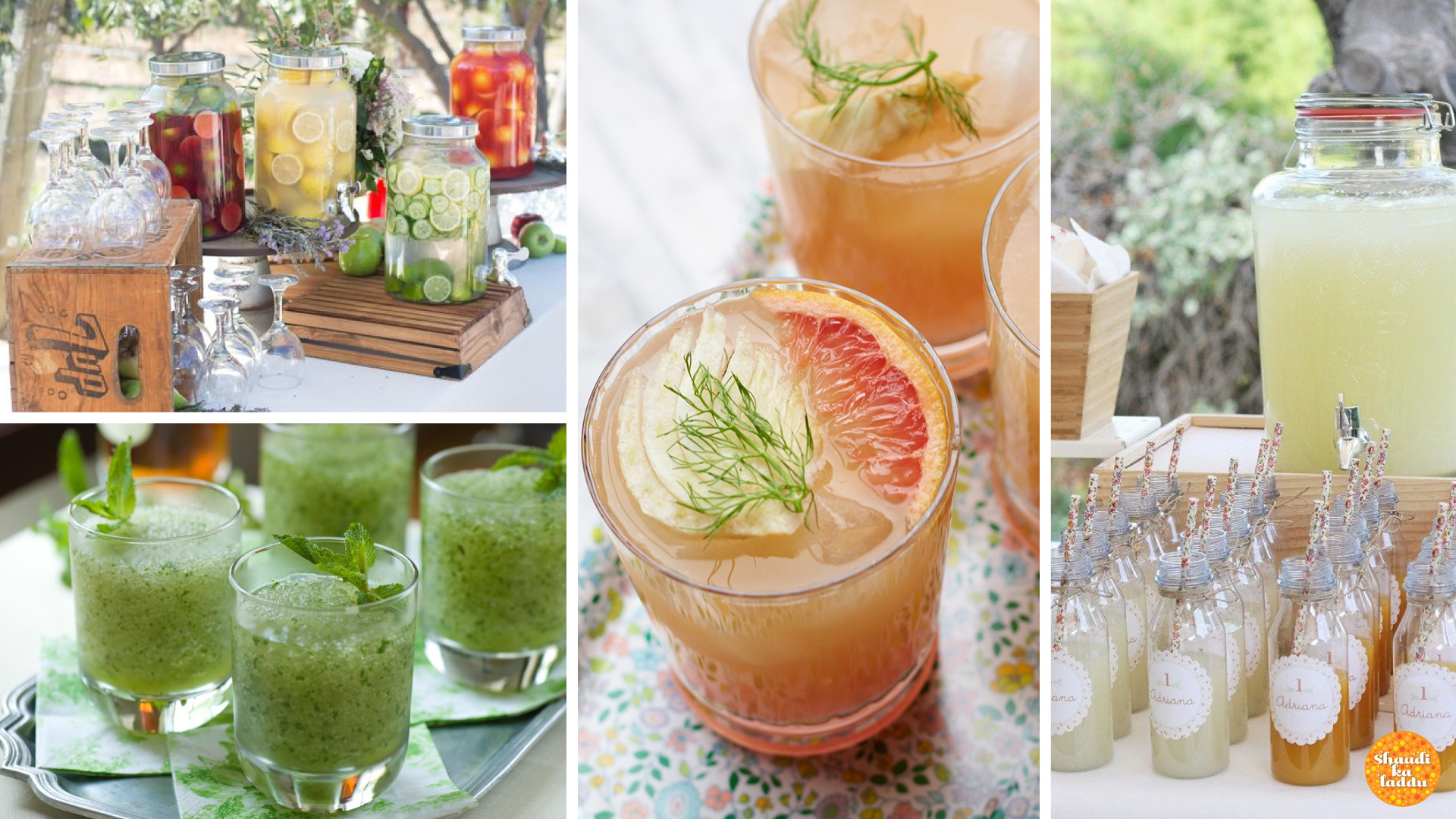 Note: Some spices and fruits with delicate flavours may need to sit for a few hours before they can be served, making them an ideal choice for serving options like pre-mixed cocktail jars in ice buckets or tapped filters.
Put on a Show!
Distraction, baubles and a pinch of mystery can add to the high of a wedding reception bar – especially if the bartender is equipped to entertain!
A little liquid nitrogen or a flame or two can jazz up an otherwise dull gathering, drawing attention to the bar and adding zest to the signature cocktails.

Keep the guests involved and let them mix and match their own versions of the cocktails you choose; DIY bars may even entice a colleague or two to take over and show their skills at bartending!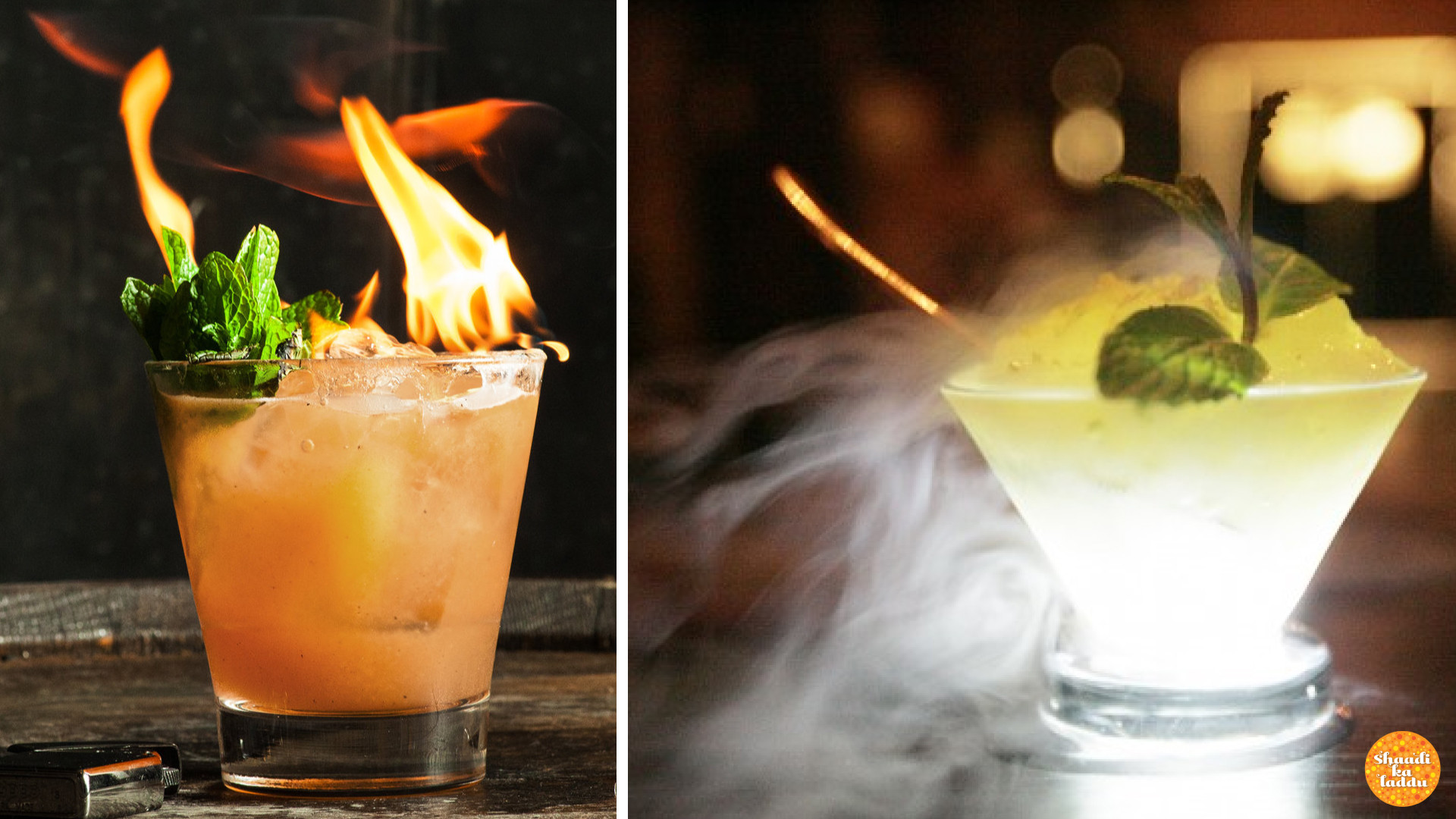 Not Always on the Rocks
Keeping rum off the summer menus and not having only iced cocktails in December can help you create just the right cocktails as well – adding a hot toddy, Irish coffee with a cinnamon stick or a buttered rum to keep those hands warm and toasty.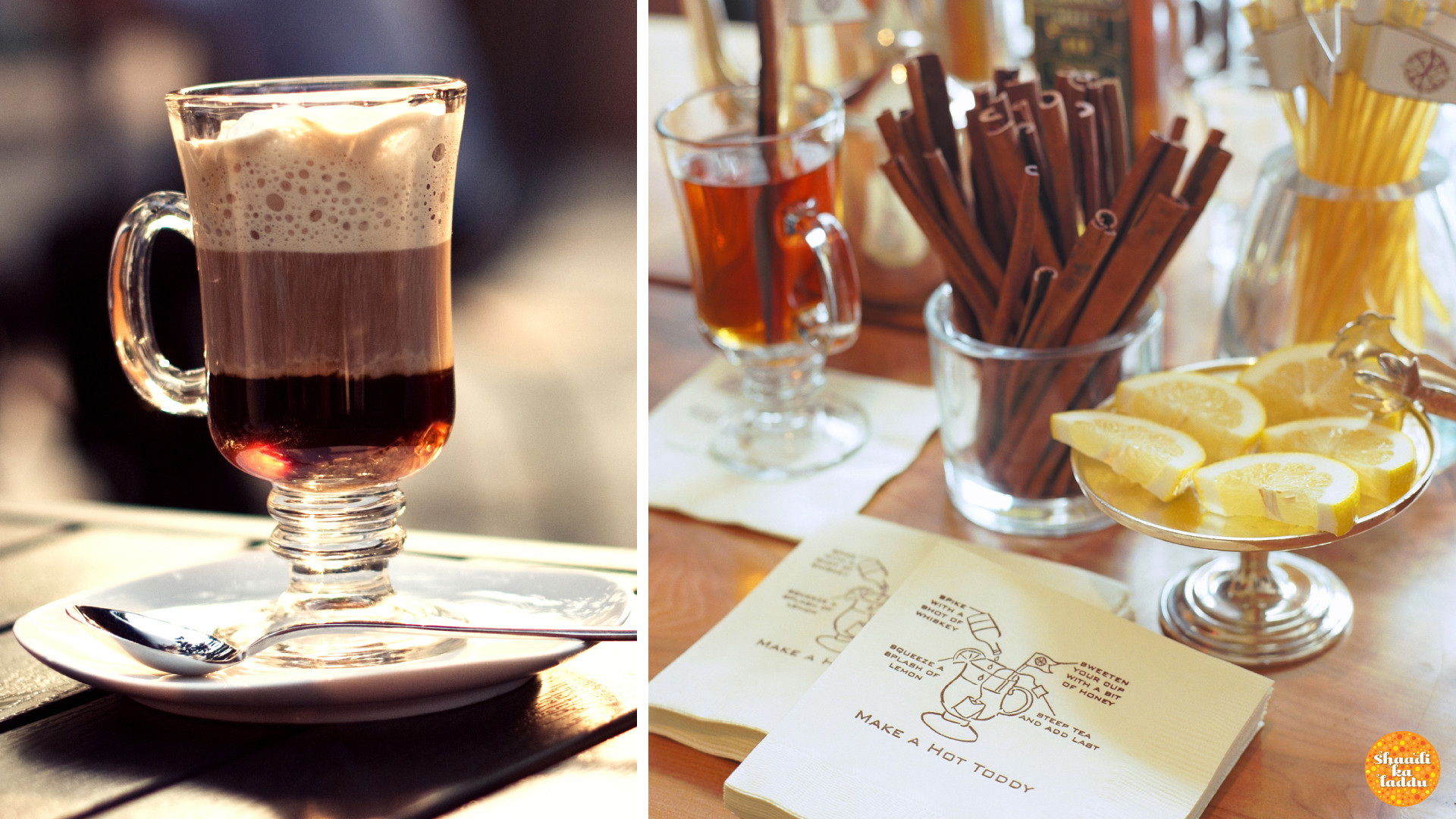 Keeping it Simple
Last on the list of things to keep in mind is making sure that the flavors you pick are as universal as possible; vodka, rum, wine and beer over the more acquired tastes. A cocktails signature need not be to its strong taste, it can be in the simple details you choose to make it personal.