As the big day gets closer and closer, and your post-its and scribble pads are just not long enough to hold everything on your endless lists, we hope that we can make one thing easier by narrowing down for you five of the best caterers in New Delhi. Each offering a different set of cuisines, with their own specialties and unique flavors and talent brought to the table – we guarantee that these chefs will make your taste buds tingle and leave your loved ones craving more!
More than 50 Years of Culinary Brilliance – MOETS Catering Service
Bringing you pretty much any cuisine you can think of from Regional Indian (ranging from Mughlai to Bengali to Goan), Japanese, Italian and Spanish delicacies, MOETS entered the culinary line of business in 1965 and has remained at the top of their game in all its sections.
Cuisine: Indian (Regional), Pan Asian, European and International
If you're looking to experiment and mix and match, these are the people to hire – especially since we doubt anyone else in the city can cater for small gathering as well as extravagant ceremonies with varieties like Greek, Lebanese, Moroccan, Kashmiri and Mexican, amongst many others.
A little bit extra?
They add to their repertoire in cuisines an assortment of live stations to choose from. Spanning starters, main courses, and desserts, this is your chance to start with Fondues, move through Tortillas and Dancing Wok stands and work your way to the perfect Cold Marble Icecream.
Last but definitely not the least – they serve with style!
Pricing: Approximately 1,000 INR per plate, decreases with number of guests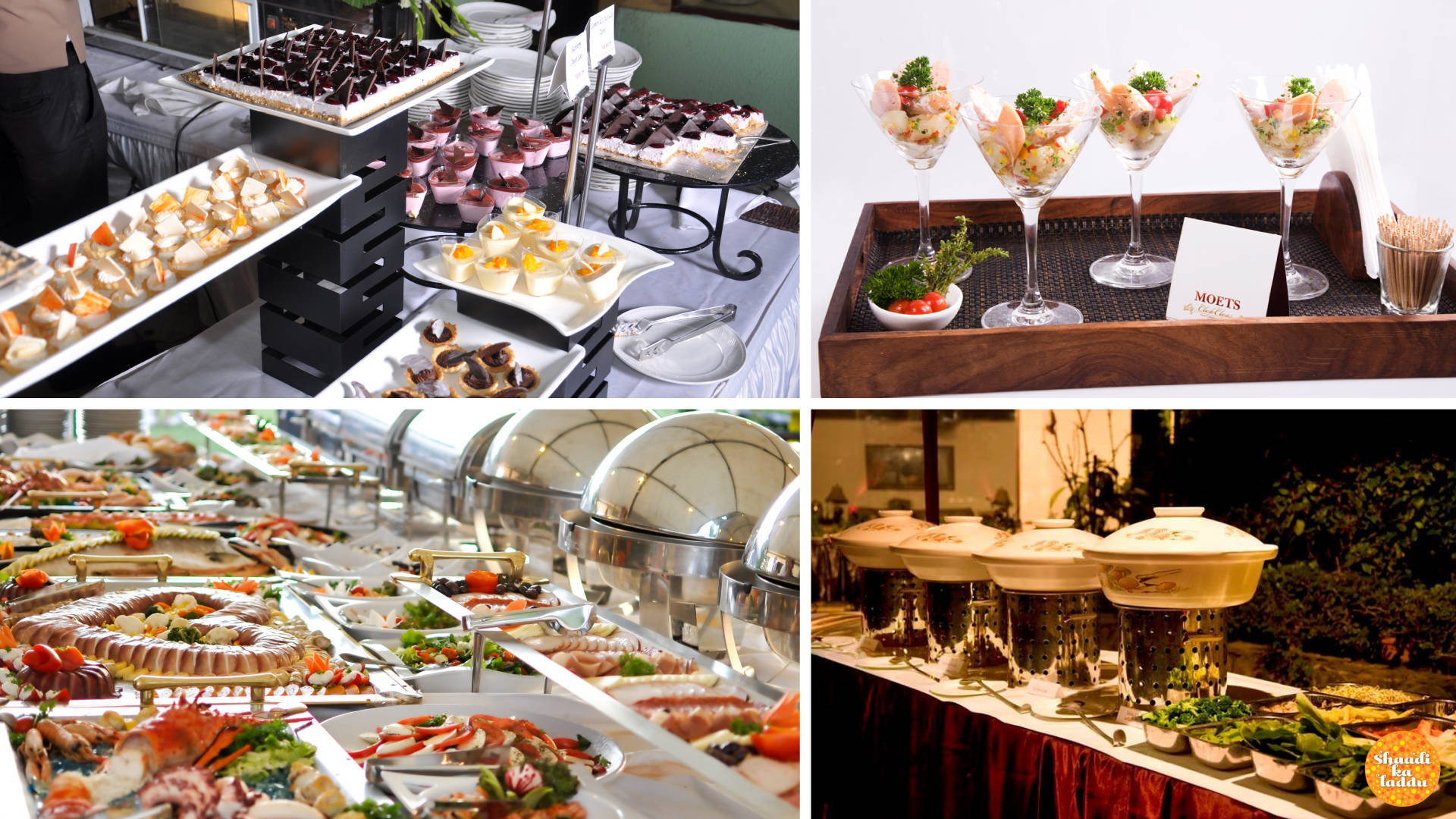 European Seasoning – CAARA
Masters in their area of expertise, CAARA brings to weddings unparalleled authenticity in European cuisine. Though it is often not easy to convince you extended family that purely European dishes are the best way to go for your Big Fat Indian Wedding, we recommend you pick one of your more intimate celebrations or single out a rasm out of the many to spoil yourself silly with truffle mac 'n' cheese and sinfully baked caramel and cinnamon goodies.
Cuisine: European, Vietnamese, Modern Indian, Italian, Mediterranean
Hard to believe they can pull these off with style in Delhi? CAARA assures that their food and flavors are seasonal, assuring each of the cuisines listed above suit the produce that is available in and around.
Perks and Incentives
 

Chefs bubbling with creativity with customization allowances

 

A modern and exclusive twist to serving, décor, and presentation

 

For the health freak in you – all their ingredients are organic and chemical free
P.S. Culinary lessons are on the list of things CAARA dabbles in, just in case you want to recreate one of those delicious meals for your spouse!
Pricing: 2,500 INR per person (other requirements available on their site)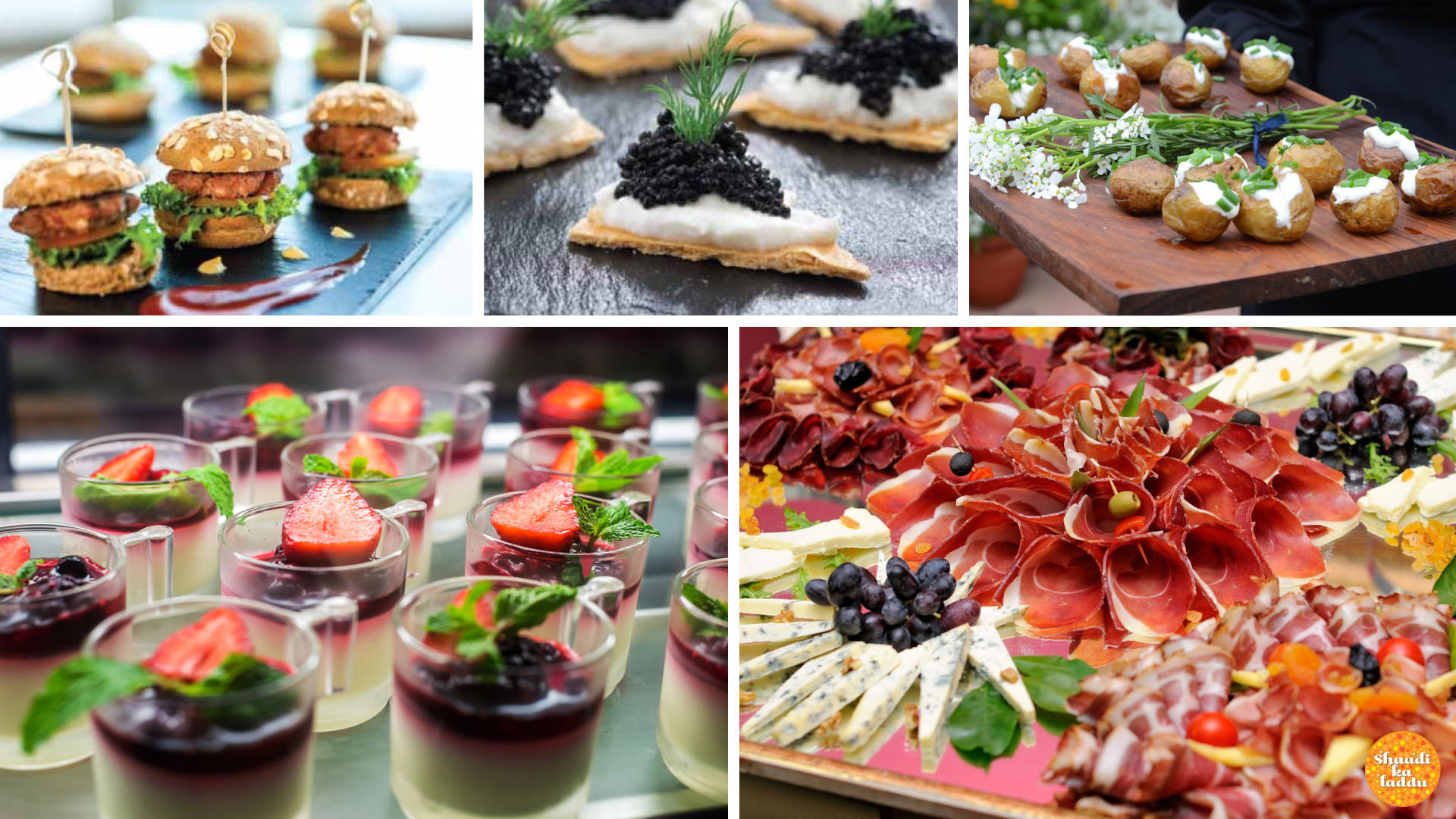 Flavours of the Coast – The Supper Club
Gourmet, exclusive and planned to the last garnish – the Duggal brothers Savar and Ankit are ardent foodies. Their leisure time travel is centered around the best flavors of the world.
Cuisines: Coastal, Sri Lankan Kerala, Italian, Mediterranean, Barbeque
Trained in Cordon Bleu, Savar's talent is inclined to dishes that have their roots in Sri Lankan, Goan, Konkanese and other regions in Coastal India. Nevertheless, his true skill lies in one of the kind menus, each dish customized to your needs and palette.
Personalized attention to detail
Starting with the simple gesture of being present at every event they take on rom start to finish, Ankit and Savar offer their services for gatherings of all sizes – making them ideal for ceremonies in your wedding ranging from intimate family dinners to lavish receptions.
Their involvement is not limited to just the food – but extends to perfecting the ambience, service and scheme of the festivities.
Note: The sooner you book them the better, as they don't overlap events and require a minimum of 4-5 days prior notice.
Pricing: Approximately 1,600 INR per plate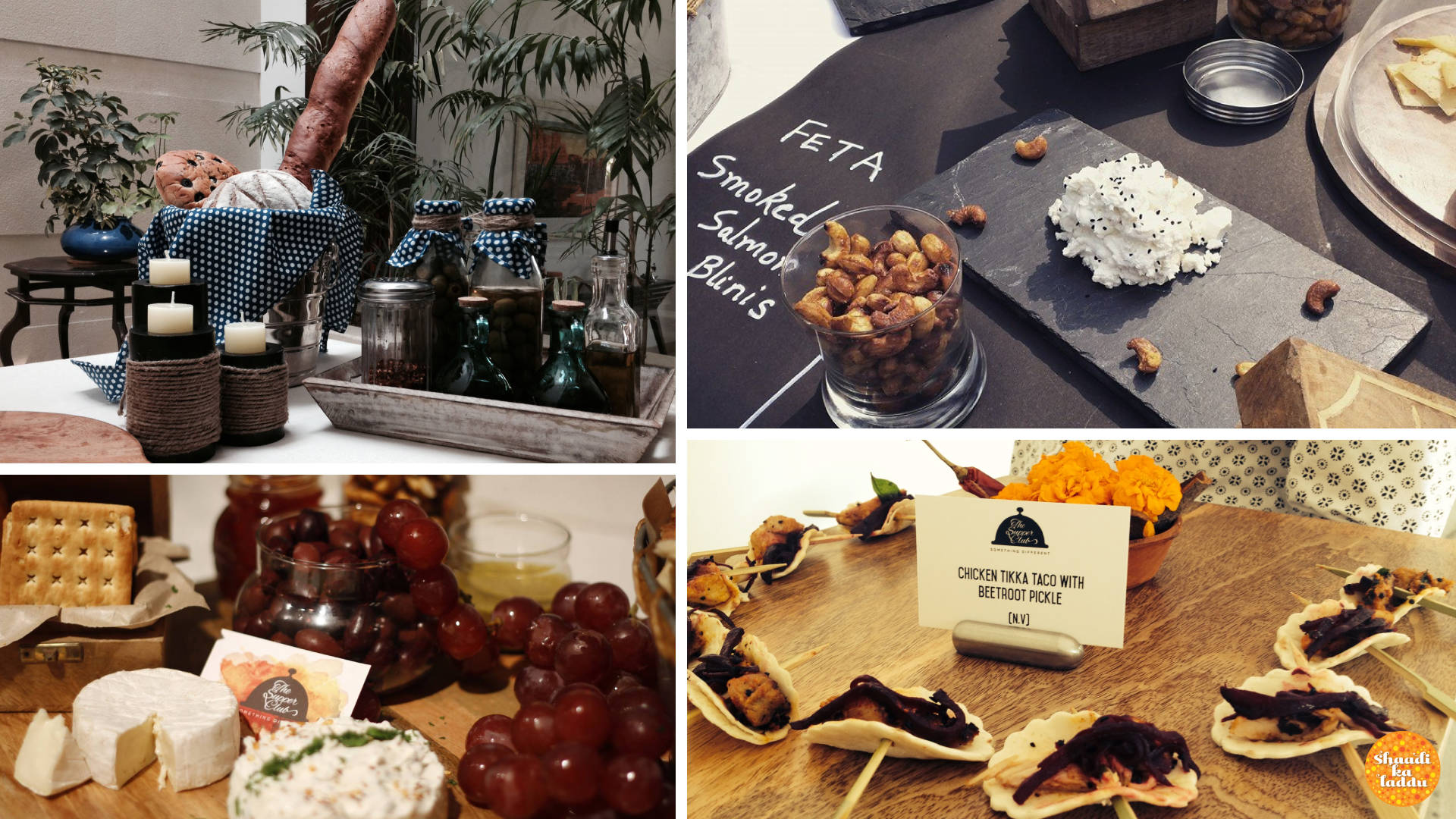 An Aesthetic Edge – Secret Ingredient Catering
Perfect for the not-so-traditional interjections in wedding celebrations, like cocktail dinners and bachelor/bachelorette parties on the side, the Secret Ingredient Catering services list of cuisines brings to mind the ultimate guilty pleasures of the 21st century!
Cuisines: Pizza, Italian, European, Cajun, Burgers, European, Barbeque, Tapas, Thai
If you're a Delhi-ite then you are sure to have heard of Social and Smoke House Deli – if not spent a night or two there with friends. The good news in, Secret ingredient Catering is brought to you by them!
Their culinary know-how has an edge of excitement with live stations that serve burgers and barbeques and bar counters with all the beloved cocktails and a few signature mixes to spare.
Note: They do great sidebars and live stations for the kids, so make sure to ask.
Décor Doubts?
When in doubt, the staff and chef are just the people to turn to – especially when it comes to new and funky arrangements, centerpieces, cutlery and place settings.
Pricing – Approximately 1,200 INR per plate (other requirements available on their site)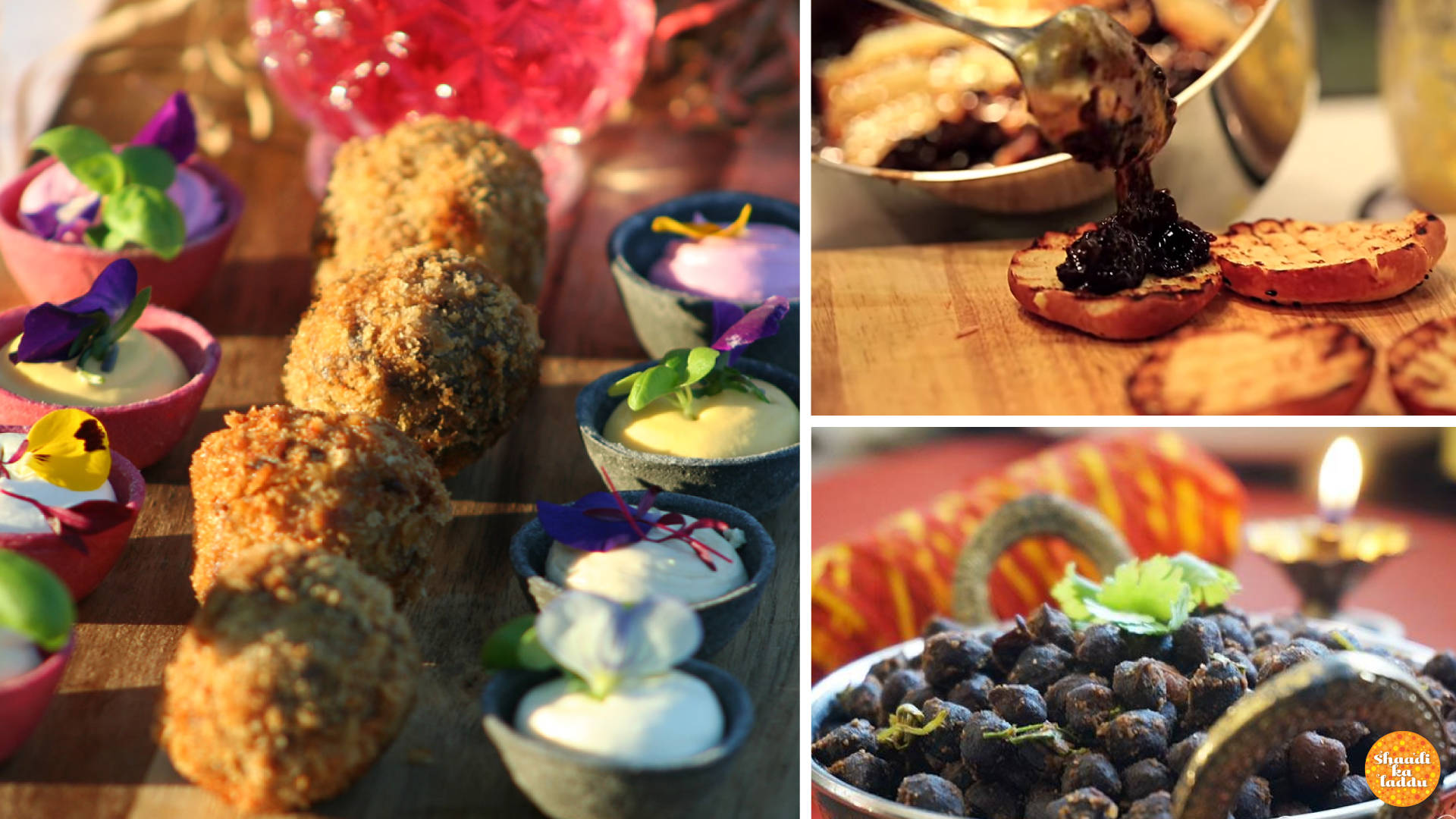 Vegetarian and Proud – Creative Cuisines Inc.
For all, you vegetarian bride and grooms who are nervous of how much your friends and family will enjoy an all vegetarian wedding – Creative Cuisines Inc. is your answer.
Cuisine – Indian (Regional), Pan Asian, International, Street Food
Kapil Middha and his team of young and exceptionally trained chefs have outdone themselves in serving food from across the world; each with a twist of vegetarian innovation.
The team always is in sync with the client's requirements, whims, and fancies and helps in making sure that all members of the families involved are satisfied.
Instructions are welcome
Serving all vegetarian meals is not the only regulation they have mastered – Kapil works with his clients to assure that all their requests, restrictions and tweaks are taken care of.
Note: Minimum 100 person orders are required, as well as a notice of at least 1 week.
Pricing – Approximately 1,200 INR per plate