Destination weddings have become all the rage, and it's a trend that is here to stay. While many choose to fly abroad to an exotic and unknown location, many a Delhi bride and groom hope to head straight for Rajasthan, a state that offers color and zest without compromising on culture and tradition – and all that close to home to allow all your friends and family to be there with you!
With rising trends come sky-rocketing prices, but in Rajasthan, there are still a lot of palatial forts and resorts that are offbeat, gorgeous and budget-friendly.
Both the Old and the New – Pushkar
Pushkar has been on the radar of travelers from around the globe, with its crowded by friendly streets and rooftop cafes – but have you ever looked at it from the perspective of a destination wedding? Infamous as one the oldest cities in the country and home to some of the most beautiful heritage forts and havelis, the Aravali's spanning the periphery will make for some priceless memories – at reasonable costs.
A few interesting venues to scout would be Pushkar Bagh Resort, Aaram Bagh and of course, the famous Ananta Hotels.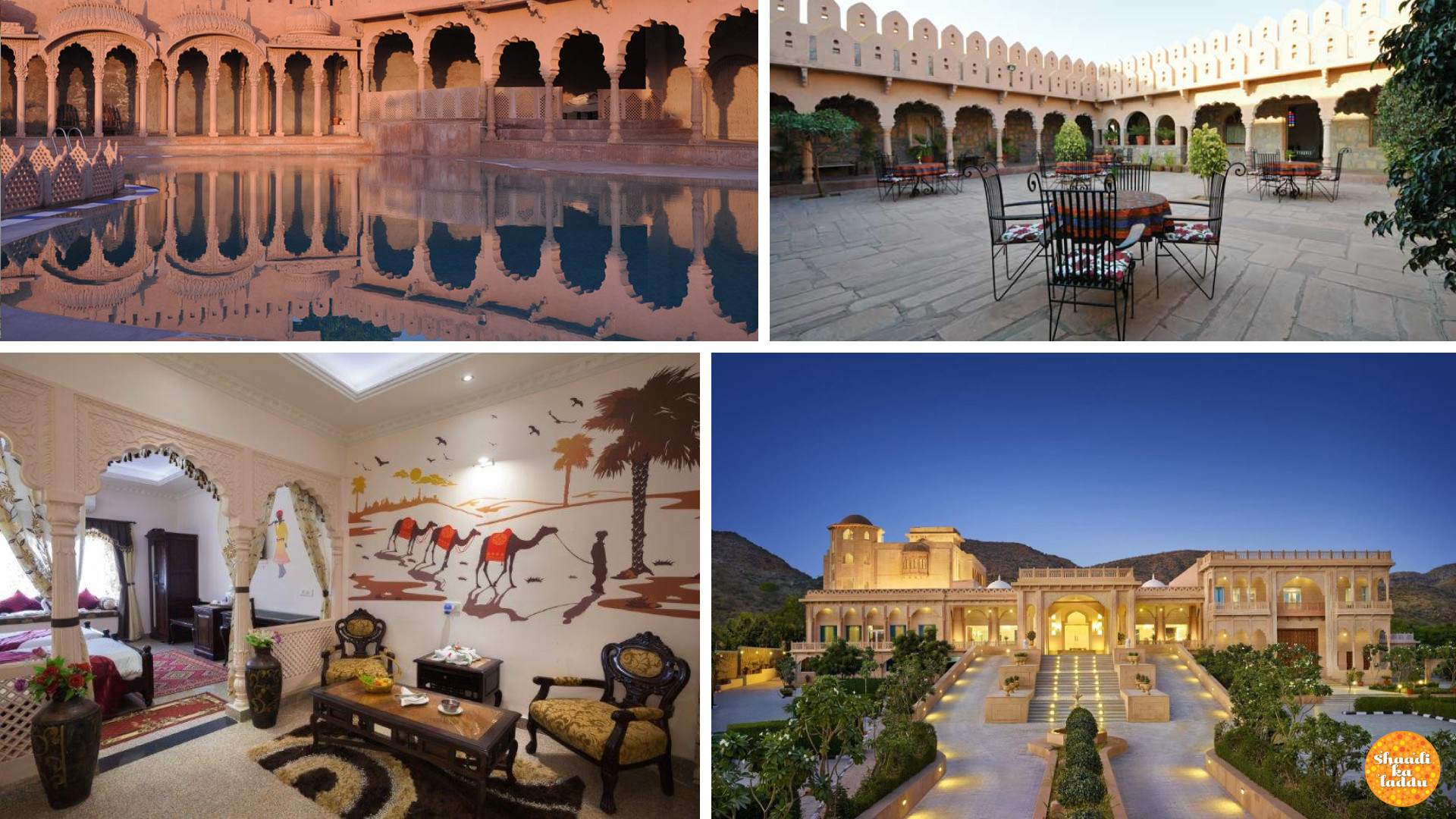 Camel Country – Bikaner
If grand fairy-tale ceremonies are what you're looking for, the forts of Bikaner are just what you're looking for. Colourful and yet quant around the outskirts, Bikaner also has some stunning palace-turned-heritage resorts and hotels like the Gajner Palace Hotel – ready with lawns, accommodation, and halls fit for royalty.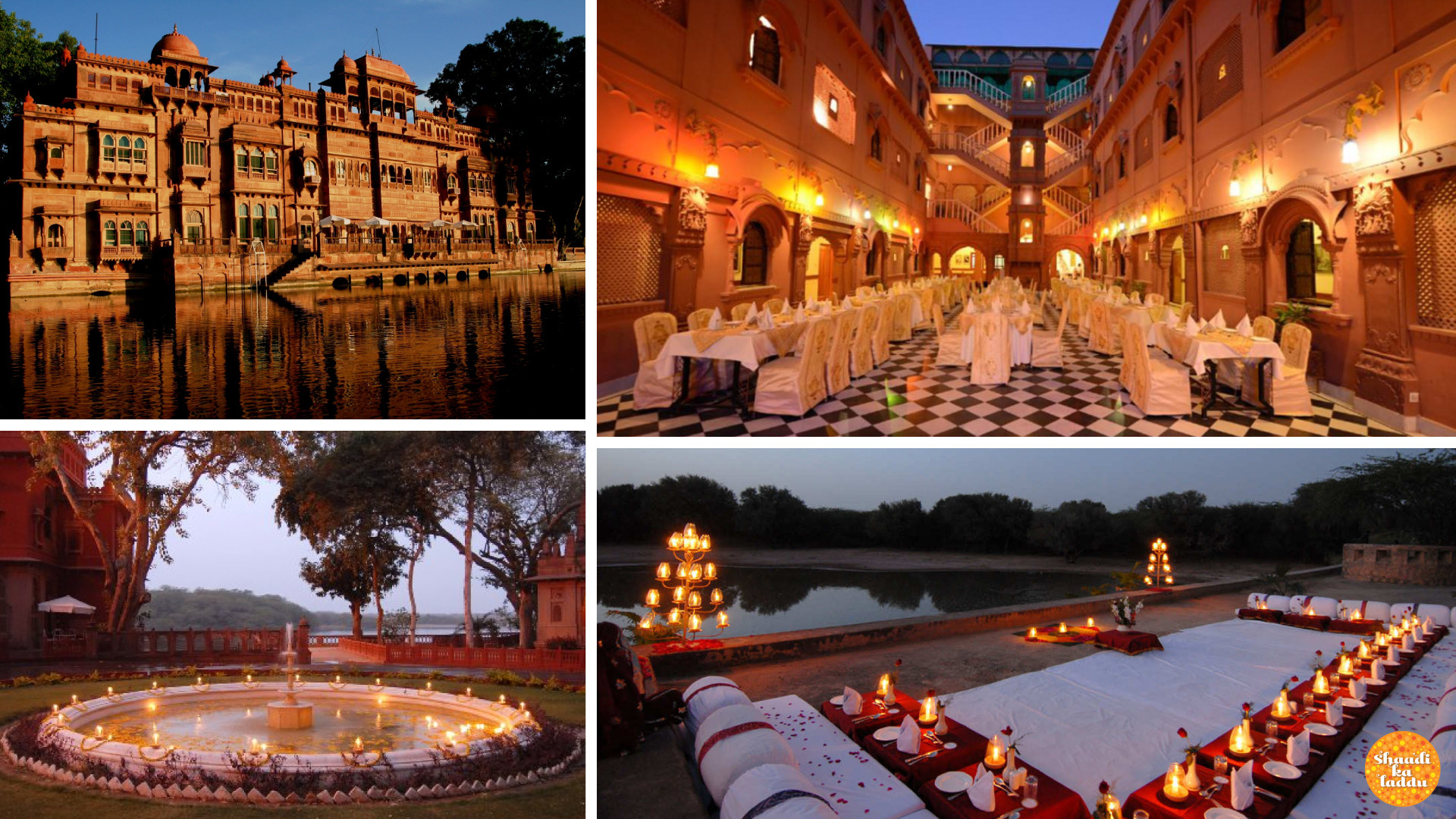 The Lesser Known in the City of Lakes – Udaipur
It's hard to believe that budget destination weddings are possible in a city as illustrious as Udaipur, but we happen to know a couple of places which are regal and yet just outside of the royal price-range – you just have to know where to look!
Fatehgarh and Deogarh are spots that we love, especially since they have reached luxurious heights without sacrificing on their heritage feel. The former is a fort that is just a 15-minute drive from the Udaipur city center, floating atop a hill like it's right out of a children's book. Complete with swimming pools, outdoor lawns, and space for two-hundred guests, the fort lit in the night is a sight to see!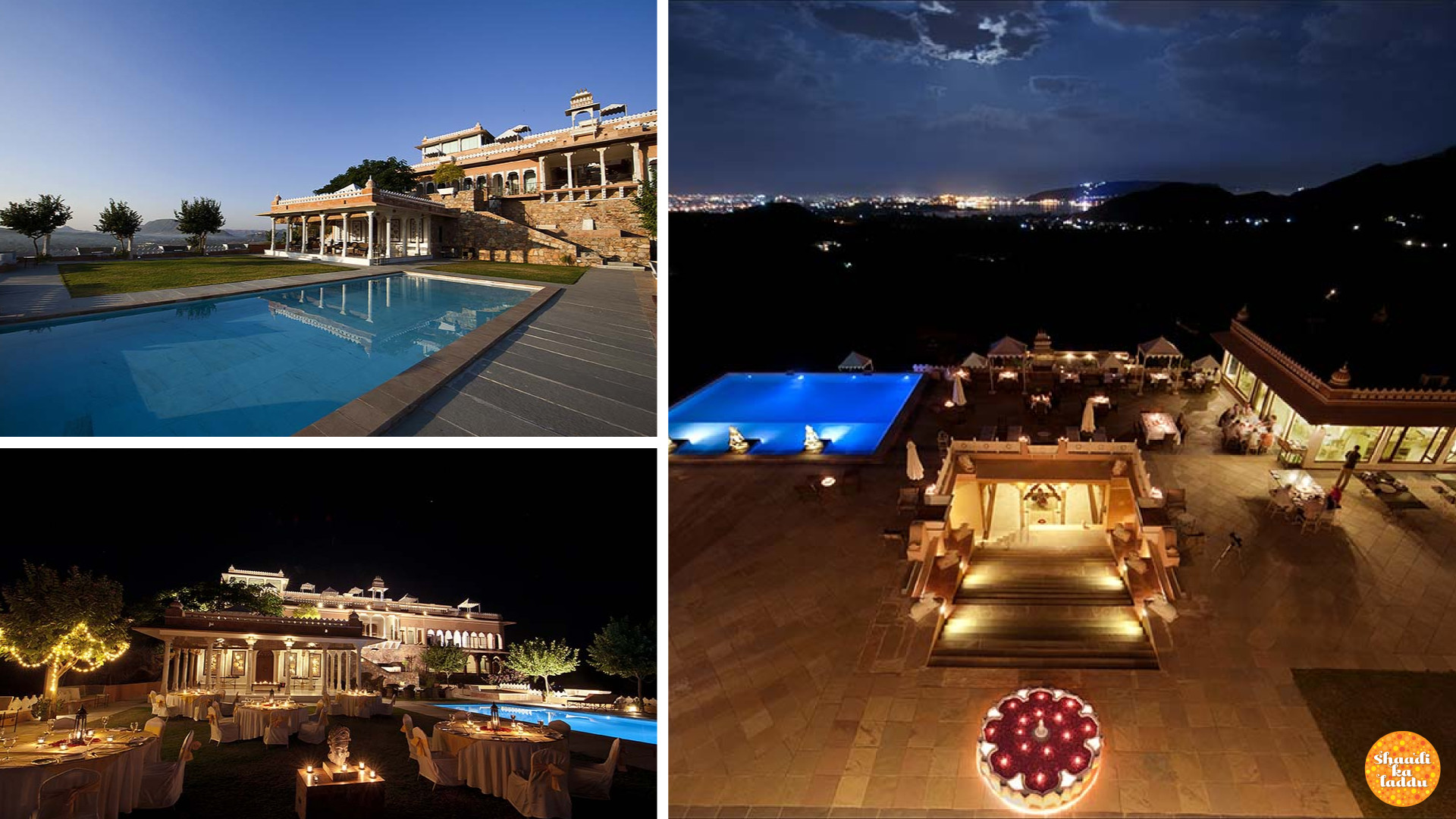 A few hours out of the city of lakes stands the stunning yellow-ochre Deogarh Mahal, accented with white highlights. The fresh yellow is sure to make for a perfect backdrop for your wedding photographs, and its distance from the city assures that it's ideal for an intimate but lavish wedding.
P.S. Both are considerably cheaper off-season, in case the months between March and August suit your schedule.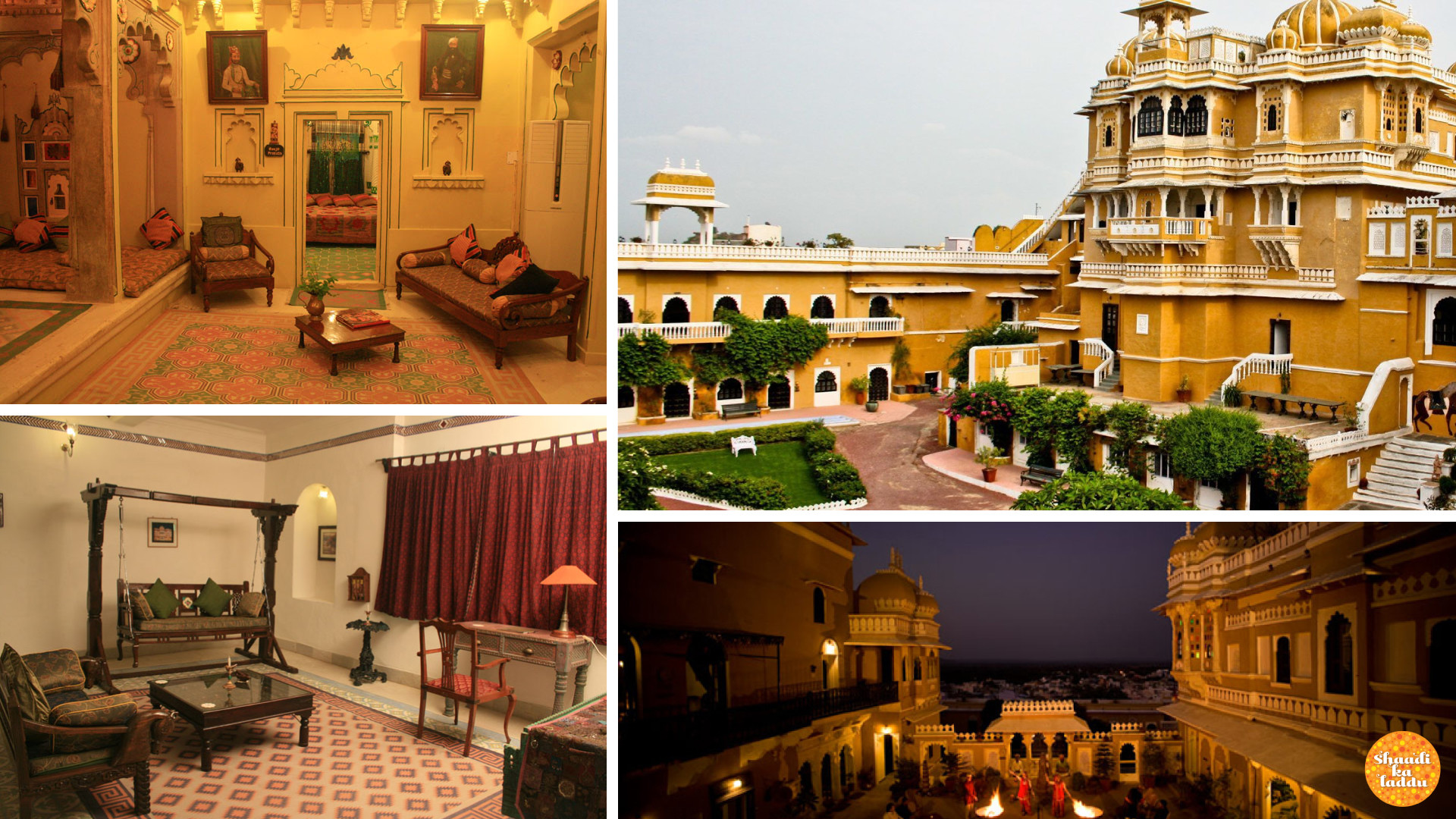 Built to Celebrate – Pali
Moving further away from the cities we are all familiar with, the lesser known spots often make for great wedding destinations. Located right between Jodhpur and the Aravali range, Pali's Lakshman Sagar Heritage Resort is a hunting lodge that has been redone with just the right amount of funk! Accented with neon greens, vibrant blues, and flashing pinks, the mud walls and splashes of color lie right at where cultural heritage meets the trends of the 21st century.
Perks? A rock cut swimming pool, individual villas for guests and desert dunes till the horizon.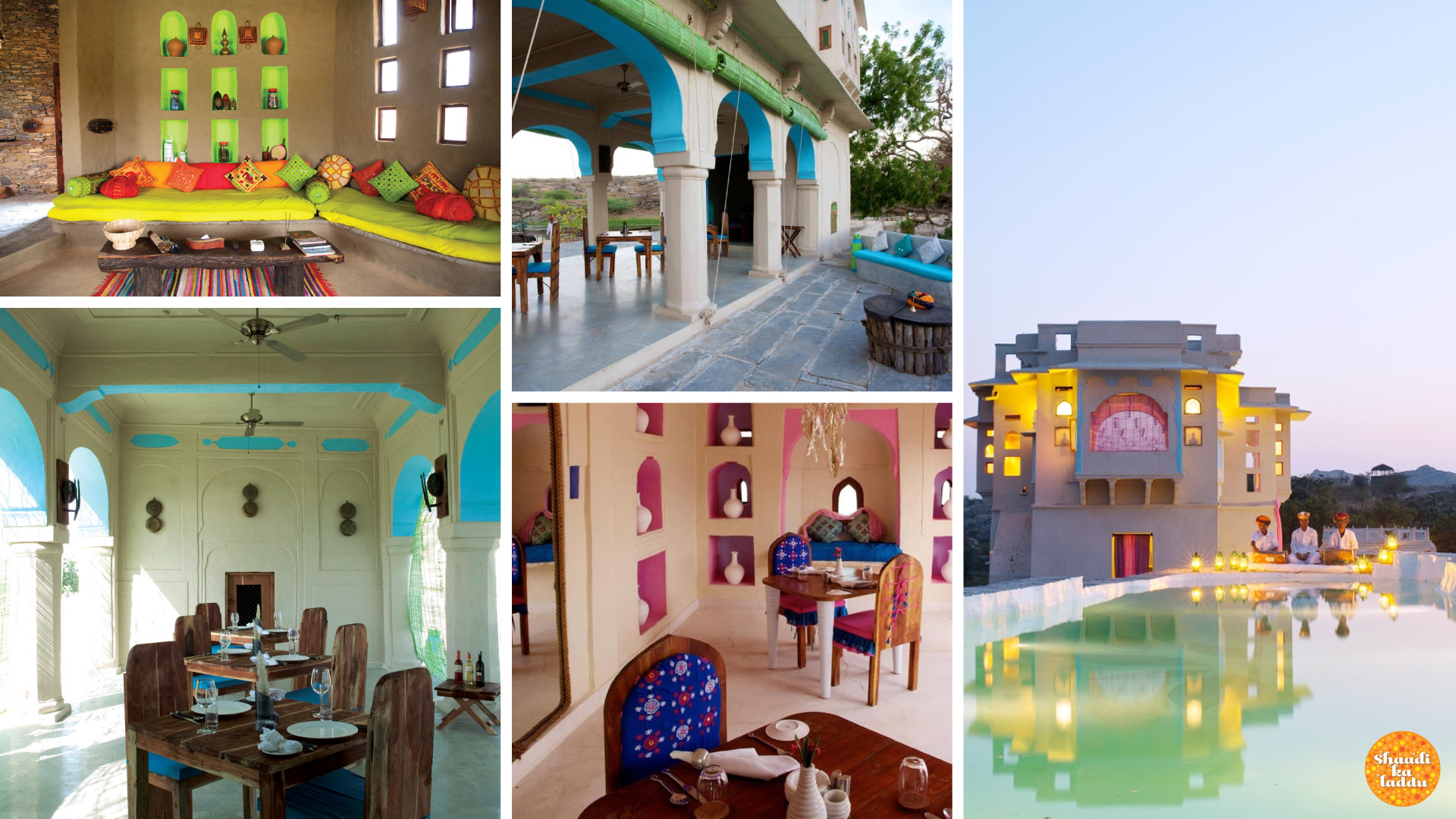 At the Edge of the Thar – Khimsar
The ITC group brings to us an oasis – both literally and figuratively – right in toe with the desert sand. With the village scattered with cottages, the fort is remote, picture-perfect and just the right amount of adventurous for your wedding vows!
The Khimsar Fort and Dunes Hotel accommodates guests in villas in the sand, constructed in rural architectural styles but with luxurious furnishings on the inside. While the subdued pinks and browns of the fort will make every bit of color in your wedding pop, we do highly recommend a shoot or two out in the sand.