Getting tons of advice from friends and relatives is a given when it comes to wedding preparation, but we have something special to calm your nerves – first hand Bridal Style 101 straight from the fashionistas of the blog-world.
In the past 5 years, we've seen some of our favourite style bloggers tie the knot, and they have not only done it with panache and elegance, but also made sure that we get all the inside information fresh off the boat! Here's to Ayushi Bangur, Shinjini Amitabh Chawla and Masoom Minawala's Big Fat Indian Weddings, and everything they want you to know.
1. Everything You've Ever Wanted, with Style Diva – Ayushi Bangur­
With her winter wedding late last year, Ayushi Bangur's regal lakeside destination nuptials at Udaipur turned a lot of heads, especially since her beau Smaran Sahu isn't alien to social media either! While photographs have been up on pretty much every fashion platform, we're still eagerly awaiting Ayushi's own advice on how she pulled off the being the flawless bride.
Colour Me Silly – Bridal Outfits
Keeping in mind that City of Lakes is known for its exuberance in palette, her choice of colour for each occasion fit the bill perfectly. From the delicate lilac outfit lined with silver and mirrors to match for her sangeet, to the deep velvet studded with gold in complete contrast (credits to Dolly J), Ayushi made sure that every lehenga she chose allowed her just the right amount of freedom to push fashion limits and still be stunningly traditional.
Last but definitely not the least, she tied it all together with the perfect shade of tropical pink, just in time for the baraat and her pheras. Bejewelled and stately but not the least bit overdone, Ayushi Bangur both chose and wore her Sabyasachi lehenga with perfection – the bridal look which she herself stated was the one that she picked in a heartbeat!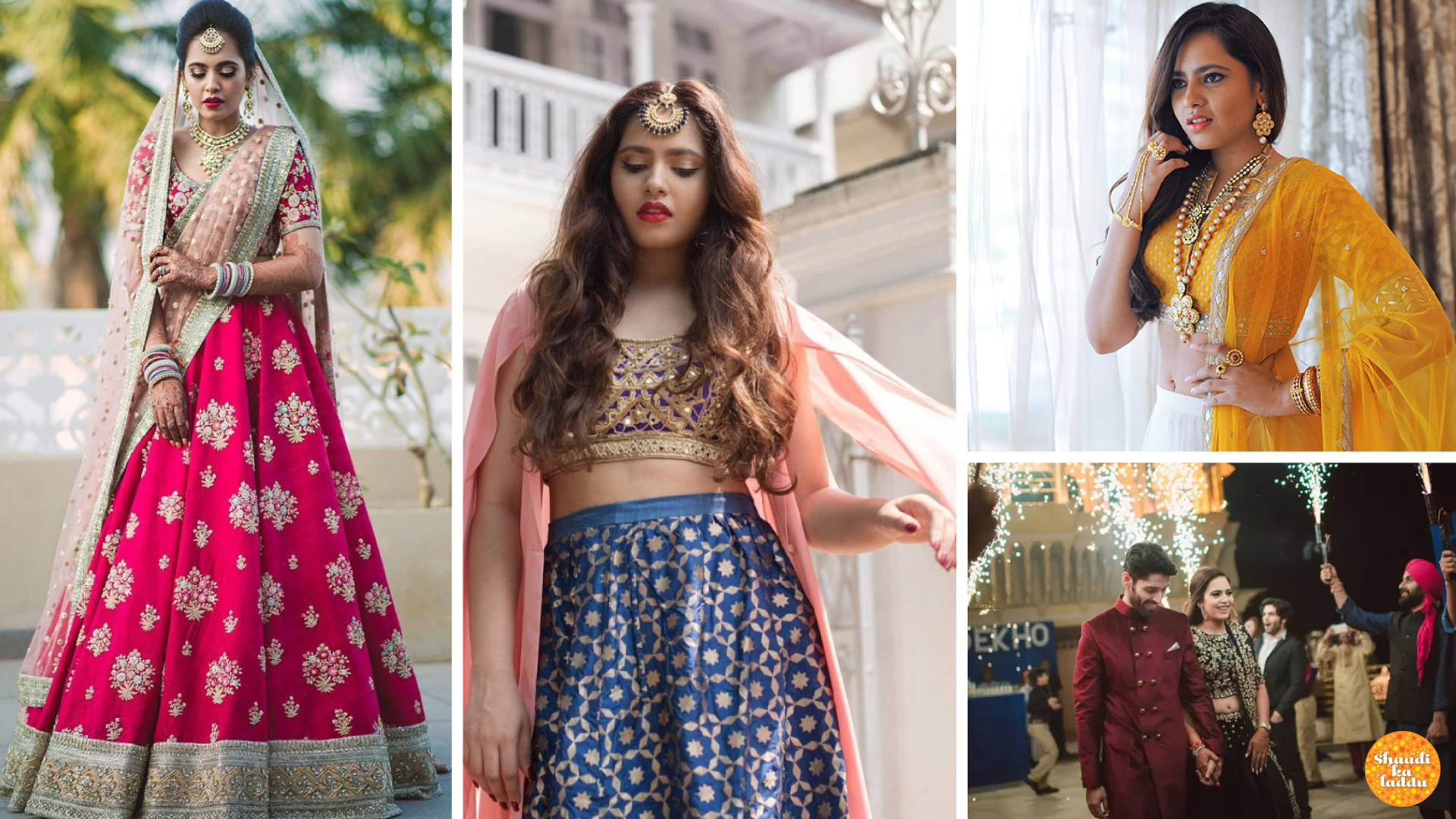 Hair and Make-Up, Fit for the Occasion
Lehenga shades and styles was not all that she experimented with, undertaking a new hairstyle for each festivity. While in her mehendi she sported half-curls, simple summer make-up with luscious lips to offset the lilac, her sangeet was befitting the late evening to night ambience; smoked eyes getting all the attention while her hair was partially pulled back.
On the big day, keeping with the traditional chunari and all the must-have jewels, she kept her makeup toned down, with highlights to match the lehenga, of course!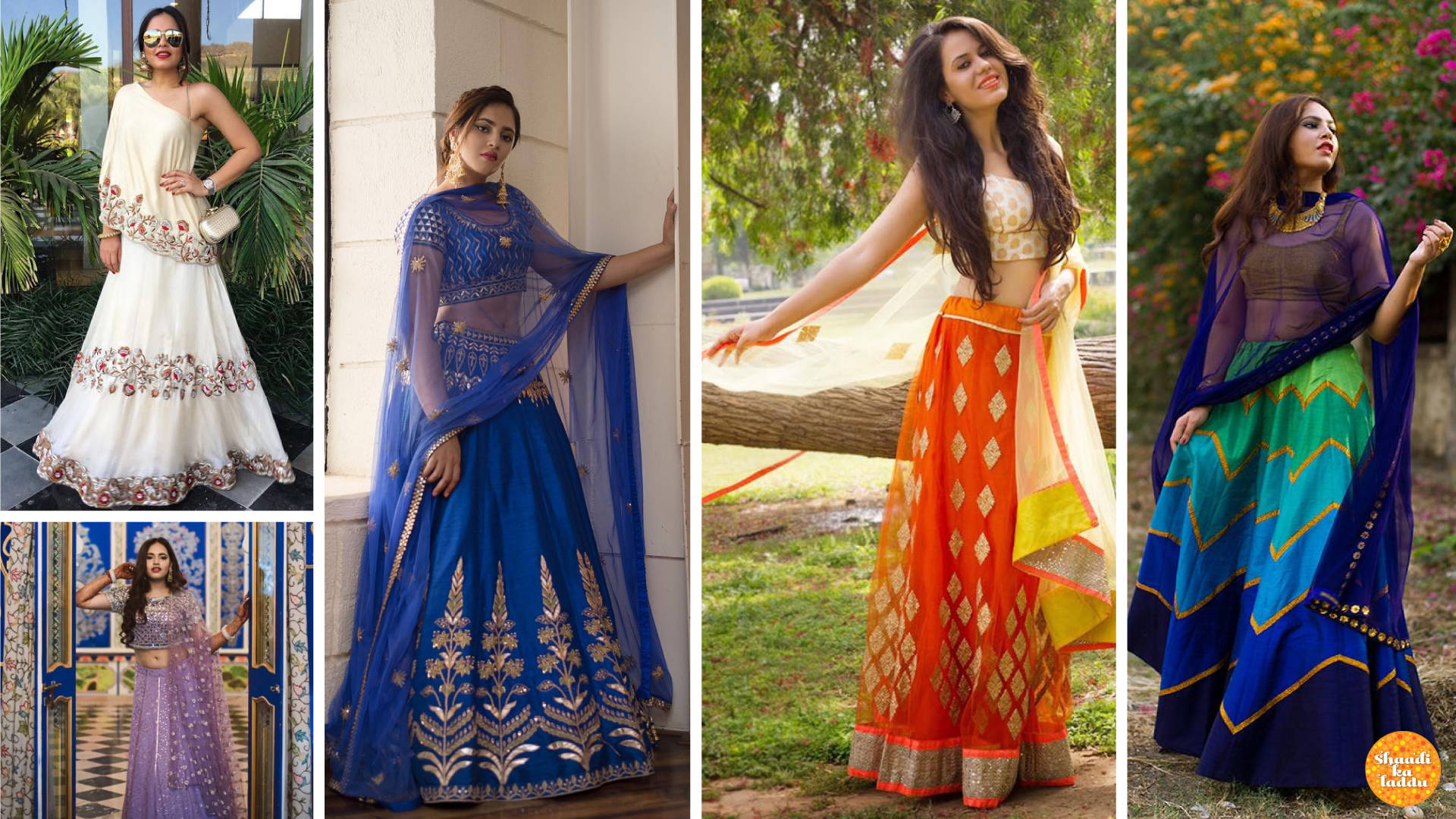 2. Step by Step with The Delhi Bride – Shinjini Amitabh Chawla
From waking up on the morning of her wedding to the rush of emotions during her vidaai, not to mention every ceremony before and after, TheDelhiBells series by Delhi's very own bride Shinjini Amitabh Chawla has made sure that every bride-to-be has a place to look for wedding tips as well as advice and confidence in the fact that the day is truly going to perfect.
Coming back to her own choice in fashion, Shinjini's blog not only gives us details of the ceremonies but also acts as proof that she chose to be in near-full control of her bridal stylings! Starting with the simply chosen below the knee skirt and sleeveless zari top which allowed her for comfort, but with elegance and beauty, her sangeet and wedding ensemble was the perfect balance of traditional and minimal.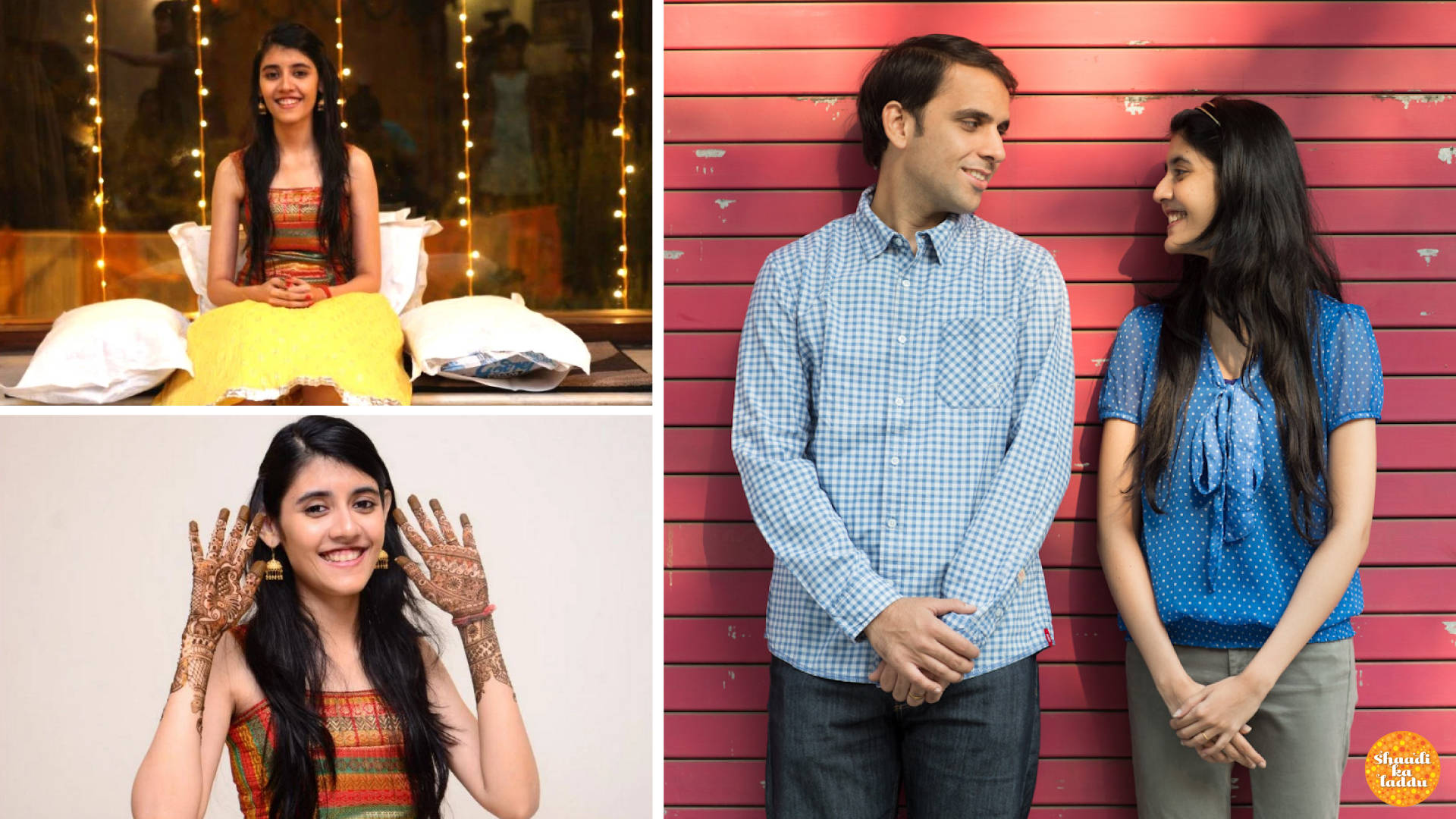 Dressed to Party!
Red, green, blue and white with golden highlights in the zari and butti patterning, the lehenga for the sangeet she matched with golden heels, just the bare minimum jewels, cobalt blue glass bangles to match her chunni and hair open but pulled back from one side. TheDelhiBride has dressed just for the occasion, as she says – "Style your tresses, Step into your dancing shoes, Pin up and you're ready to party!"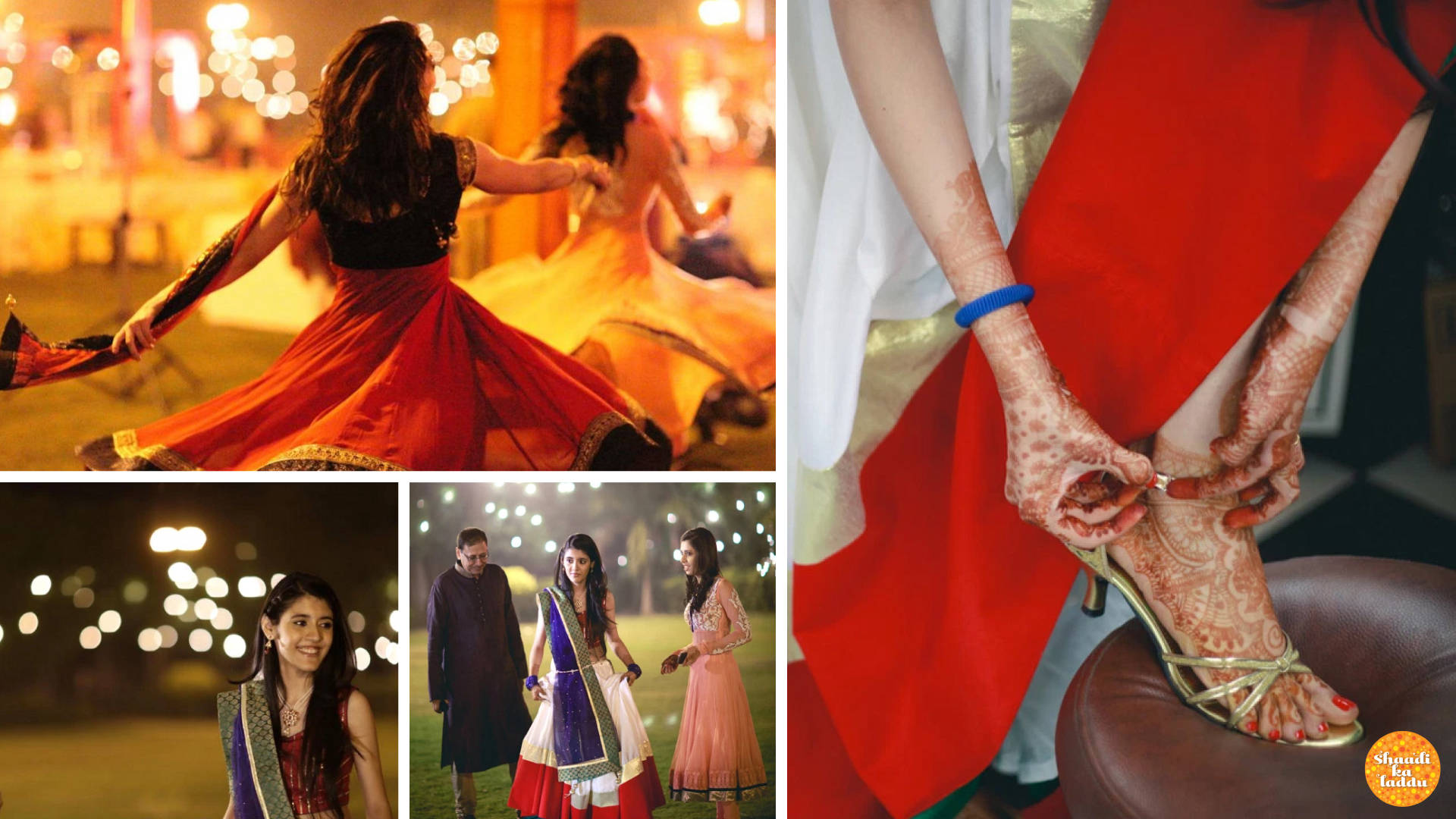 The Perfect Pink
Delicate in build as with her choice in fashion, both her wedding lehenga as well as her outfit for her reception were shades of pink, studded from top to bottom in gold work – making up for the minimal jewellery she wore.
We haven't fallen this much in love with a bride in a long time, and when it comes to TheDelhiBride then there is no doubt that her bridal style was inspired by the fact that she intended to enjoy every moment of festivities.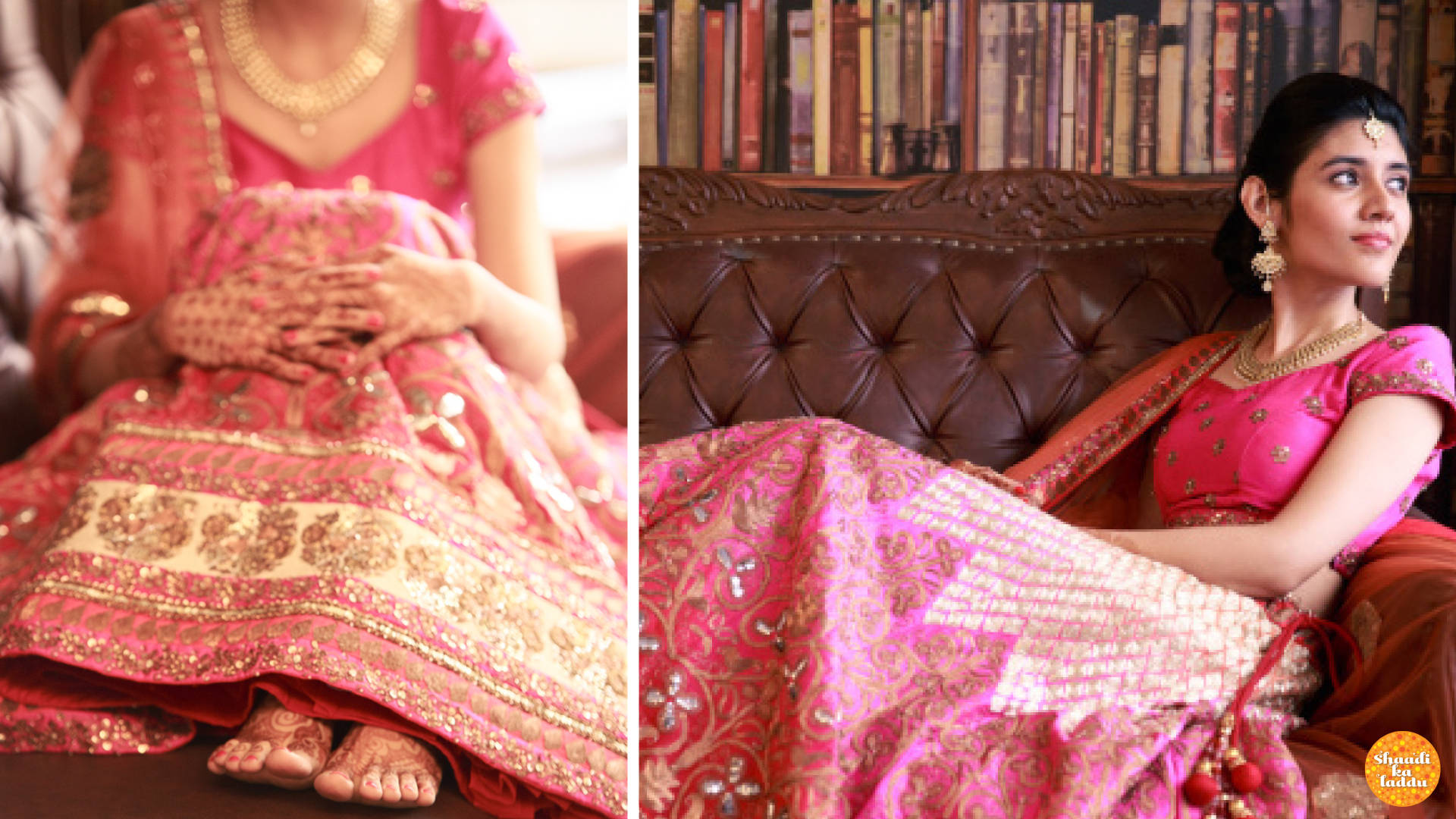 3. Customized Ensembles for The Win, with Miss Style Fiesta – Masoom Minawala
Having taken us through fashion, beauty and lifestyle posts for seven years now, MissStyleFiesty tied the knot early this year and we couldn't be happier for her.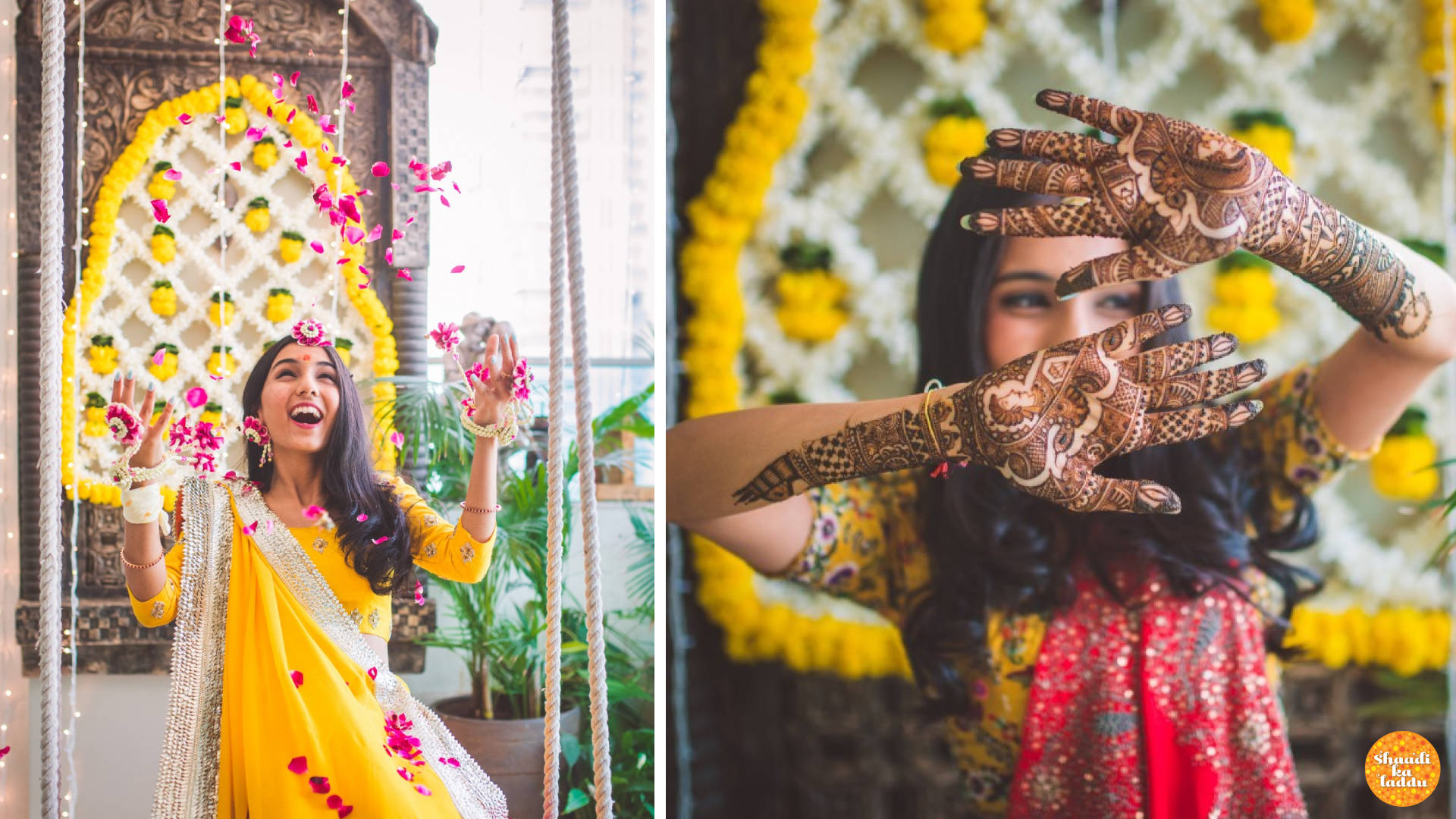 Making sure her blog and the constant stream of Instagram posts keeps us informed on all the fun she had, Masoom Minawala has hit all the right cords when it comes to planning a wedding that is off beat and planned to every last detail.
Start by Painting the Town Red!
From kicking off the festivities with a Holi Party where they made their first bride-and-groom–to-be fashion statement by dressing in rich yellow in a sea of pure white, Masoom and Shailin have been nothing less than rockstars in every photoshoot along the way!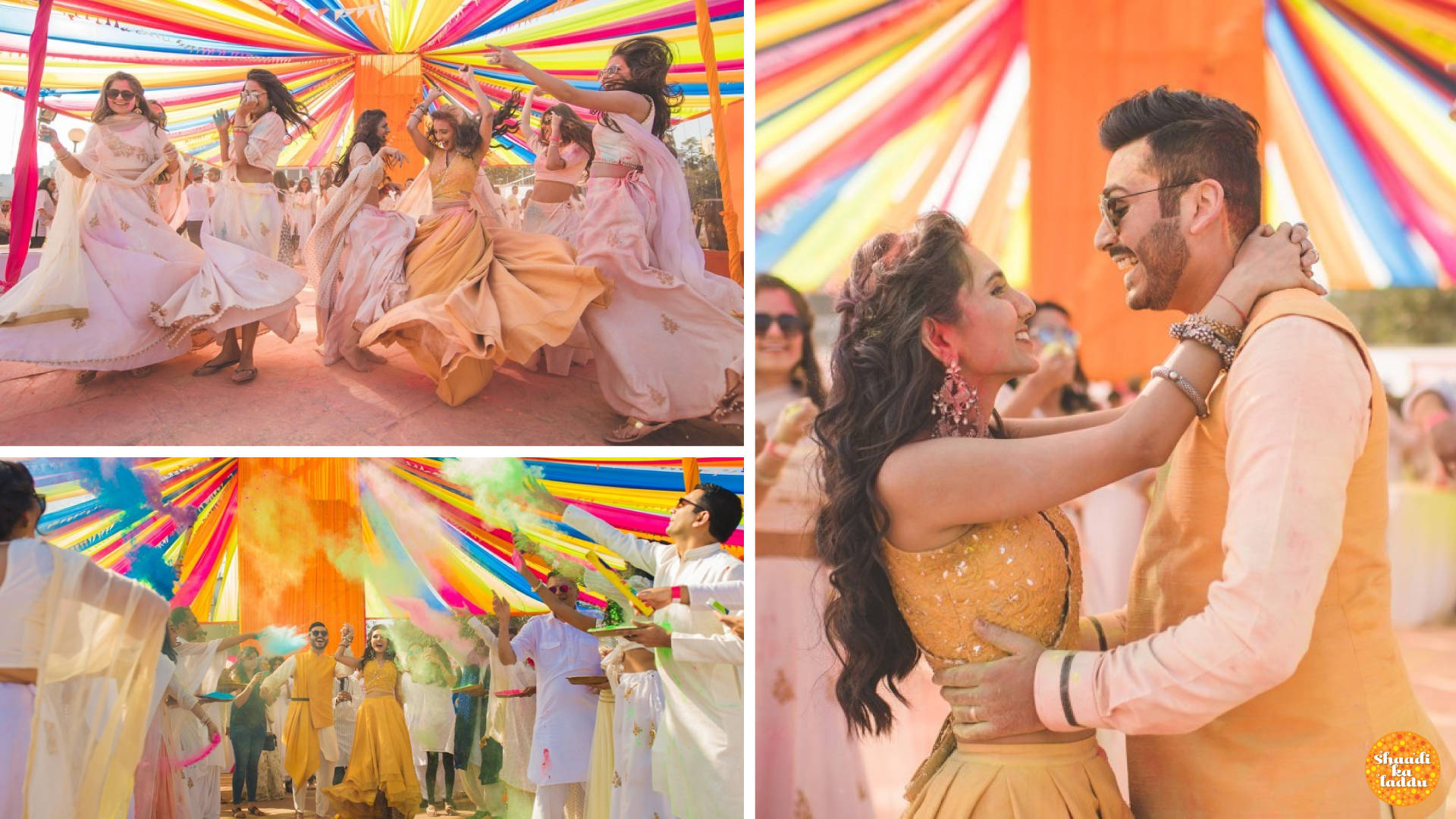 The Sea, Made to Order
The sky-blue mirror-worked lehenga she wore for her sangeet is definitely making the wish list of every bride-to-be who comes across it. Customized to fit the occasion perfectly by Abu Jani Sandeep Khosla, don't miss the cape sleeves that tactfully give her the freedom to dance unhindered and neutralize the need for a dupatta!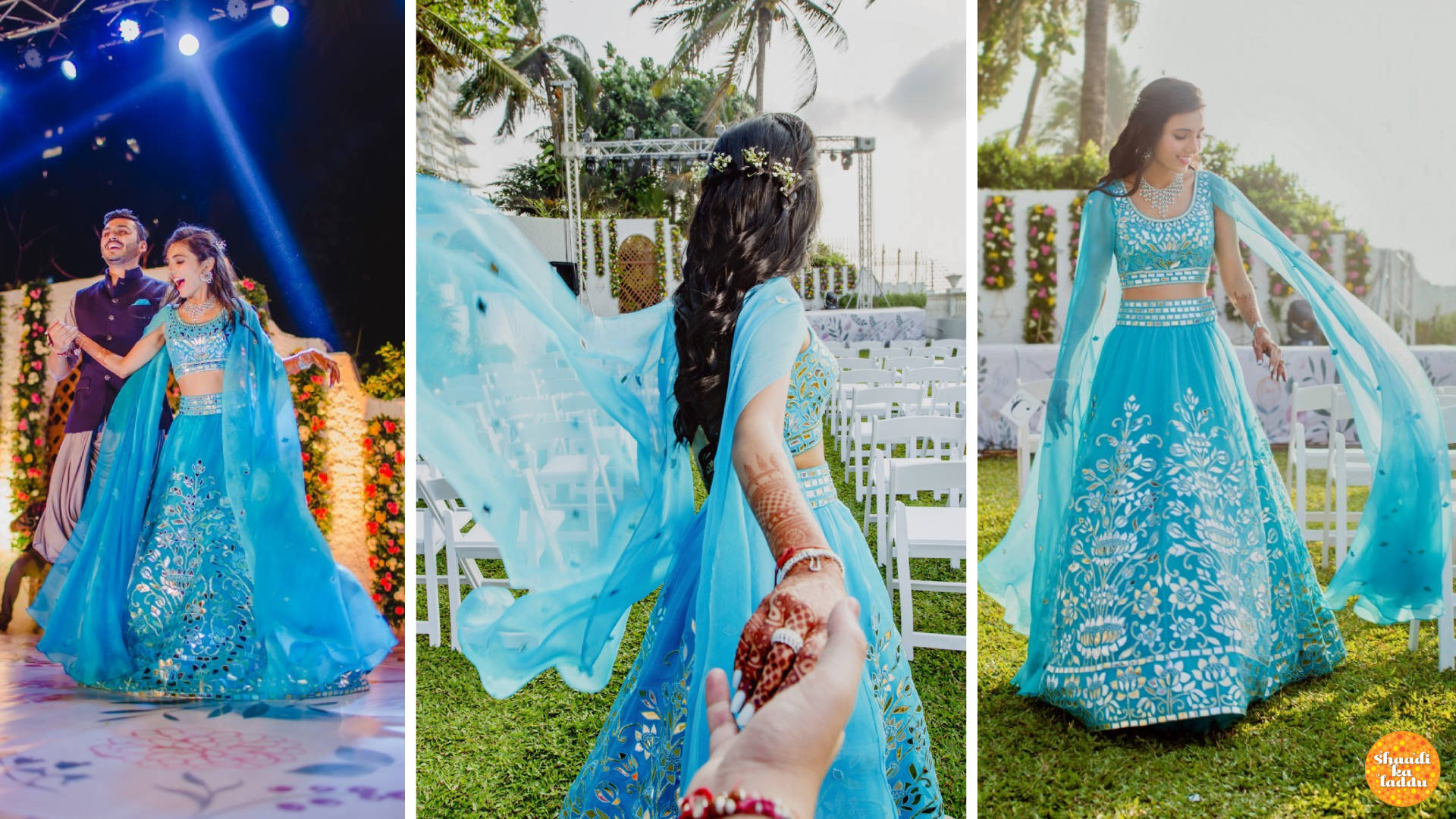 Customized from Scratch
It's hard to miss the fact that Masoom's bridal lehenga is not anything that you would have come across, and that is precisely how she intended it! Designed and Tailored by Anamika Khanna, the blushing bride tells us in her blog of how she knew exactly what her bridal outfit should look like – and sure enough, the designer captured it to perfection.
"A day I wanted to look like myself and not have my outfit, jewellery or makeup take that away from me", and her choice in ivory covered with embroidery, elaborate studded jewels to match and pale pink hues from her chunni did just that.