If you were ever one to doubt the power of personalization, we are here to change your mind! Counting the months, weeks and days to your big day? What better way to start it off than to have a little fun with DIY wedding packaging!
If you are organized and have reliable helping hands, then this can become a great way to cut costs as well, leaving no space for that little something missing. All inclusive DIY wedding packaging is the perfect catapult to your fireball wedding event, so brides and grooms, here is a chance to bring to light your inner creativity and let loose the artist in you!
First Impressions / Envelopes
A symbol of the long backstage journey that runs before (and along) the main event, DIY envelopes can give you full control over how things look, make sure that no details are missed out and even tell a story!
To put together your envelope suite you need to decide on the envelope size, the theme, colour combination, font, and text and accordingly get to the material requirements.  While the aesthetic of the endeavour is entirely up to you, here are a few things to get you started.
DIY Liners and Stamps and Block Prints
Simple in both form and function, envelope liners add strength, an element of surprise on the inside and an offset of colour to the covers.
1. Fabric Liners
Fabric liners are all the rave, adding pattern, bright hues, embroidery and even zari to the otherwise plain surfaces. Traditional prints like Ajrakh and Kalamkari can serve as stunning decoration for envelopes, as can cut pieces of cloth from elaborate old silk sari's that are no longer fit to wear! Added benefit, they are now tear-free for all practical purposes!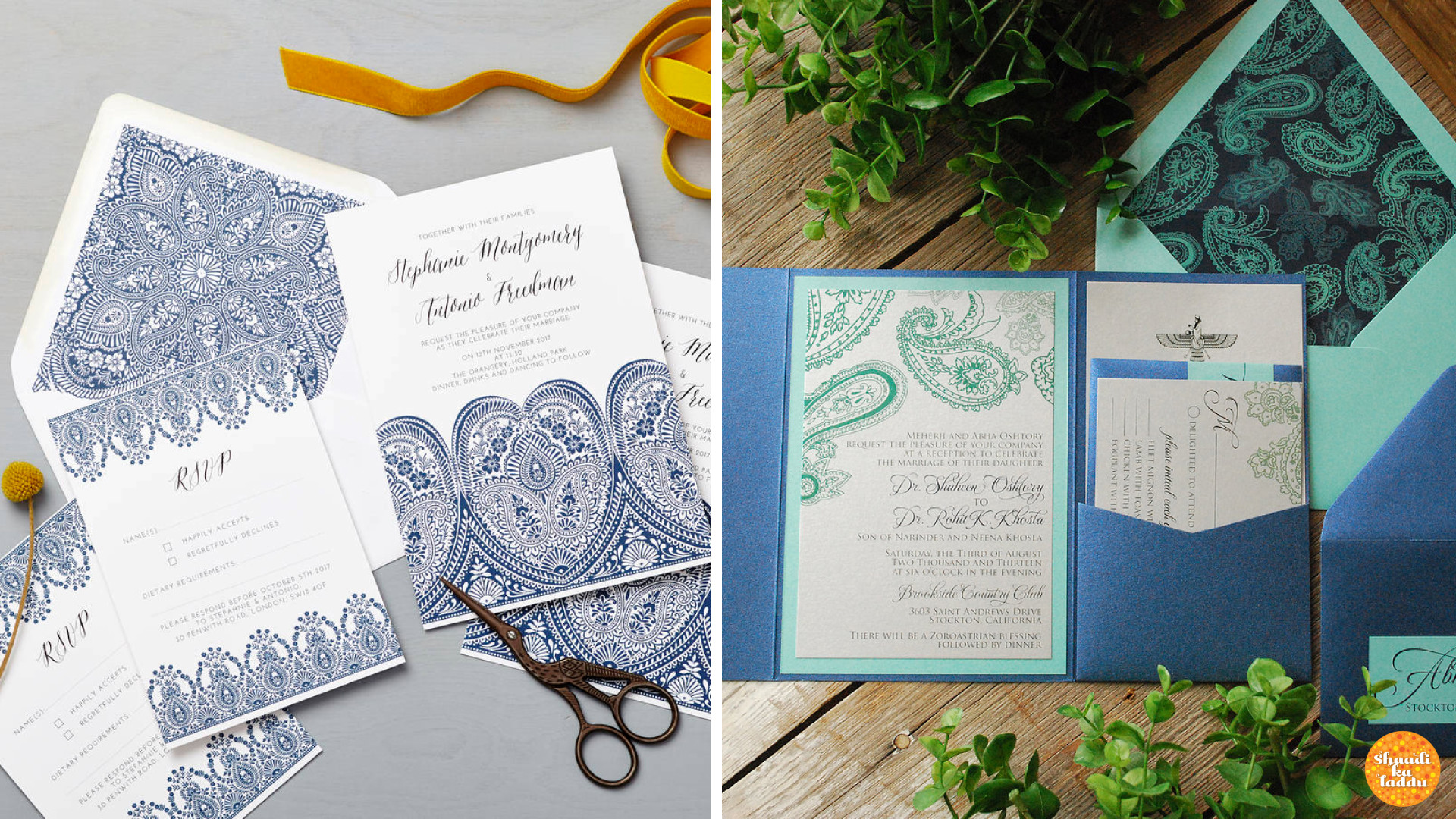 2. Photographic Prints
Taking it up a notch, photographic prints can make for fun and festive liners as well. Strategically position a photograph of the bride and groom peeping out of the envelope when its opened – its sure to bring about a smile.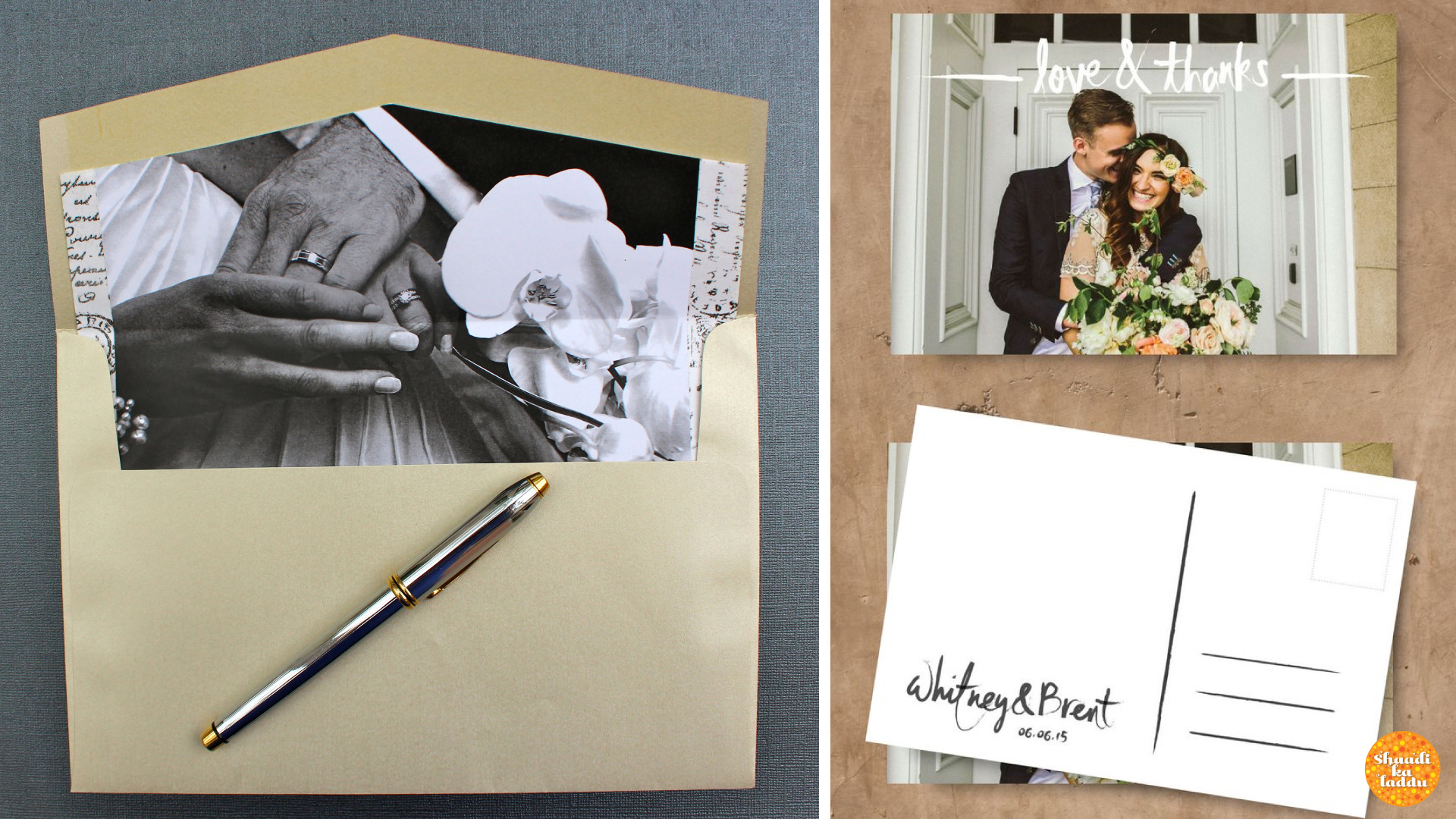 3. Watercolor Wash
Looking for something less out-there? A watercolour wash, hand drawn doodle, distressed old prints with a touch of antiquity or even textured gold paper for that imperial glow can be delicate additions to an otherwise plain surface.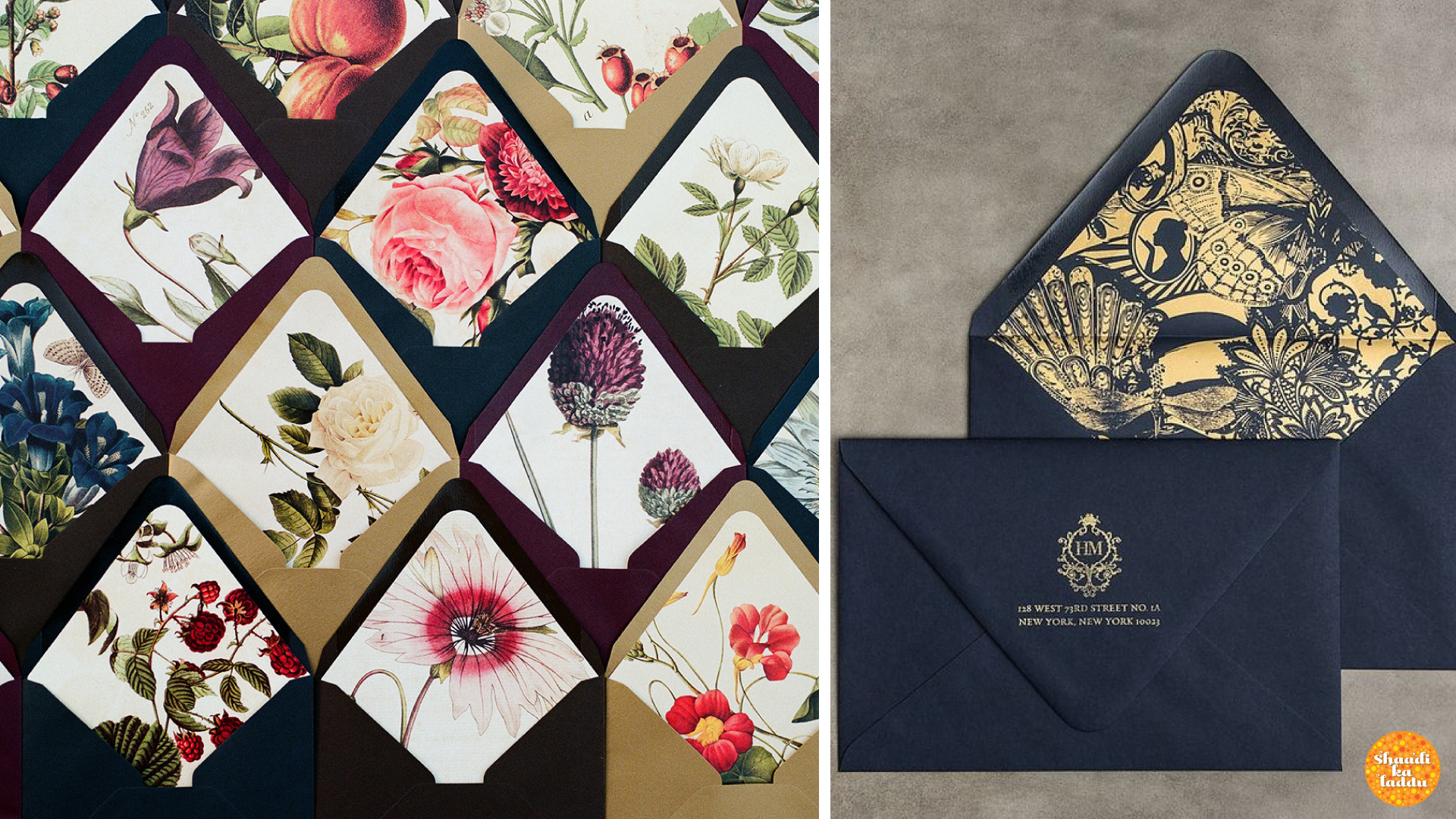 4. Stamps & Wooden Blocks
For those of you who are nervous to take on such an elaborate DIY project, stamps and wooden blocks are the answer. The versatility and convenience that they can give to the cards is seamless. A uniform and perfect solution to DIY envelopes, multiple coloured and lined stamps juxtaposed could create the most fun designs for the card. Customizing the stamps by creating a design with the local stationer is a great option if you're looking for something more personal.
Regal Stationary with Seals, Lace and Embroidery
If royal fervour is what you are leaning towards, then a wax seal with an emboss of even just the initials of the couple of the date of the wedding can act as the epitome of sophistication. Minimal and impactful, seals can easily be custom-made with a little notice – and they are extremely easy to execute.Pristine lace, shimmering sheer cloth or translucent surfaces enhanced with embroidered text and florals can add a splash of royalty as well; it's a bonus if you or someone close to you is skilled in needlework, even if it's just for the borders!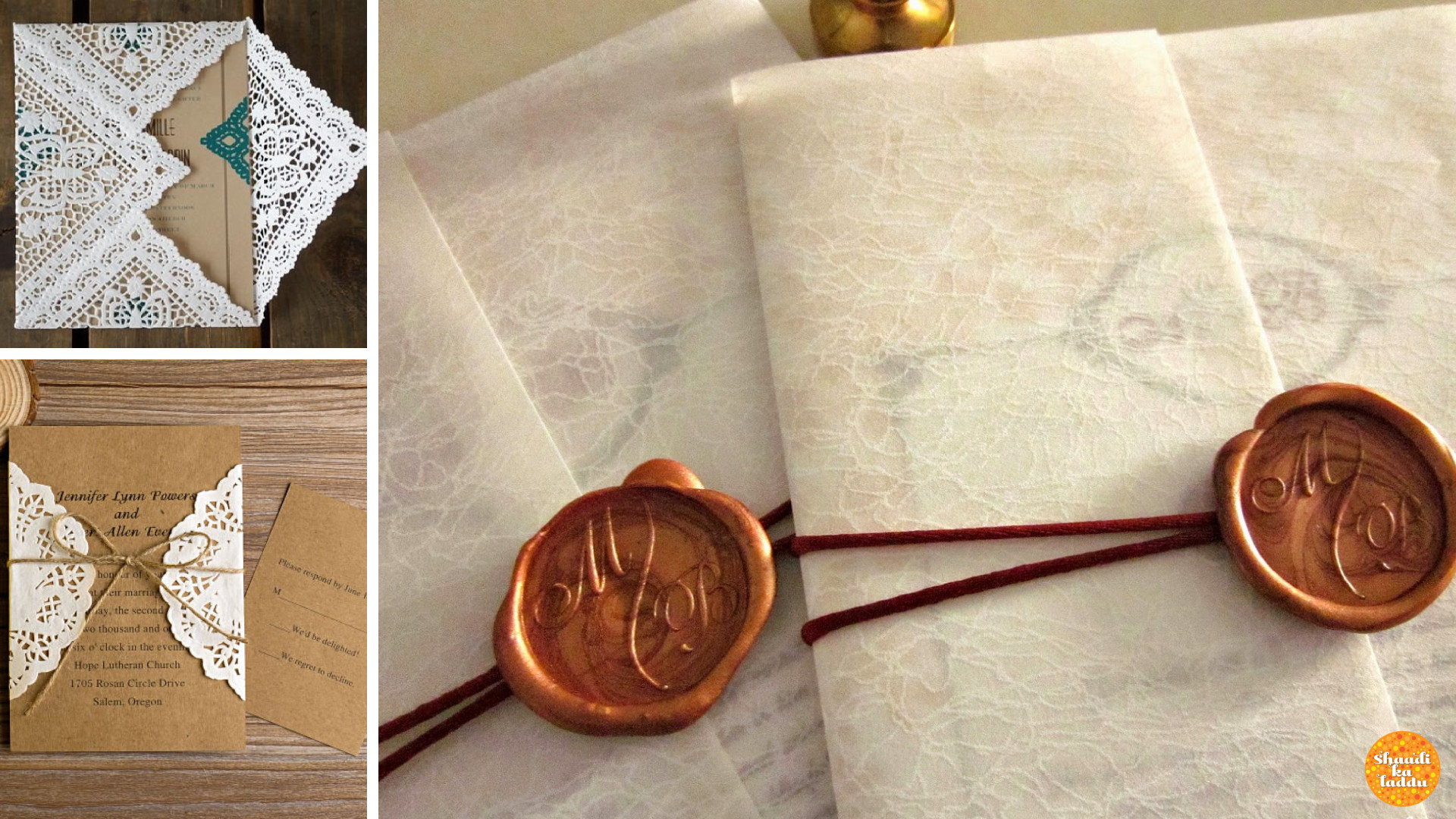 Tell Your Story
From watercolour hand painted images to directorial maps that narrate the story of how you both came to be a couple, you can use the envelope itself to invite you friends and family to get to know a little bit more about your journey.
Calligraphy functions beautifully as well, as do simple handwritten invites that bring back memories of day's bygone.
P.S. Don't worry, you don't have to handwrite each one – just create a master copy and then get them reprinted; personalization without the extended utilization of time.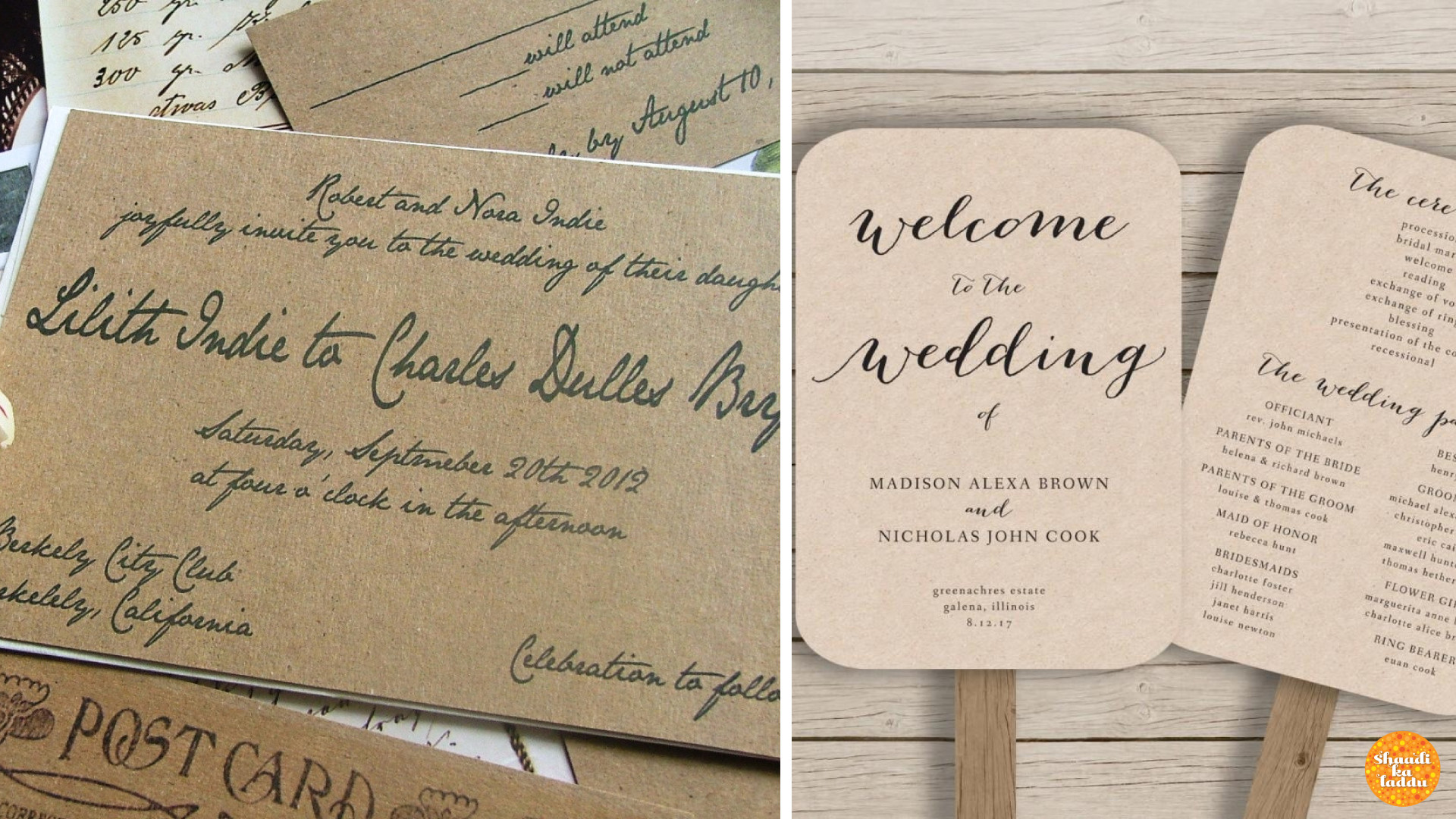 Essential Adornments / Trays and Baskets
Trays and baskets have always been essential accessories in any Indian wedding, used constantly to load up with small gifts, tokens and lots of love for all your family and friends. Things to try out on your own DIY trays?
1. They can very well become a part of the decoration and add to the charm with small details created with easily available things like lace, fabric, bows, nets, some glitter and sequence.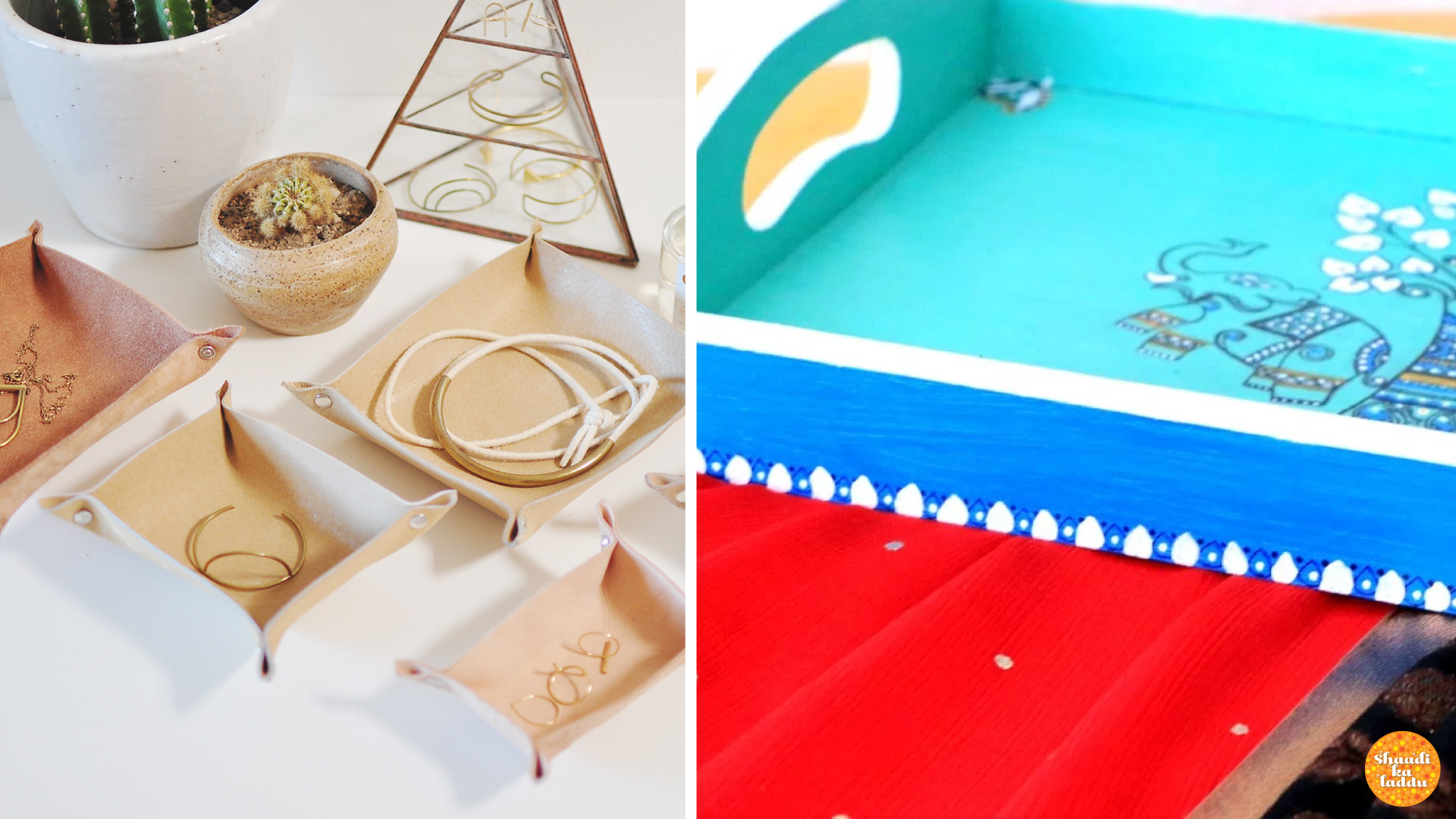 2. Have fun with small three-dimensional models by levelling them up, using neatly covered thermocol sheets to keep it light.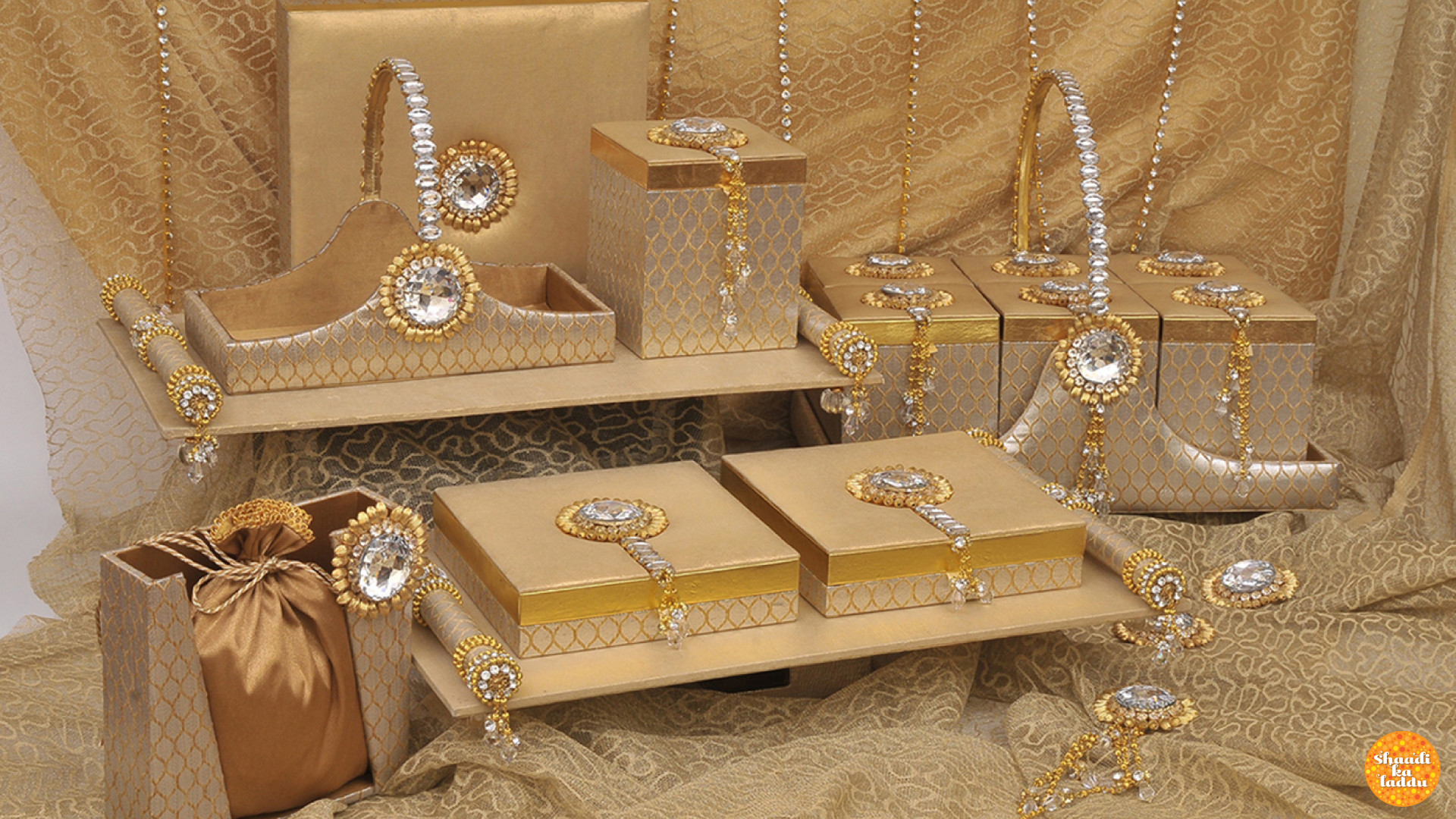 3. Keep it traditional; the arc of the basket can be covered in printed fabric, adding danglers and sheet net to give it some shine.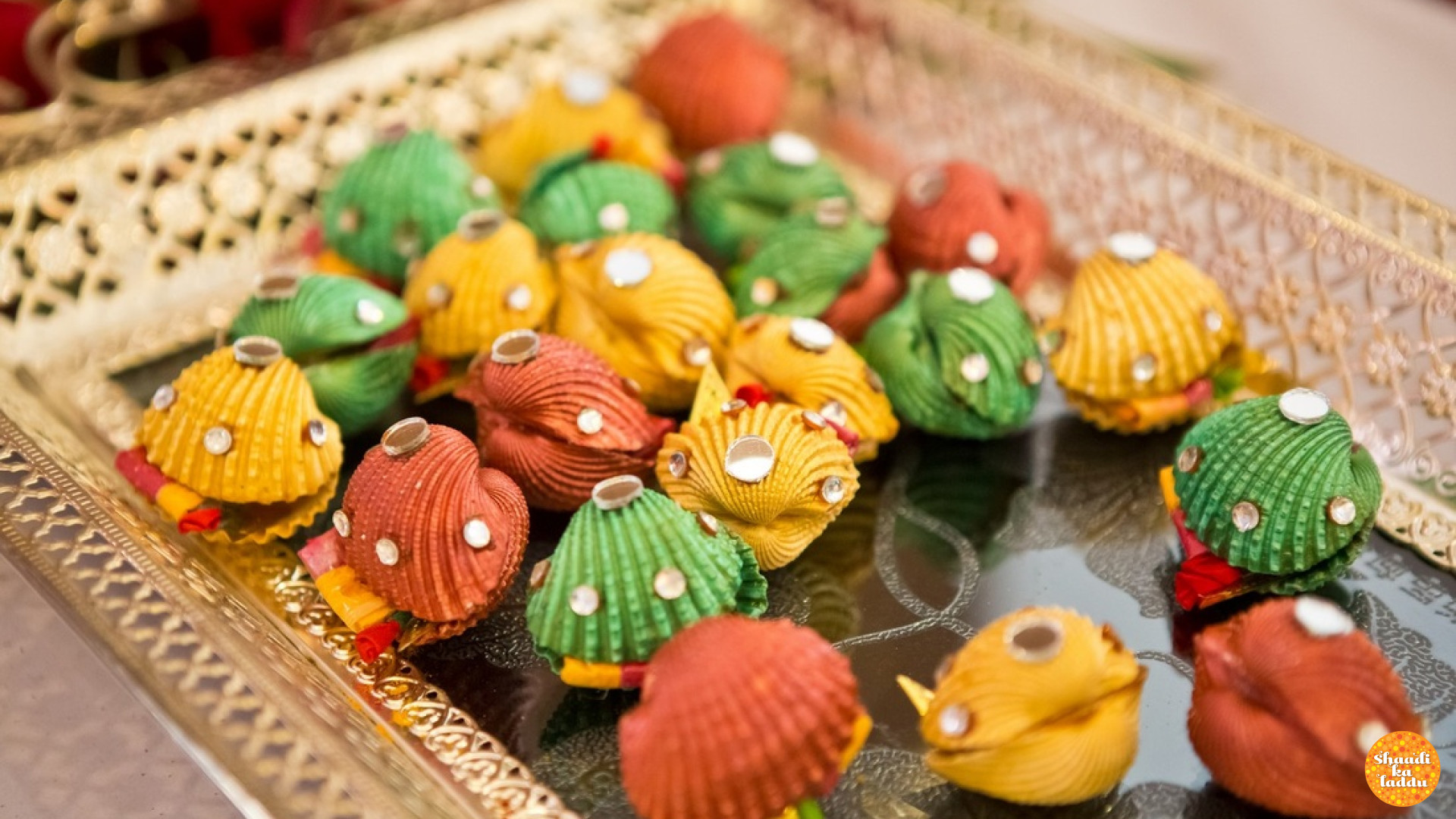 4. There can never be too many flowers at a wedding, and the simplest floral arrangements can make a basket look elegant and decorated in a heartbeat.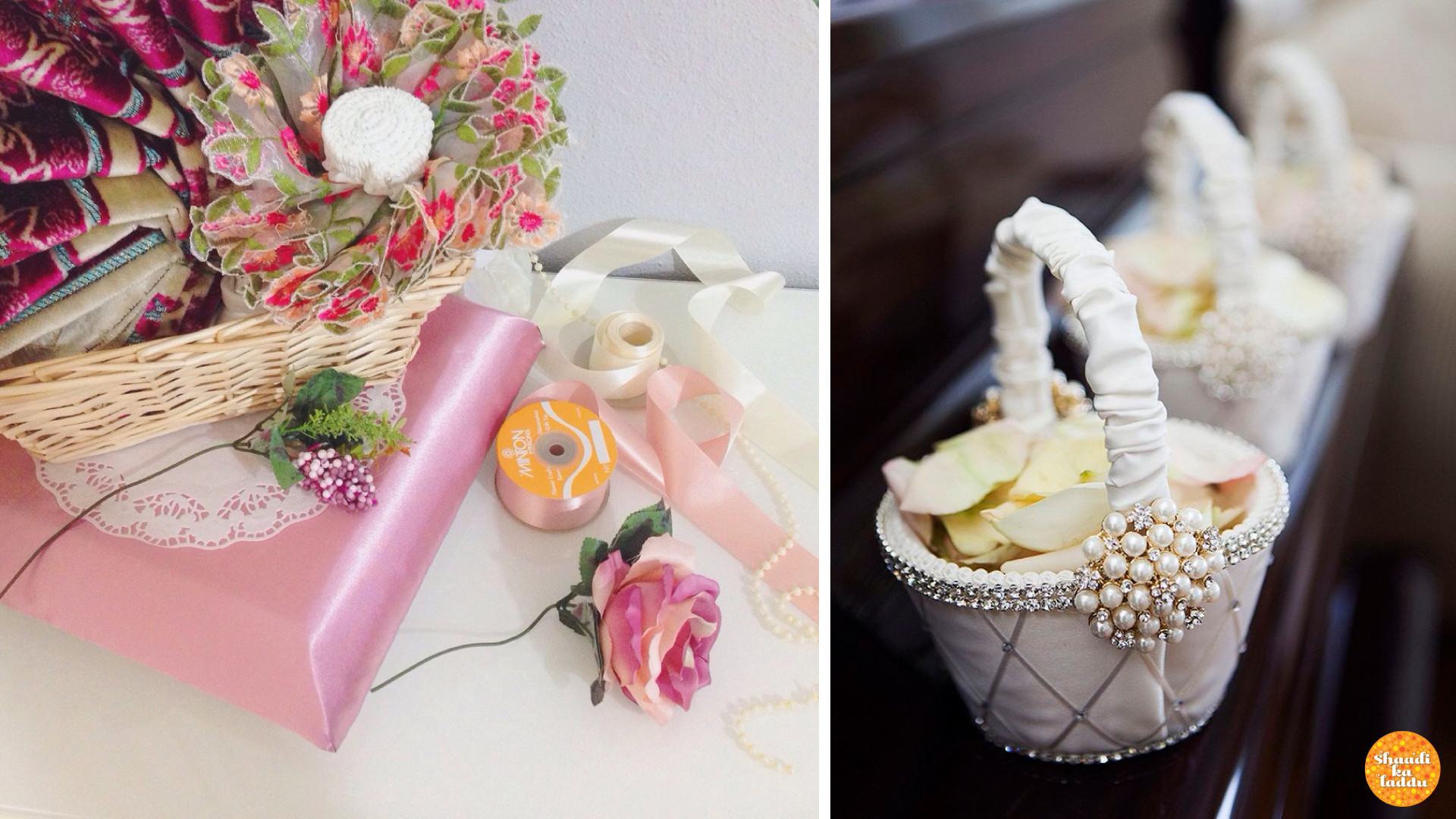 5. Designer crystals, gold and silver used in moderation with swatches of velveteen is a route to take if royal exuberance is your style, especially if you stick to colors like blues, reds and greens.
6. Cover a tray in mirror-work, and the rest of the wedding venue's décor will bejewel the tray for you!
7. Looking for ways to embellish the wedding favors? Chocolates to match the mithaai and tiny bottles of attar to add to the traditional sindoor dani's and idols will get the excitement right up!
Packaging Memories / Boxes
From using a few skilled creases and folds of cardboard to re-appropriating available boxes, DIY making and decoration of storage and gift packages can become a creative endeavour to look forward to.
If you want to construct them from scratch, then we strongly suggest using the pattern of fold-out cake boxes;
 

Ideal to hold things in,

 

Sturdy, but not necessarily permanent,

 

Easy to open out,

 

And made of stiff paper that can be printed and collaged on, painted, decorated with ease or chosen in bright colours.
Prefer to skip the making step? There is a lot of fun that can be had in just the decorating, depending on what kind of a theme you are going for and what material you choose for the boxes itself.
 

Ready-mades like wooden are fun to customize, especially if you're ready to patiently paint or block print onto the surface.

 

Paper mache containers make great canvases to collage on, are light and strong, and very flexible to different adhesives and pigments.

 

Though sometimes too fragile, glass can serve as an interesting surface as well – especially for larger containers that are needed to store objects and accessories.

 

Other out of the box options? You can work with anything from old lanterns to small antique trunks and jazz them up to suit your needs!




Packaging Memories/Boxes