There are wedding dresses and then, there are those perfect ensembles that just fall in place. Yes, wedding attires which toe the offbeat, the colours and the effort paid to composing is what we will be looking at!  From atypical colours to exceptional efforts, we salute the quirky and the off-beat in these couples as they strive for novel ways to make their wedding day their own!
Chic-Whimsy: Tarek and Namina
While many modern Indian brides have taken to using red's sister colour pink, majorly, in their wedding ensemble, you'll be hard pressed to find a groom bold enough to don it in a big way. You are here to be quite surprised by this couple.
While the bride's ensemble was the handiwork of one Tarun Tahilani—of whom every bride has heard—interestingly, the groom's attire was the work of a Lebanese fashion designer Nemer Saade. Rarely does one say it—but a groom who wants to make a mark, should take note of this designer!
From the before and after beach wedding parties to the lax-chill atmosphere, the whole aesthetic was handled to perfection.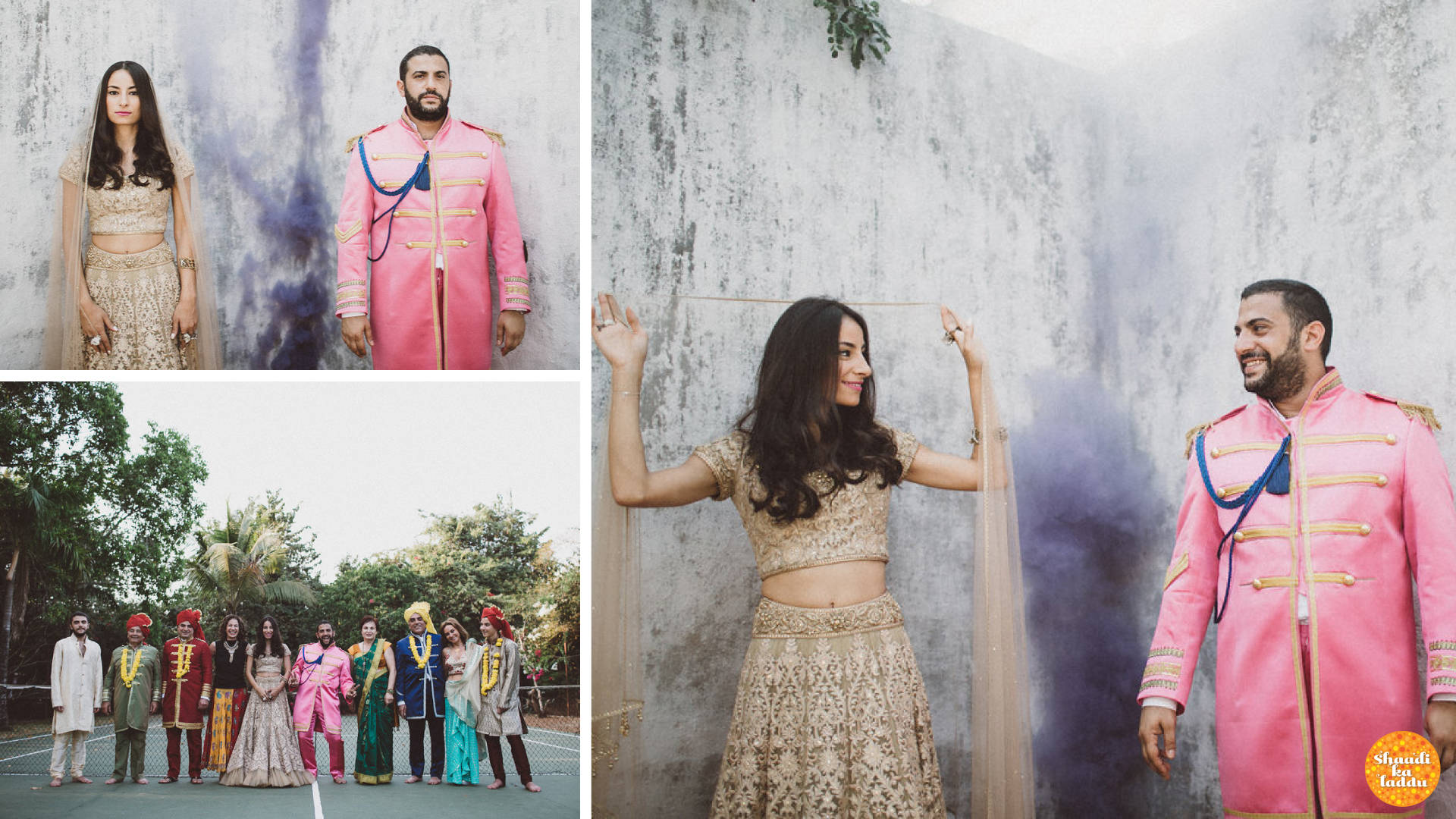 All The Colors Of the Rainbow, And A Few More: Sunny and Vaneet
This regal couple is all colours. The bride especially, wears a blend of strong, distinct colours done just right! The groom has not shied away from colours either, with an extravagant turban.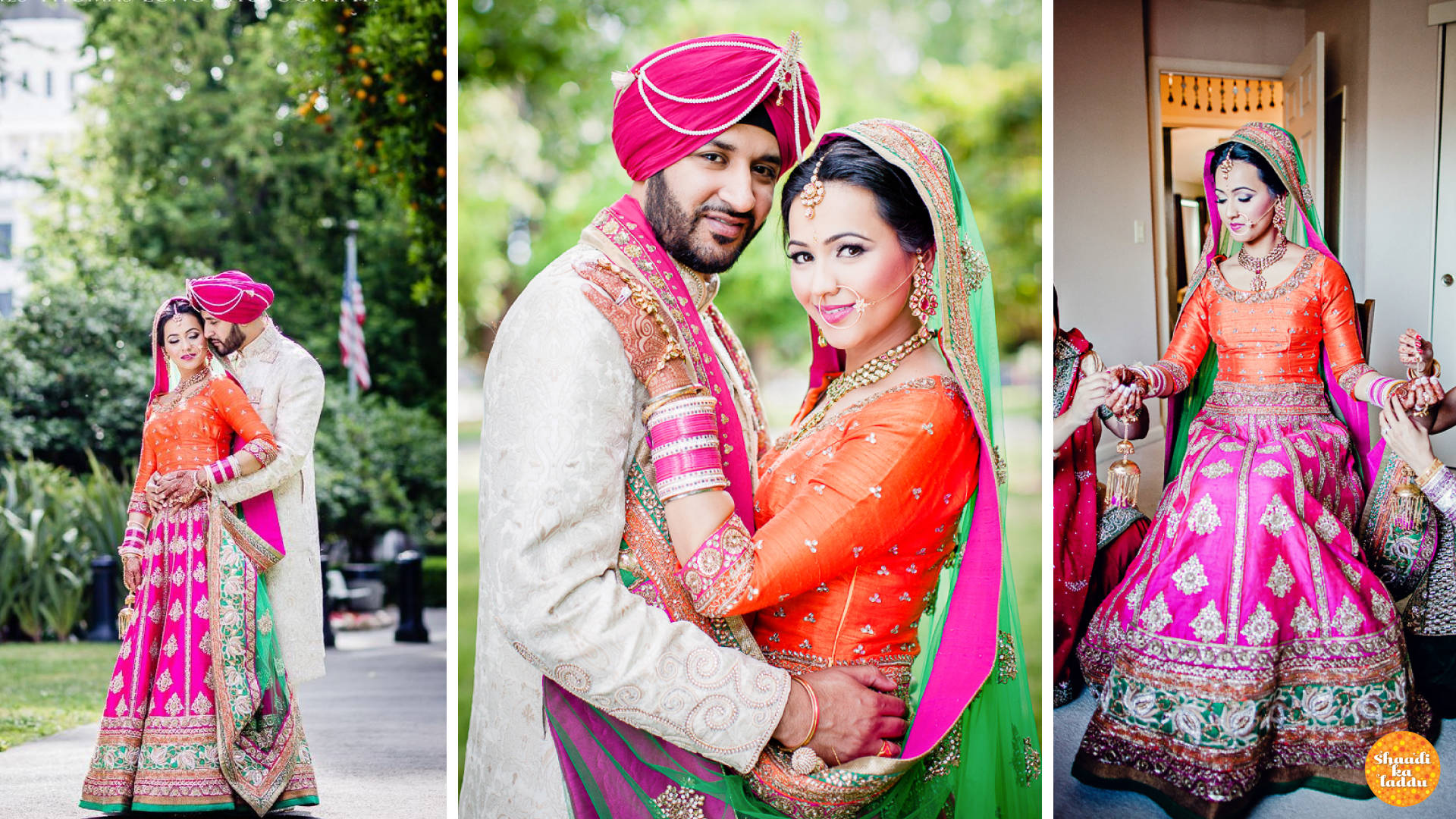 Handcrafted: Kresha Bajaj and Vanraj Zaveri
Whites are not, traditionally, favoured by Indian weddings. But then again, neither are illustrations normally seen on a wedding dress.
If you're not up to speed, here is the story of Kresha Bajaj and Vanraj Zaveri—as told through Kresha's hands, literally!
 While all brides like to be involved thoroughly in their wedding preparations, Kresha Bajaj took this a little further by adding a "personal touch" to her wedding dress. Instead of standing by and delegating designers to make her wedding lehenga according to her wishes, Kresha took up the task of personally selecting moments which she considered milestones in her journey with her husband-to-be. The end product fully justifies what she ventured to do—create an art piece.
 This knack of re-interpreting situations and turning them into illustration has caught on as a trend, with Kresha getting offers now to custom craft other such bridal dresses for brides with a mind similar to hers, we shall see some interesting attires in the future.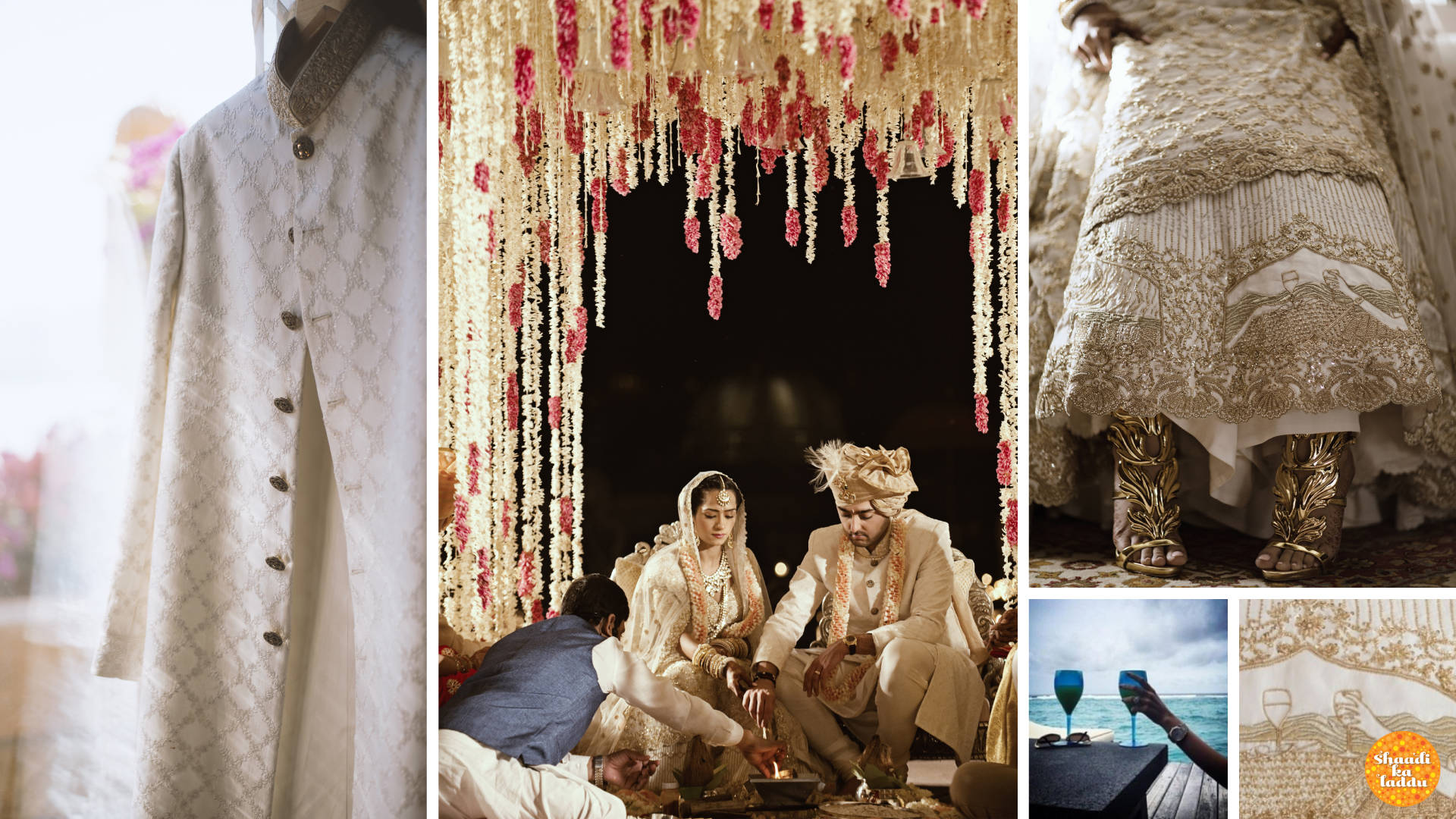 Indeed, Blue Is The Warmest Colour: Kismet and Nitin
When in aesthetic dilemma, one rule never fails to impress. Underplaying can work wonders if you do not underestimate it. This couple is obviously a believer the last statement, and they handled it like professionals! Their sense of colour and composition are quite remarkable and they are impeccable at making things stand out with simplicity and clarity.
When you make one element stand-out, exceptionally, then the rest will fall into place effortlessly. In this case, it is the striking, arresting colour of the bride's dress.
This is what the brainy, headstrong bride has to say: "My clothes were all hand stitched by a local boutique. I fought a little to wear blue but there was no way I was going to wear red or pink!! I also wore some of my mum's jewellery, my aunt's tikka which she wore to her wedding and my mum wore at her wedding. Do you see how I had something new, something borrowed and something blue?"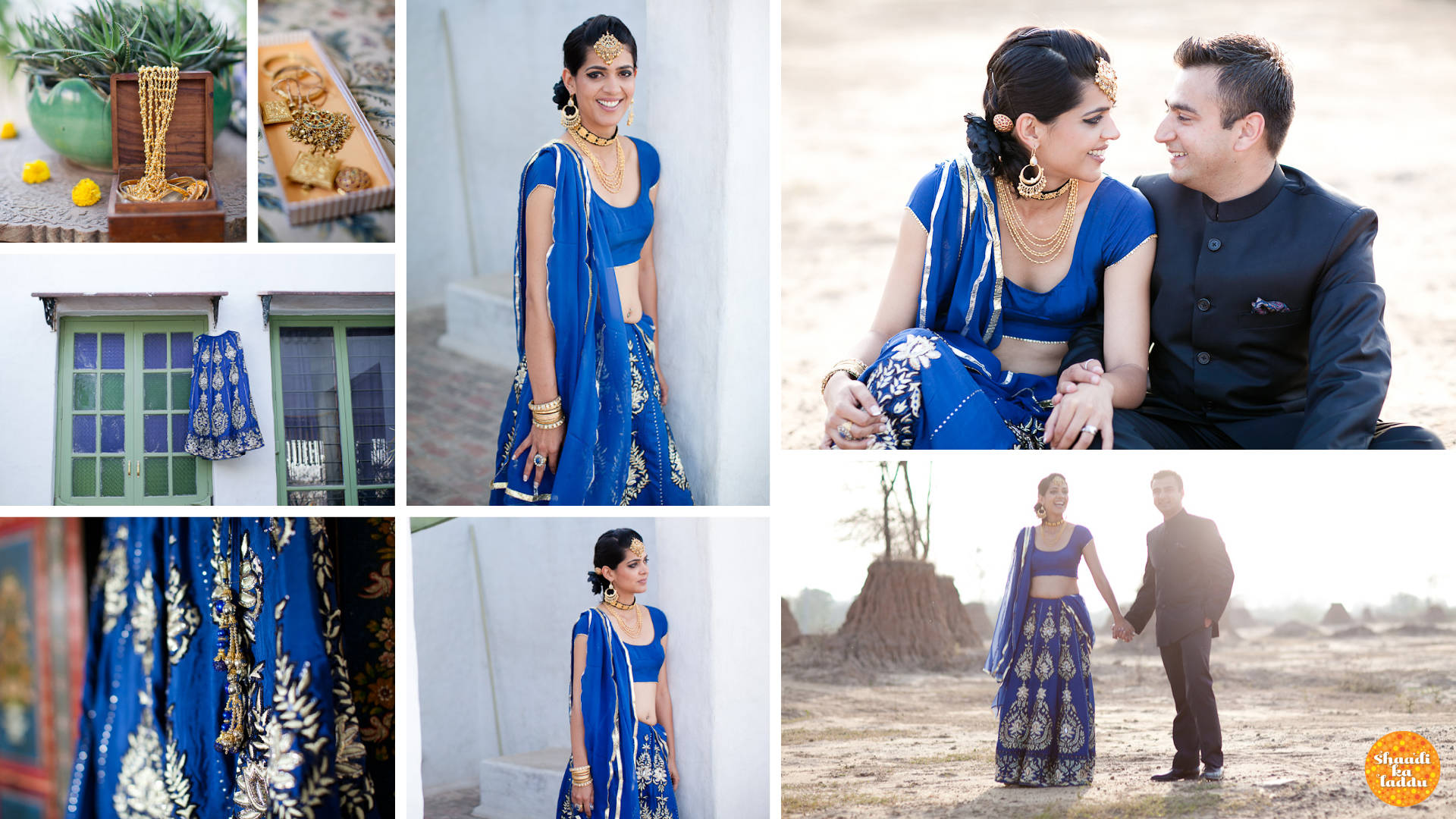 A Majestic Wedding: Krutika Kartikeya Ghorpade and Akshay Bhansali
From things simplified to downright opulent. Here is the royal bride Krutika Kartikeya Ghorpade and Akshay Bhansali with their families. With their regal entourage at the grand affair, don't miss the bride wearing Sabyasachi and looking every bit a princess.
Ever been in doubt about combining prints with strong colours and a royal look? This bride and groom are proof that it works! Shades of maroon, deep pink and mauve flow from the bride's lehenga to the grooms sherwani with each, both glistening in the light with their gold and emerald jewels.