Brides, Get Sneaky! Yes, you heard us right. With the rising trend in bridal sneakers more and more brides are choosing to ditch the pain and have some fun.
While the sneaker trend has been on the rise since quite a while, the realisation that they match everything was all that this trend required. From Bollywood to Hollywood, from the big to the small and from the red carpet to other occasions, celebs have helped the sneaker trend a lot.
From what we've stated above, it was just a matter of time that someone cracked the code on the wedding angle. For example, did you know that on an average, within 10 minutes of wearing heels, women complain of foot ache? This makes bridal sneaker trend quite understandable – on your wedding day, you'll have to be on your feet the whole time, and these sneakers will enable you to run around all with no sores to show!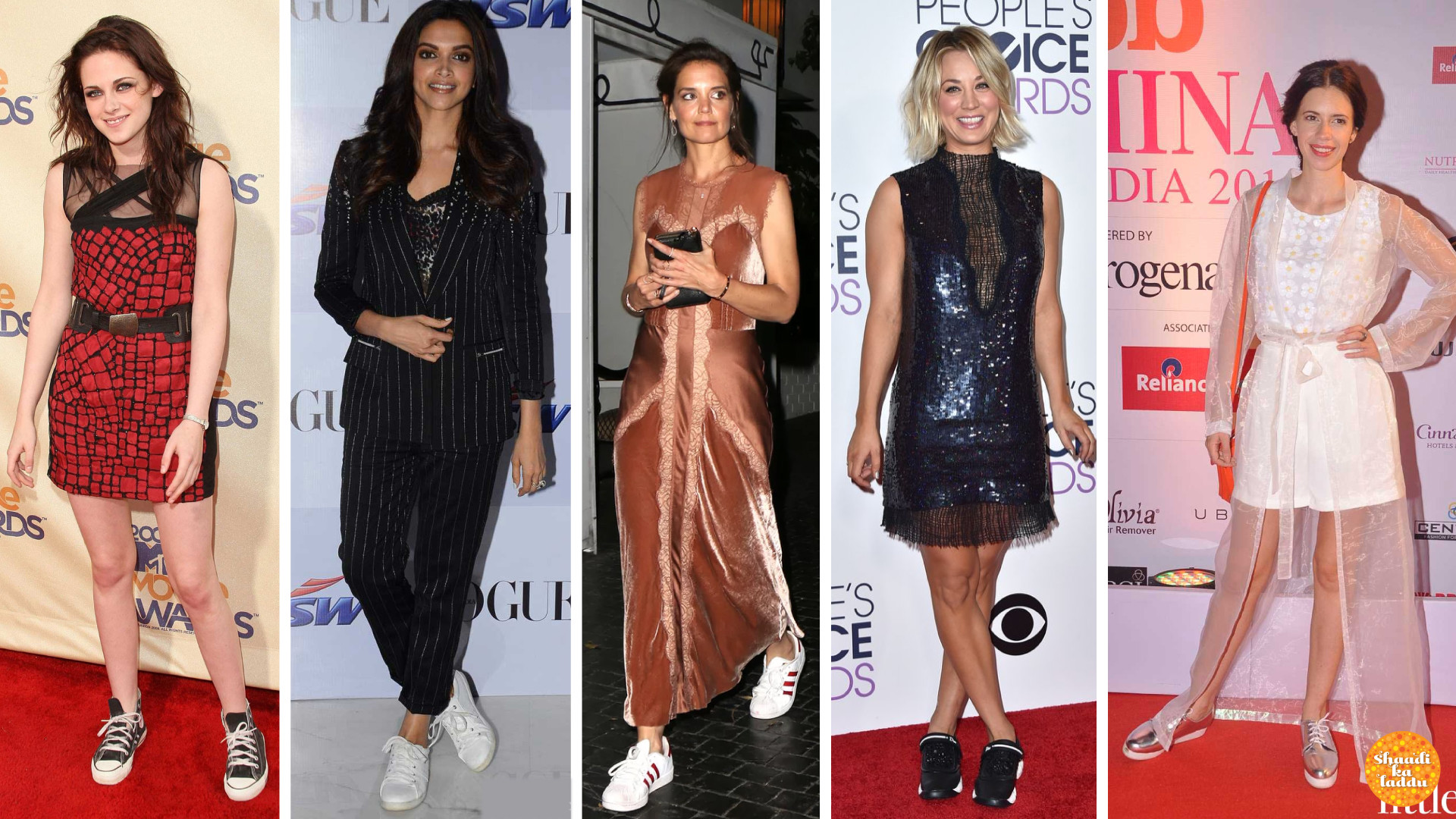 DIY Bridal Sneakers
You can do so much with sneakers: you can make them as classy as those heels, change colours (make your own something blue), you can match and pair with your other half,  and you can even try DIY embellishments (another way to be involved and customize). Get your bridesmaids and close friends into sneakers we well!
From stickers to pairing to embellishing, here is a DIY list through which you achieve whichever look you want your wedding shoes to have – making sneaker shoes not only easy on you soles, but even your wallet.
Shoe Laces And Glitter
Start by using lengths of ribbons as shoe laces to give your sneakers a pretty, classy, feminine look!
Secondly, pick out a glitter of your choice, mix it in with some fabric glue and add few drops of water (for it to spread better). Next choose you area and apply the glittery paste with a brush.  You can stuff the inside of the shoe with crushes paper balls so that the shoe retains its shape.
Take note: if you choose to glitter only a part of the shoe, then take a paper tape, or any strong tape which works on fabrics without harming them, and cover up the areas you don't want to get glitter on.
Once dry you can add another layer of glitter if you feel that the first layer isn't sparkly enough. You could also apply a thick glue layer and sprinkle the sparkle on. Once you are satisfied with the amount of glimmer, apply a thick layer of the fabric glue to secure the glitter and make it permanent.
Voila! You have sparkly kicks! You can also shop these cute sneakers online for your wedding!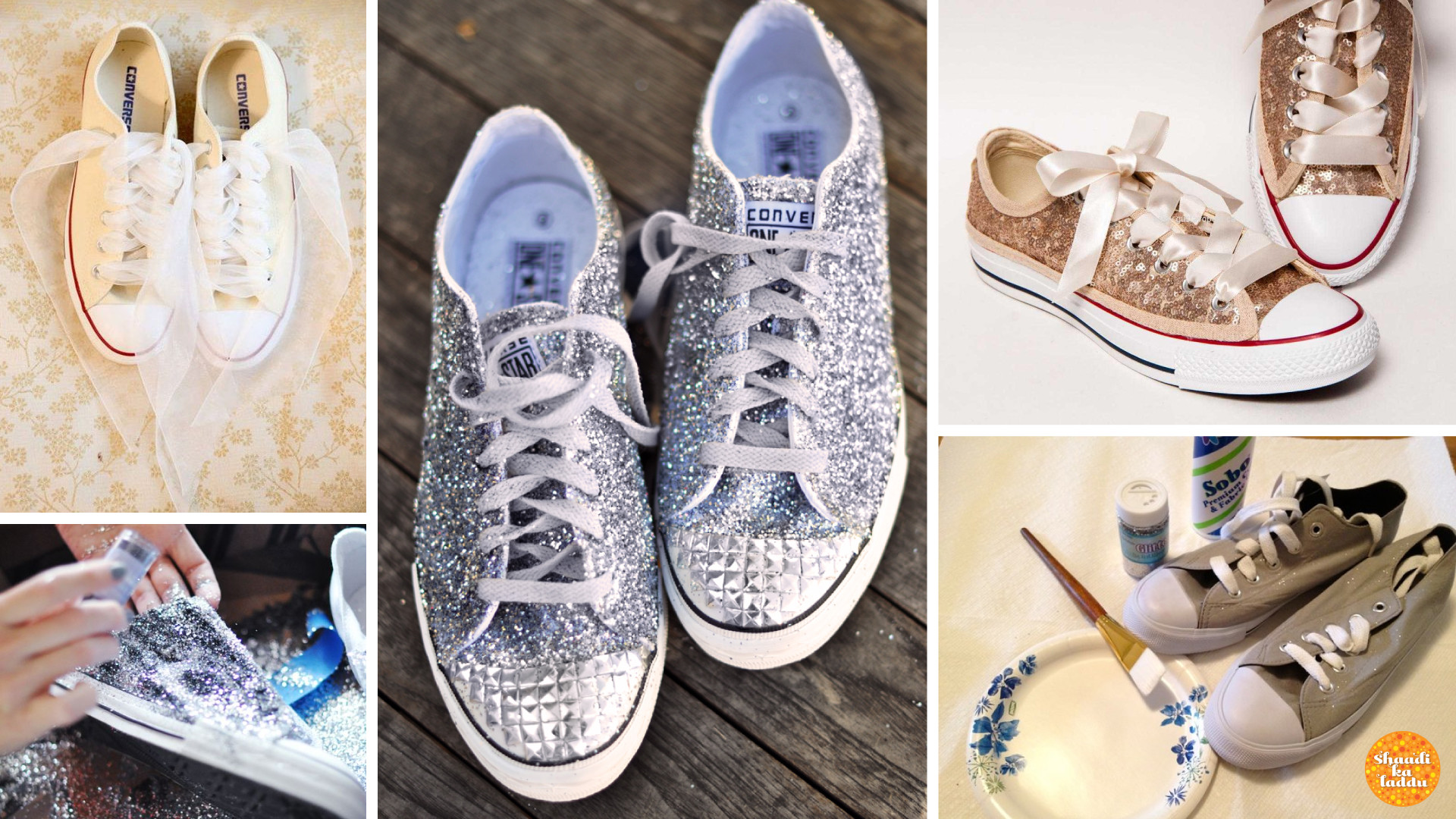 Stones, Stitches and Applique
If you're more of a minimalist, you could just do a line of studs, ruffles, and tassels around the rim or a certain edge of the shoe. All you need is a super glue and embellishments of your choice! For sticking fabric (like lace) on sneaker, you only need fabric glue. Learn how to make yours here.
Pearls, rhinestones, tassels, frill or lace, brass cone spikes, tags and patches will help you pair the shoes with the rest of your ensemble. You can also shop for your perfect pair of rhinestone Converse pair on Etsy.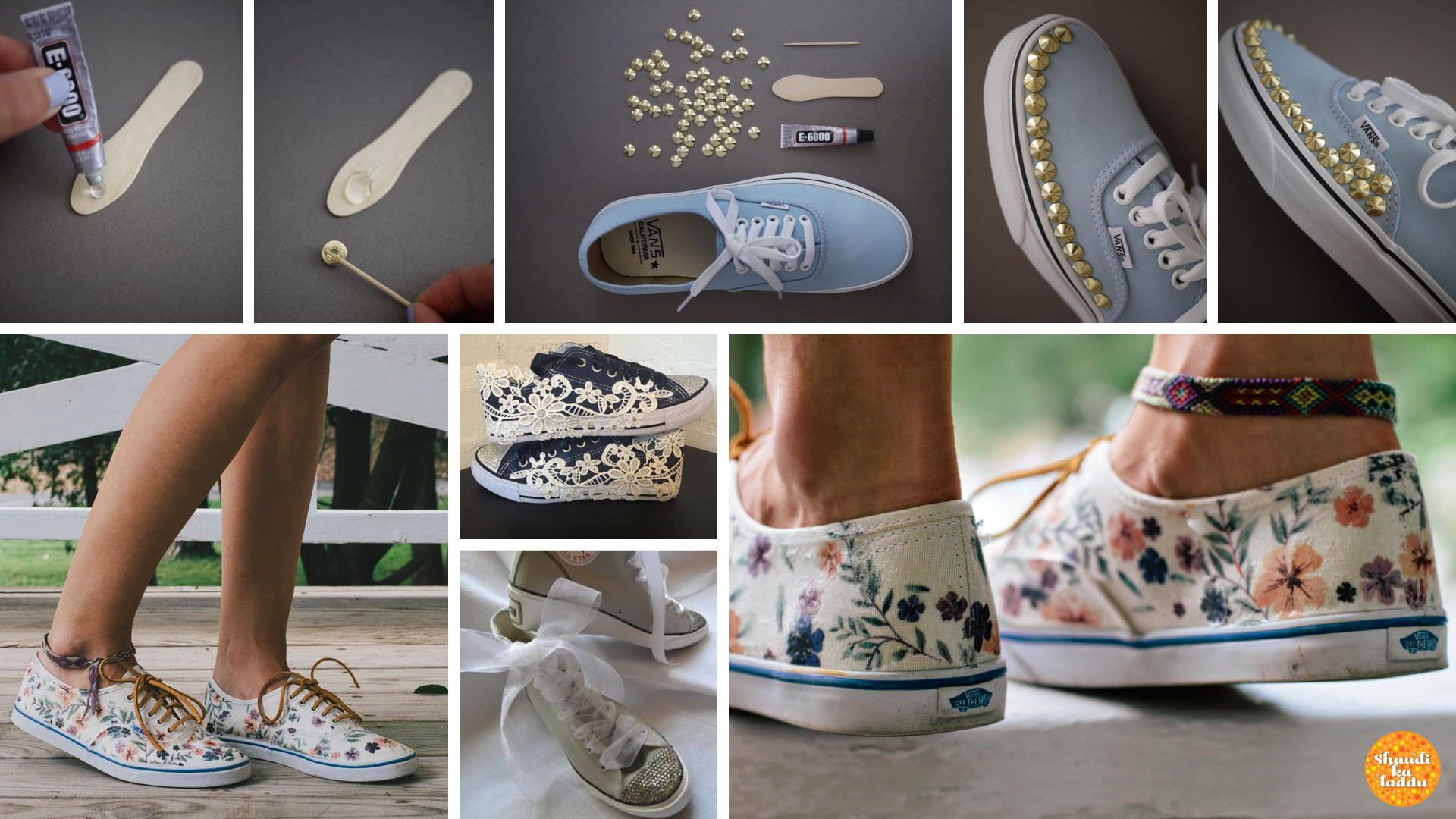 Paints, Doodles, Stickers And Stencils
If you are more artsy and prefer handiwork—creating vinyl stickers or patterns through stencils, drawing, writing or painting on your sneakers is a great idea.
If you really like the idea but are not so confident about doing it yourself, you could hire an artist or an illustrator to help you out. There are again, a lot of options here: you could simply use text- from the straight forward I do's, and making matching husband and wife texts to literally writing your vows with hands or creating vinyl stickers for this is pretty cute idea.
But the cleverest way to make it your own, would be, if you could create a cherished scene from your own love story and make it a part of your special day. Lazy Brats is a great Indian website to order custom handpainted shoes for your wedding!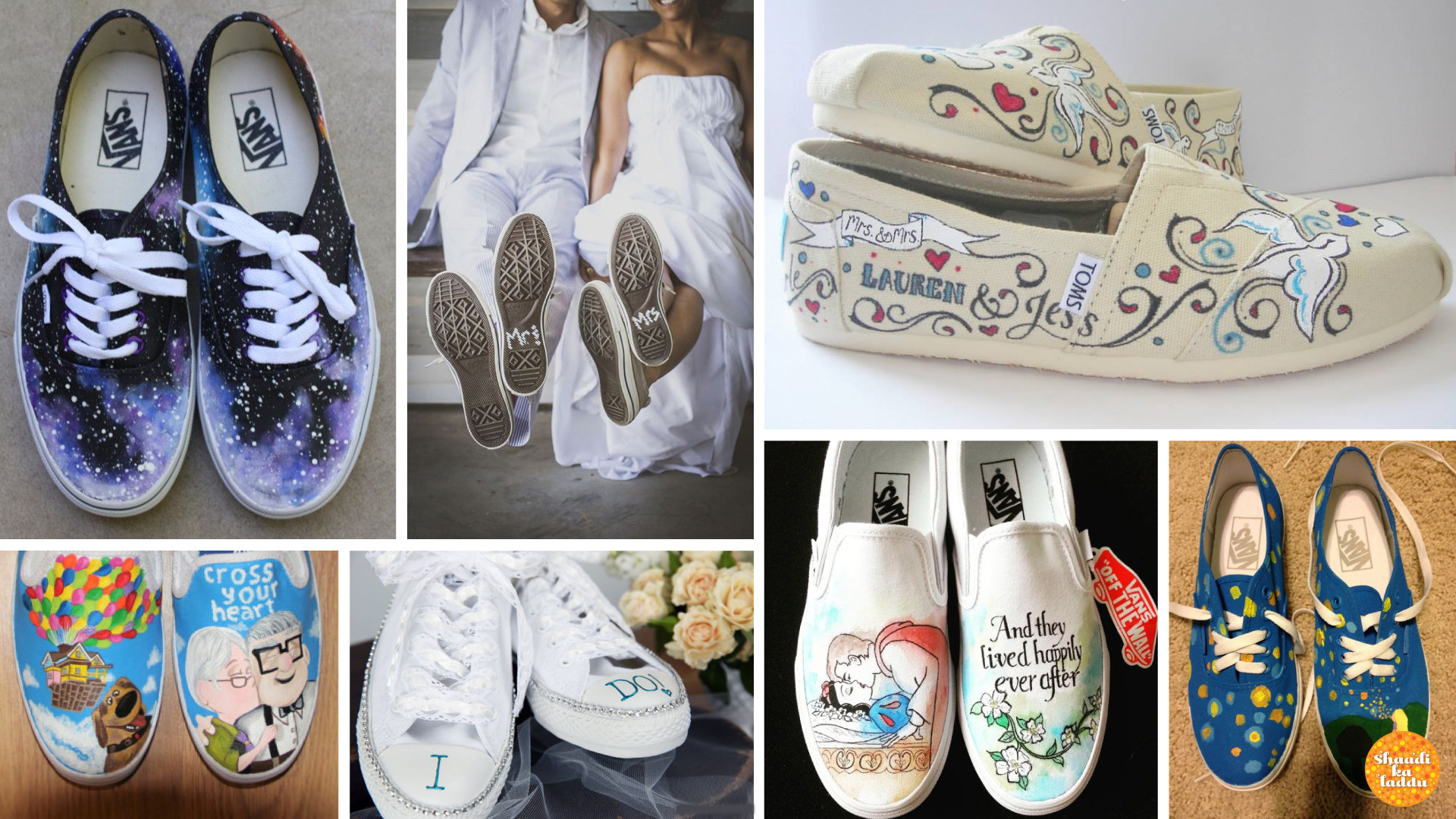 Dip-Dyeing
If you want colour but like to keep it muted, dip-dyeing is a simply gorgeous way to go!
Here's how.
All you need is a pair of white sneaker, a dye in your colour of choice, Vaseline, baking powder and a toothbrush. For a more intricate result, watch the video to learn the process.
Step 1
Remove the insoles and laces and coat the rubber sides of your sneakers with Vaseline so that none of these suffer discolouration. Then mix your dye as per instructions given on its box with hot water and salt as required. After this, dip 1/3 of your shoe—taking it quickly in and out. If you feel the colour is too dark, water down you dye a little and dip your shoes again, but dip them a little higher than the last time.
Step 2
Repeat this process but stagger the progress so that the shoe is dyed in bands of layers. Let the lightest level/band be closest to the tongue while the darkest at the tip of the shoe.
Step 3
After 2-3 times, set the shoes aside, take a damp cloth and blur the harsh outline—make a progressive fade out, transitioning from dark (darkest tone near the tip) to light. If you feel the dye isn't spreading, take a really watered-down dye to enable smudging.
Step 4
When you're satisfied with fade out, let it dry for about five minutes before washing them under running water till the water runs clear. Hang to dry overnight.
Step 5
Once dry, sprinkle a heap a good amount of baking soda onto the sides of the shoe which were coated with Vaseline and rub with a bristled toothbrush. The baking soda should absorb the Vaseline which will start to clump come-off in balls. Continue till all grease if off and wipe thoroughly with a paper towel.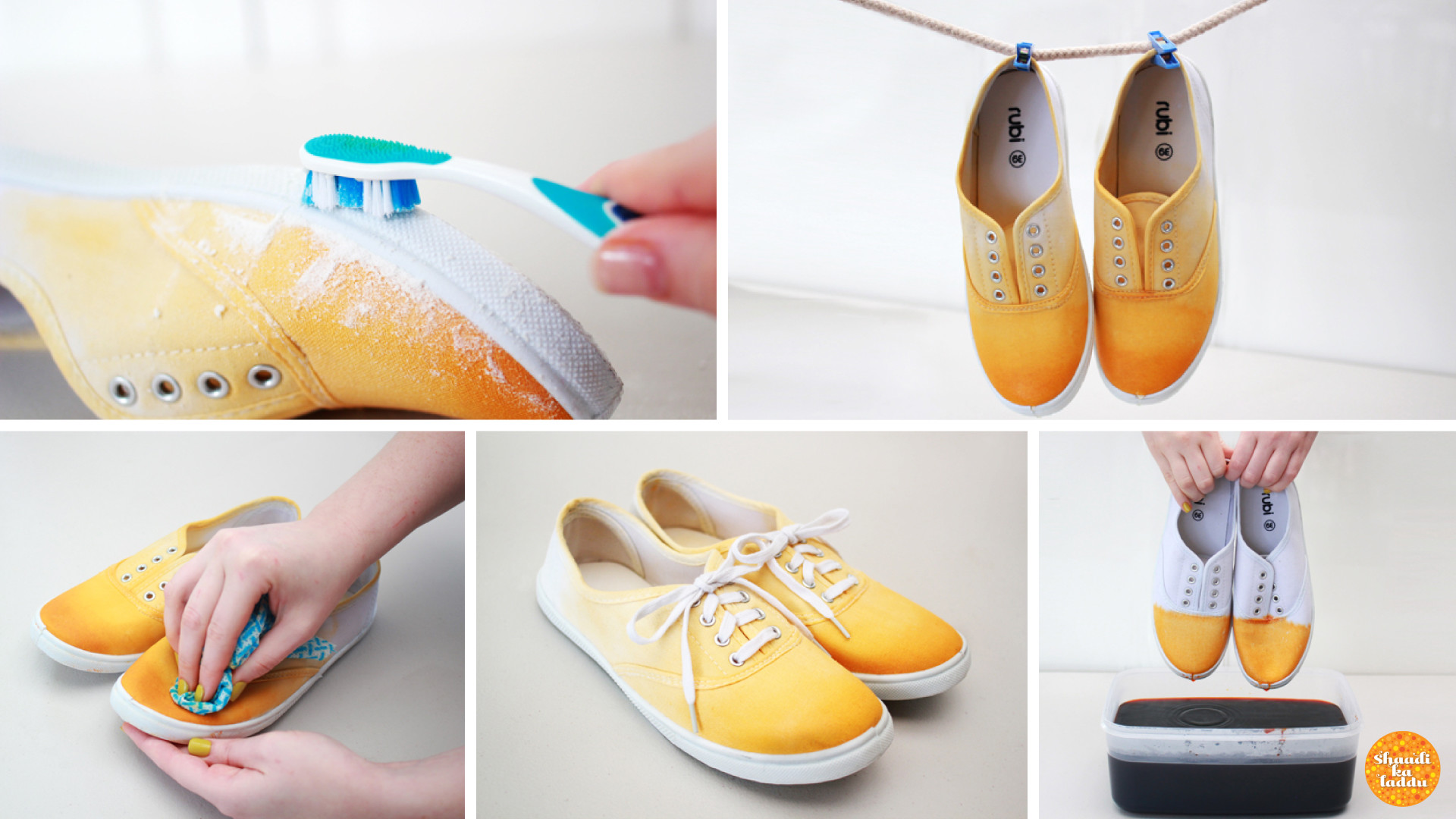 An Indian Bride In Sneakers
While brides all over the world support this idea, we thought it's about time that the Indian bride catches up! If you're still a bit sceptical, these few examples of how great the kicks can look on the Indian bride.
The bride, Karuna, wore winged black and gold Jeremy Scott sneakers! Rather than matching the dress with the shoes, she went the other way around and attached wings to the wedding dress!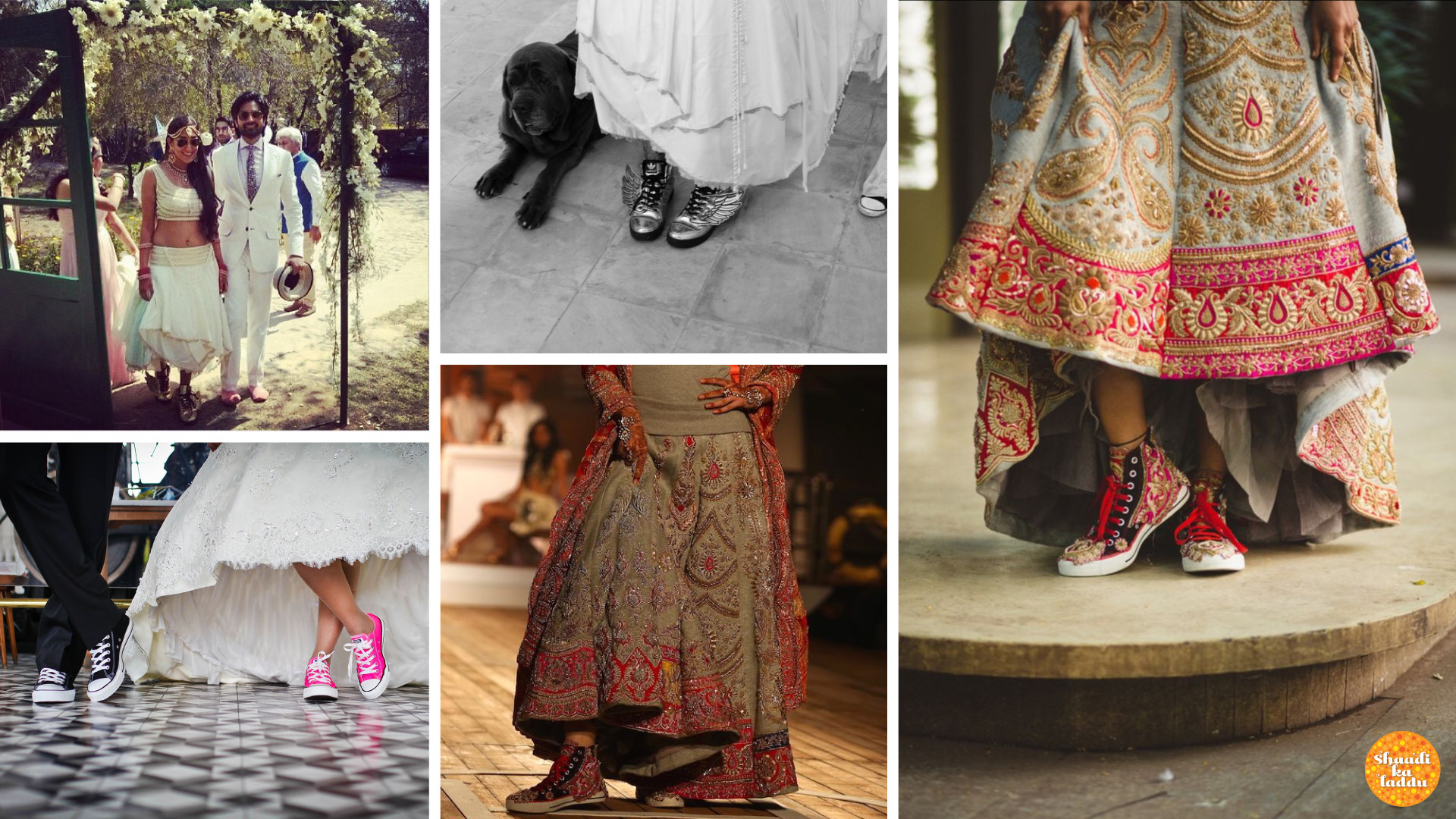 Brands To Look Out For
It is not just us! There are a lot of brands who have picked up on this immensely popular trend and are come out with flying colours (quite literally). If you're a less hands on, here is list of brands that are doing a fabulous job of bride-appropriate sneakers.
Quirky styles from Esbe
Stunning Sneakers From Keds
Floral, Lace and Color – Converse Has It All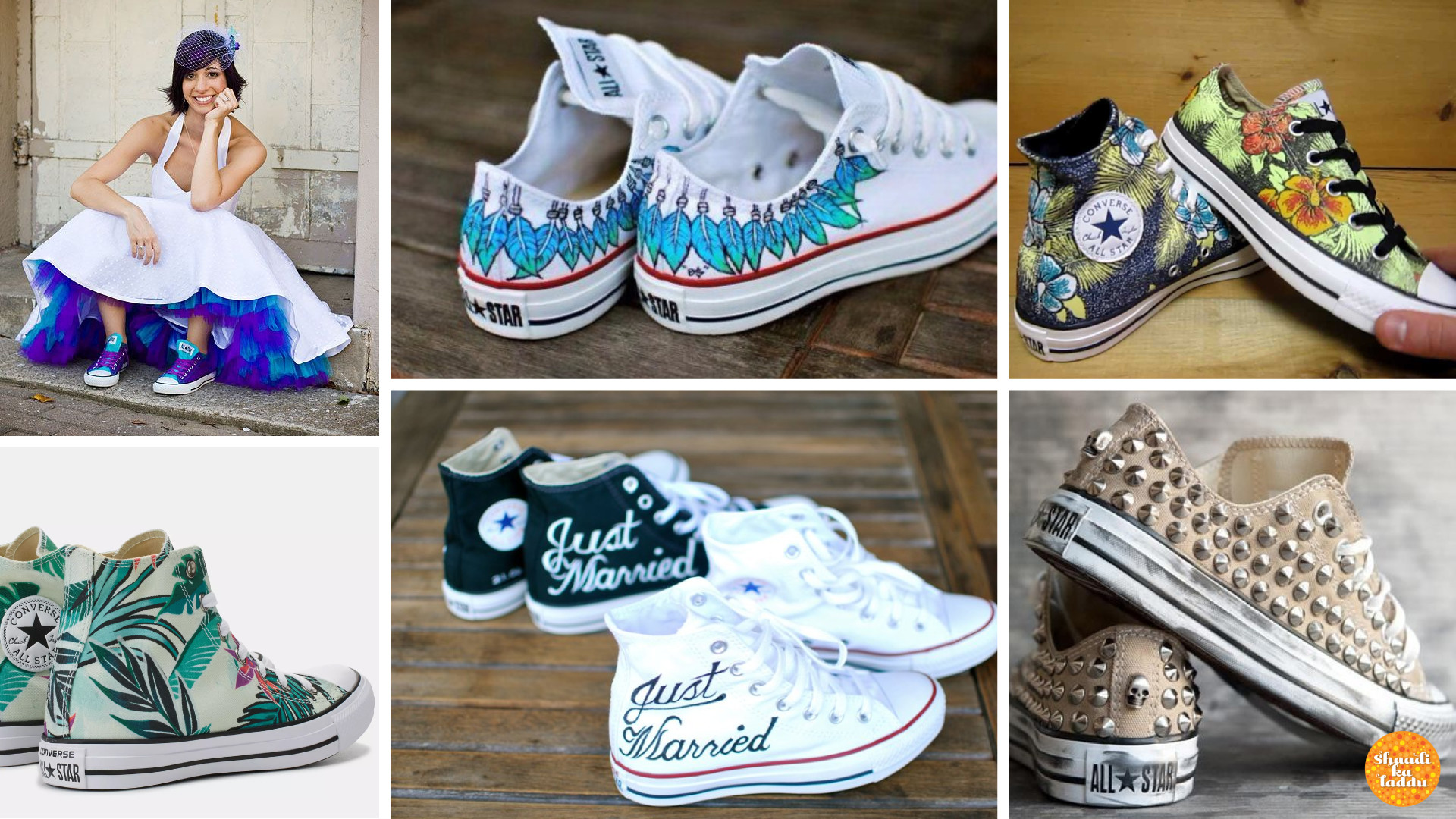 Frills and Lace From Superga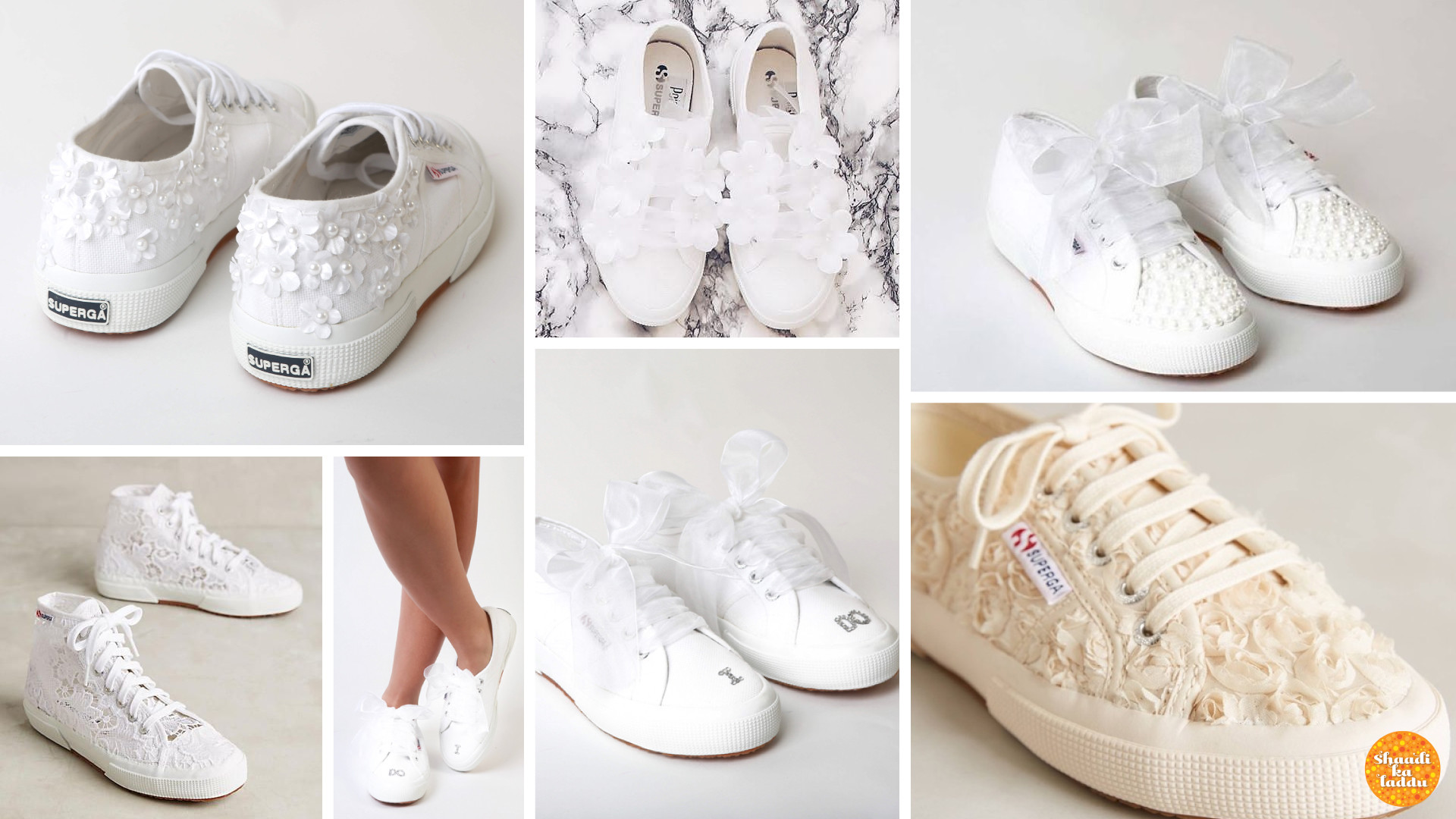 Bejewelled Flats From Toms