Christian Louboutin and Sabyasachi Mukherjee bring the favourites of Paris and Bollywood together in their highly acclaimed collaboration. They bring together their creative energies and design quirks to put together a super exclusive and very unique looking range of footwear, with 15 designs for women and 4 for men.
How It Started
Sabyasachi and Louboutin, who are not strangers to one another and are in fact friends, chanced upon this collaboration in what Louboutin calls an 'organic' manner; "The way we started to work together was very organic – very Indian, in a way." Louboutin, in an interview with Vogue then further elaborated, "What happened is that Mukherjee asked me if I could do shoes for his couture fashion shows in India, after we met randomly by accident in his Mumbai store. We started to collaborate, integrating my shoes in his shows and from that it was a natural step for me to do this collection."
Sabyasachi and Louboutin have worked together before.  Their first sparks of a connection were established in July 2015 when Sabyasachi's annual couture show at Mumbai featured Christian Louboutin's extraordinary creations. October 2016 saw yet another connection when Christian Louboutin created a small number of handbags that went with his earlier footwear designs. Next, a rare visit to his private archive of saris and ribbons was all it took. Inspired by these immensely special fabrics, Sabyasachi and Louboutin took their venture to a full-blown collaborative scale.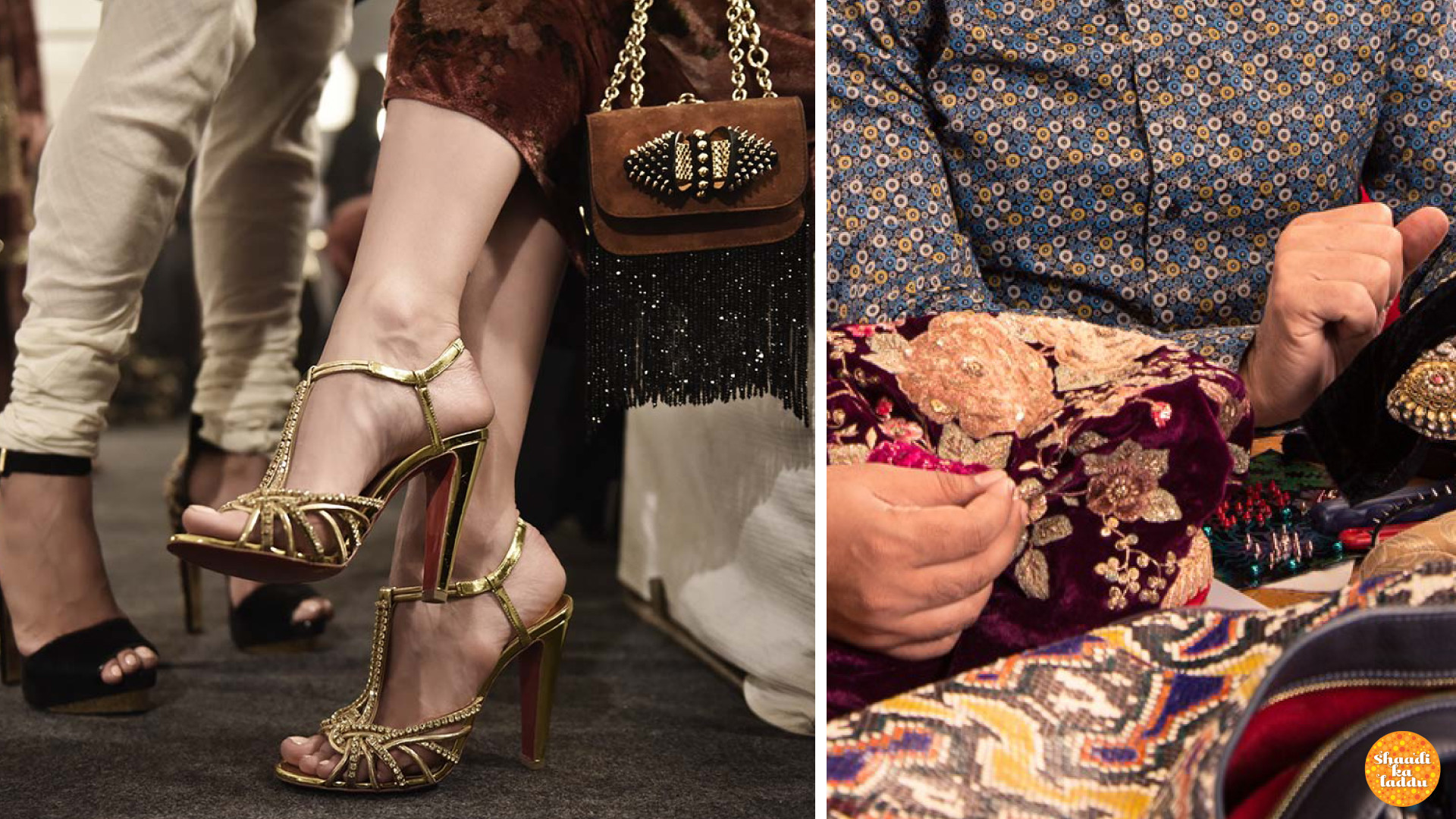 The Inspiration
The archive of all the glorious and quintessentially Indian materials that lay in Sabyasachi's archives was nothing short of overwhelming for Louboutin.
About Sabyasachi's studio, Louboutin says, "In his studio, where the embroidery is created, it's basically a type of Ali Baba cave – a profusion of colours, of beads, and of beauty in general. It's unreal; you have a lot of beautiful things, which are sort of just put on the side, leftovers of things. I thought, instead of wanting to create something very specific and new, it would be very nice to work around things which are already existing and doing a mosaic of all those little bits and pieces." Christian Louboutin's love of Indian handicraft fuelled his excitement to work with it so closely. This collaboration with Sabyasachi Mukherjee gave them both an opportunity to work together on their shared admiration of this rich Indian craft heritage and to take it to a global stage.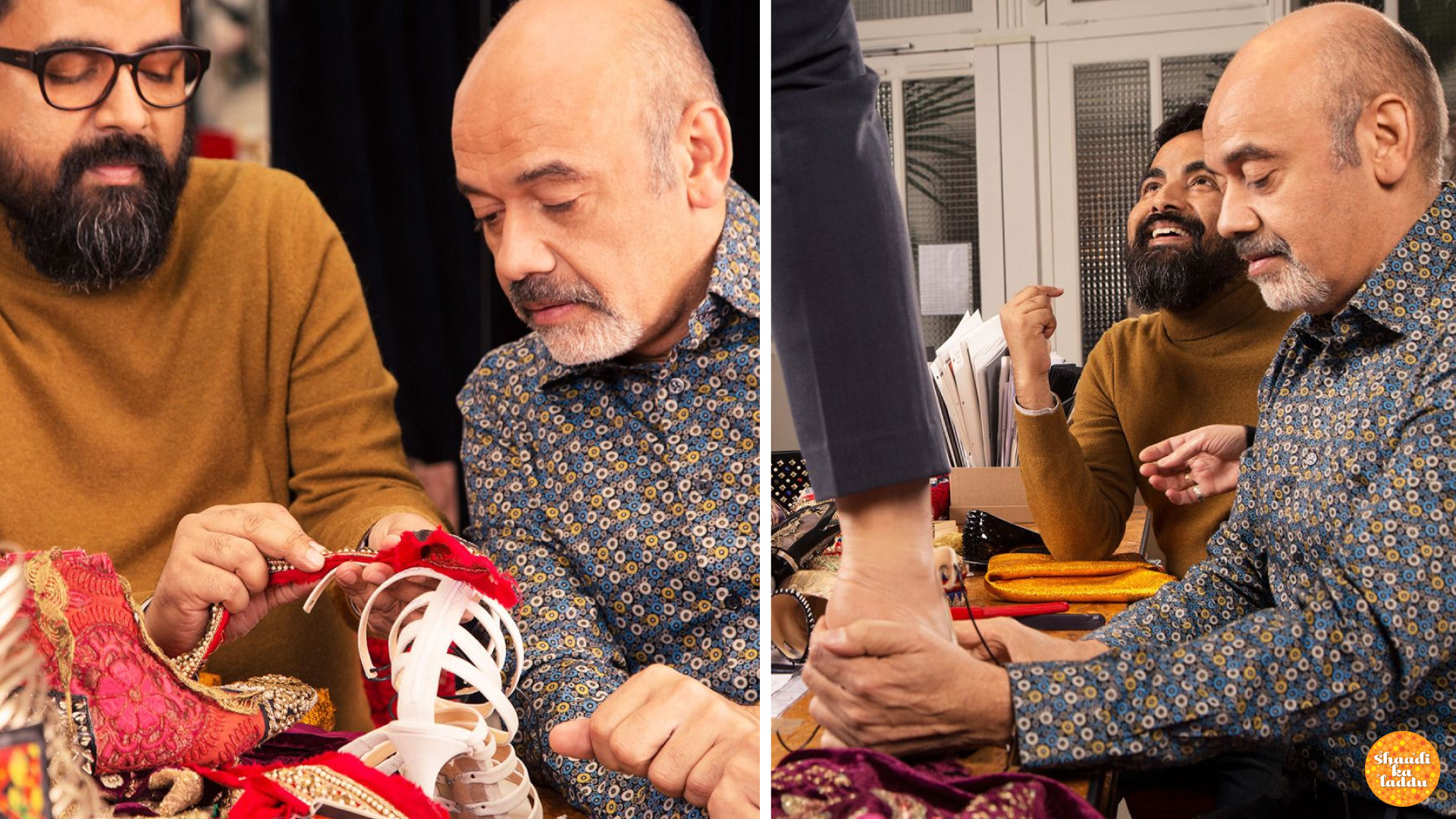 The Outcome
Over a dozen, fifteen to be exact, designs for women and about four for men were born out of this collaborative venture. Strips of exquisite sari fabrics and Louboutin's signature studs and leather came together to create magic.
The shoes have an incredible exclusivity to them; only very few are going to be available to the world like the thigh high boot aptly called 'Tall and Deep." The boots, crafted with delicate strips of leather highlight and harness the leg with an almost bangle like appearance with their golden hue. Like most in the range, the "Tall and Deep" will also be a made-to-measure item only.
For Men, Christian Louboutin chose to revisit select iconic styles from his collections. The Dandelion loafer received the Sabyasachi magic touch with an embroidered toe-cap, reminiscent of traditional Indian wedding footwear while the Louis Junior is adorned with a whole lot of rich patchwork of motifs and colours.
Another design that was born is the Piloutin. Born of incredible Sabyasachi Sari ribbons, the bag resembles a highly adorned, precious pillow. Complete with an endearing Poupette charm, the bag is a declaration of love to the actresses of Bollywood who dress in the best of Sabyasachi.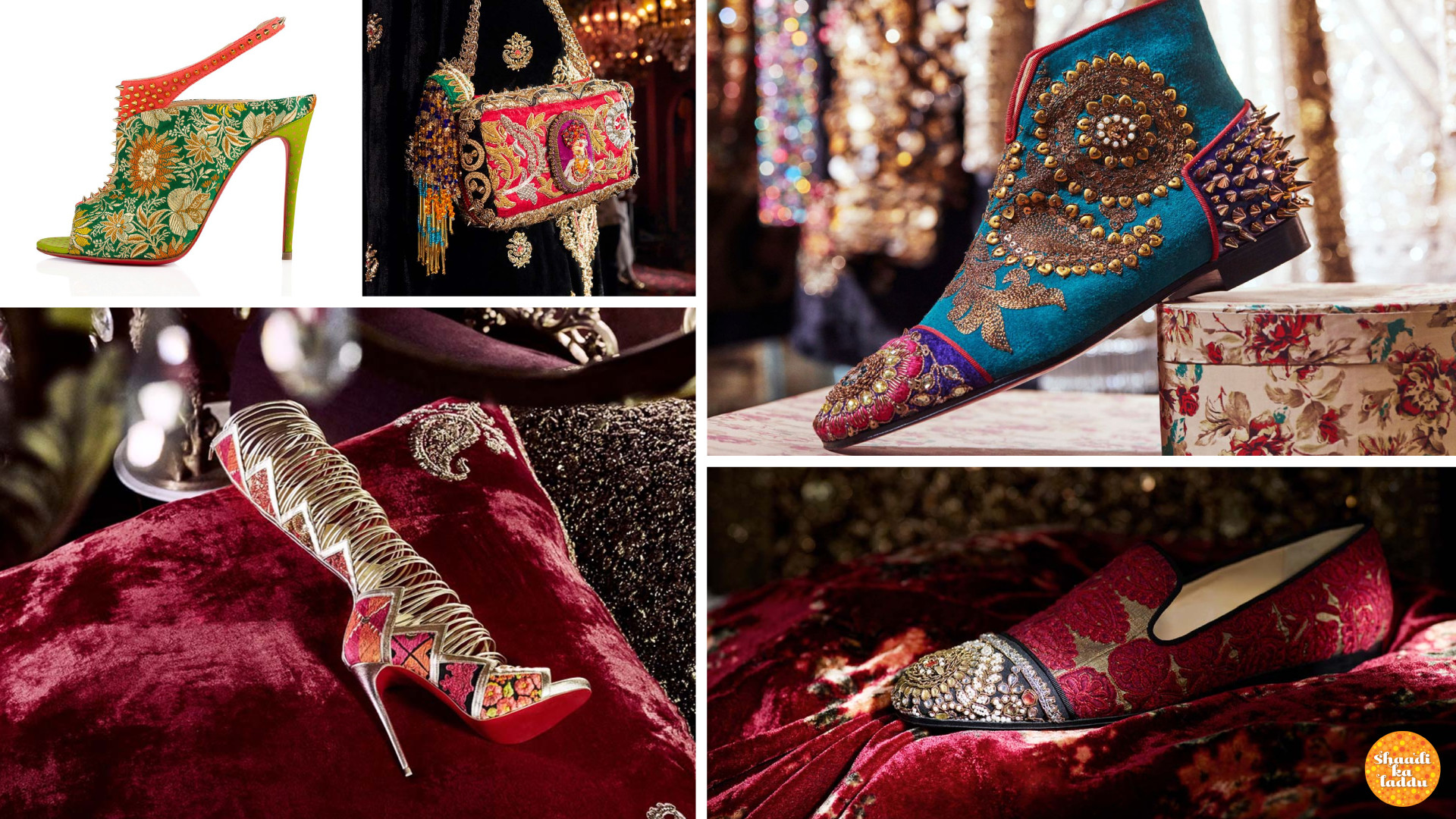 Deep Sleep for Beauty
Louboutin imagined the graphic novel, Deep Sleep for Beauty as a story of how their collaboration came to be. A striking medley of images and illustrations, it's a stunning outcome and no less a part of their collaboration than the footwear and bags that have come out of it.