When it comes to South Indian weddings, what probably is the most charming part is the demure elegance of simplicity. Beautiful, day time wedding rituals enhance the sophistication of the ceremonies. While most South Indian Brides prefer sticking to their traditional Kanjeevaram Pattu Sarees or Kerala Kasavu Saree, brides today are upping the ante with wedding looks that are nearly heavenly. Take a look at these south Indian bridal looks that swept us off our feet.
Shilpa's Ethereal White-And-Gold Look
Keeping in mind that the wedding of California based Shilpa and Deepak in Kerala was to be a traditional Malayali one, the wedding theme was aptly called KERALAFORNIA. Likewise, Shilpa stuck to the traditional white and gold Malayali traditional attire, but drifted away from the standard Kasavu to this gorgeous silk saree. Keeping with her Punjabi roots and attaching the Kaleere to her bracelets, Shilpa shows us how to style wedding jewelry from different cultures with ease. The subtle gold and pearl jewelry, and hair wrapped in jasmine flowers only add on to the sublime vision that Shilpa was on her big day.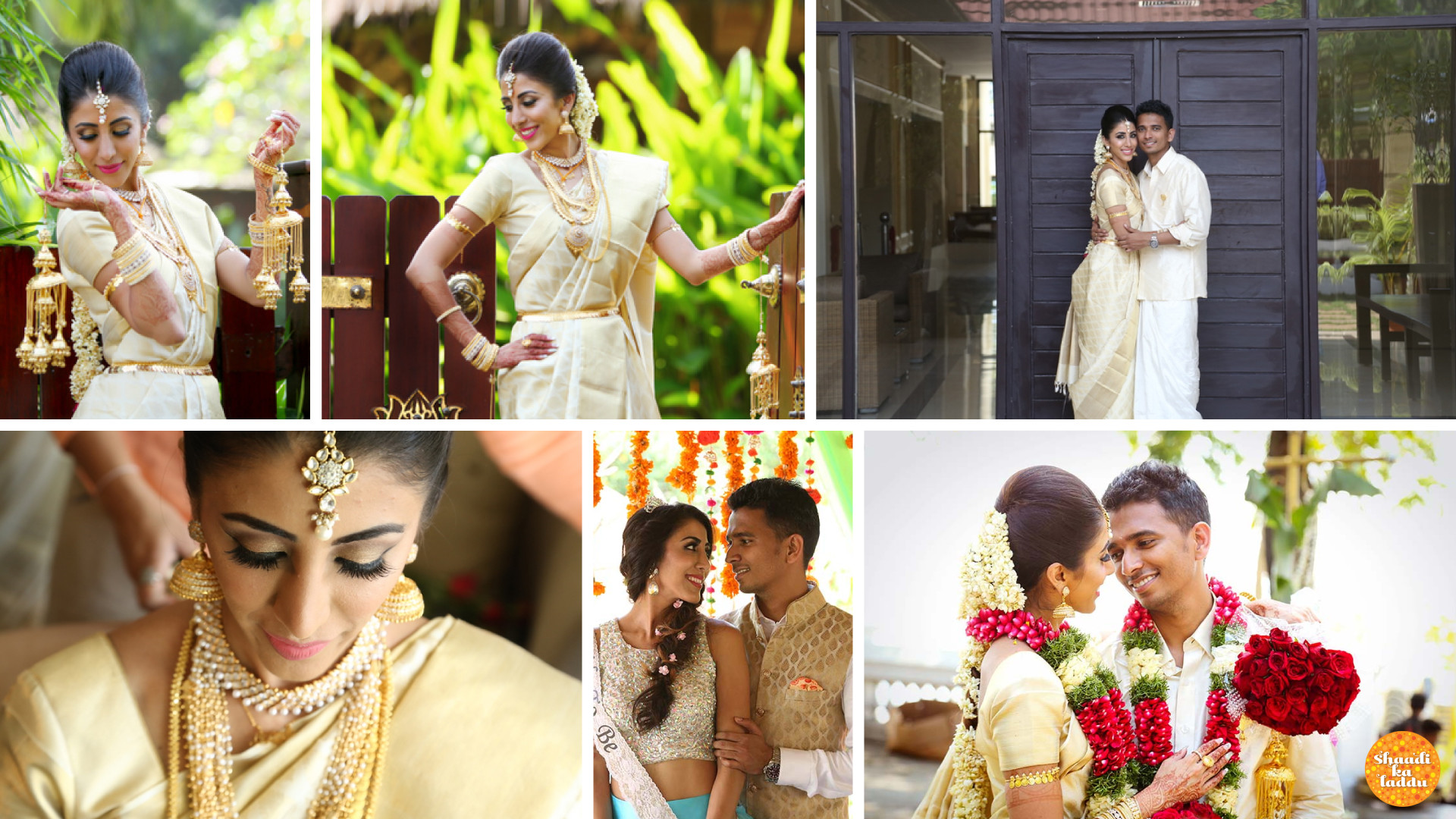 Styling It Right In Pink And White
Aishwarya decided to stick to the traditional silk saree for her wedding with Rajesh, in Bangalore. But what a vision she was! The planning gone into getting this look right is evident from the absolute attention to detail and coordination. The combination of Pink and white can never really go wrong but we wonder if it can be done better than this. Aishwarya's rich pink blouse and zari details on her sari are perfectly matched by the stones set in her ornaments. The color coordination is taken all the way to the flower garlands in Aishwarya's hair. If color coordination was a task, then the contents of Aishwarya's trousseau are what we'd call a match made in heaven.
This Completely Adorable Hairdo
For someone as incredibly talented and artistic as Upasana, planning her own wedding was bound to be a joyous experience – and that definitely shows! While we are completely in love with all of Upasana's kanjeevaram Sarees, what really made us swoon was her brilliant hairdo. Upasana shows us how to rock a side bun and look like a complete goddess while doing so. The flower garland around her hair bun and the dangling tassel are little details nobody should miss.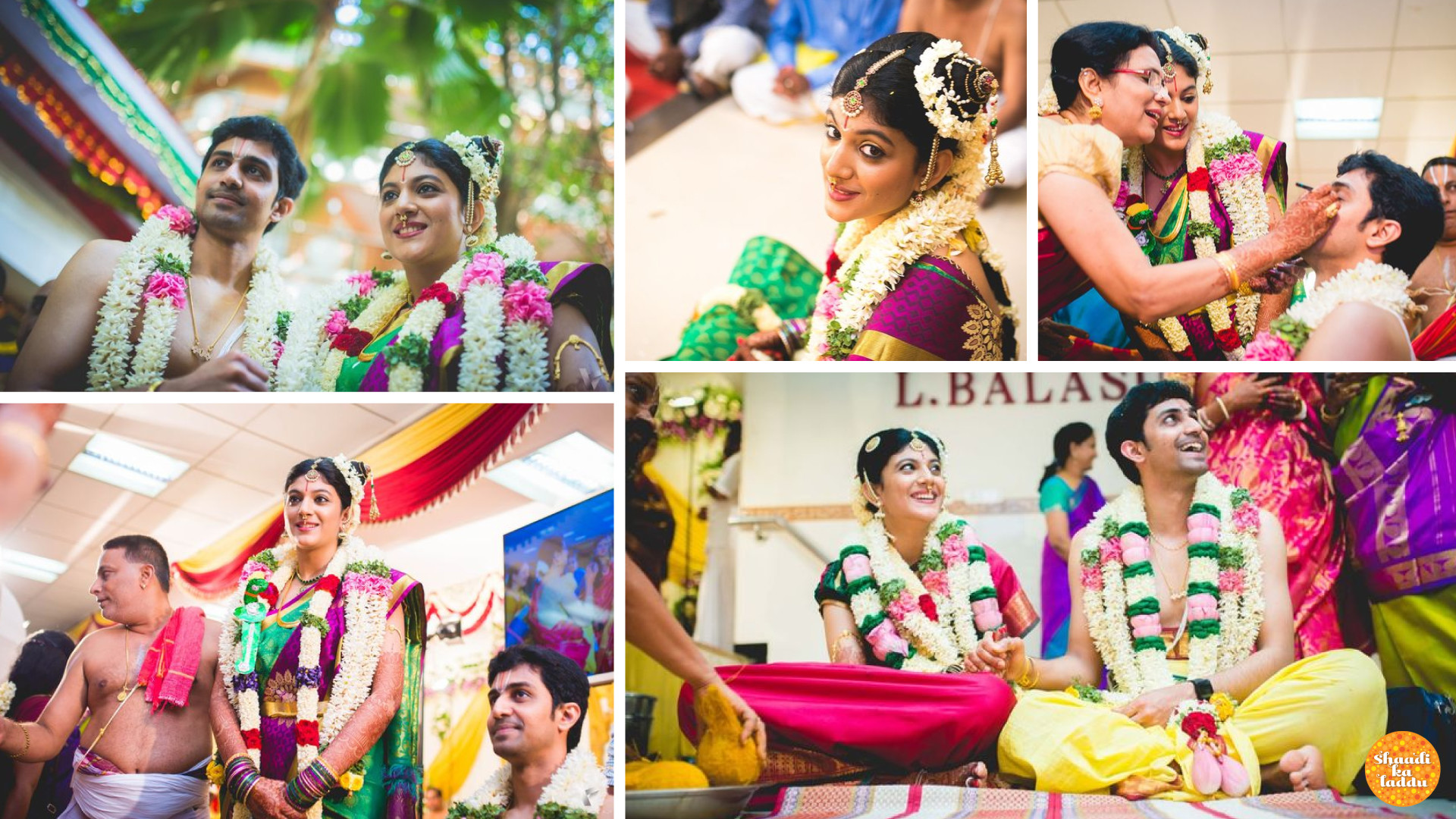 Effortlessly Stunning Adithi
Weddings are undoubtedly a fun affair, despite all the planning and seemingly never-ending preparations. But to actually carry off an easy breezy look in one's own wedding, can be quite a challenge. It's incredibly easy to get carried away by the endless options of attire and jewelry, but Adithi shows us how to look as fresh as a bouquet with her demure and fun wedding look. Staying in line with the overall rustic theme if her wedding set in a Goan forest, Adithi opts out of heavy bridal wear and jewelry. With a simple and elegant saree, and her hair in a chic updo, Adithi surely looks like a natural Diva.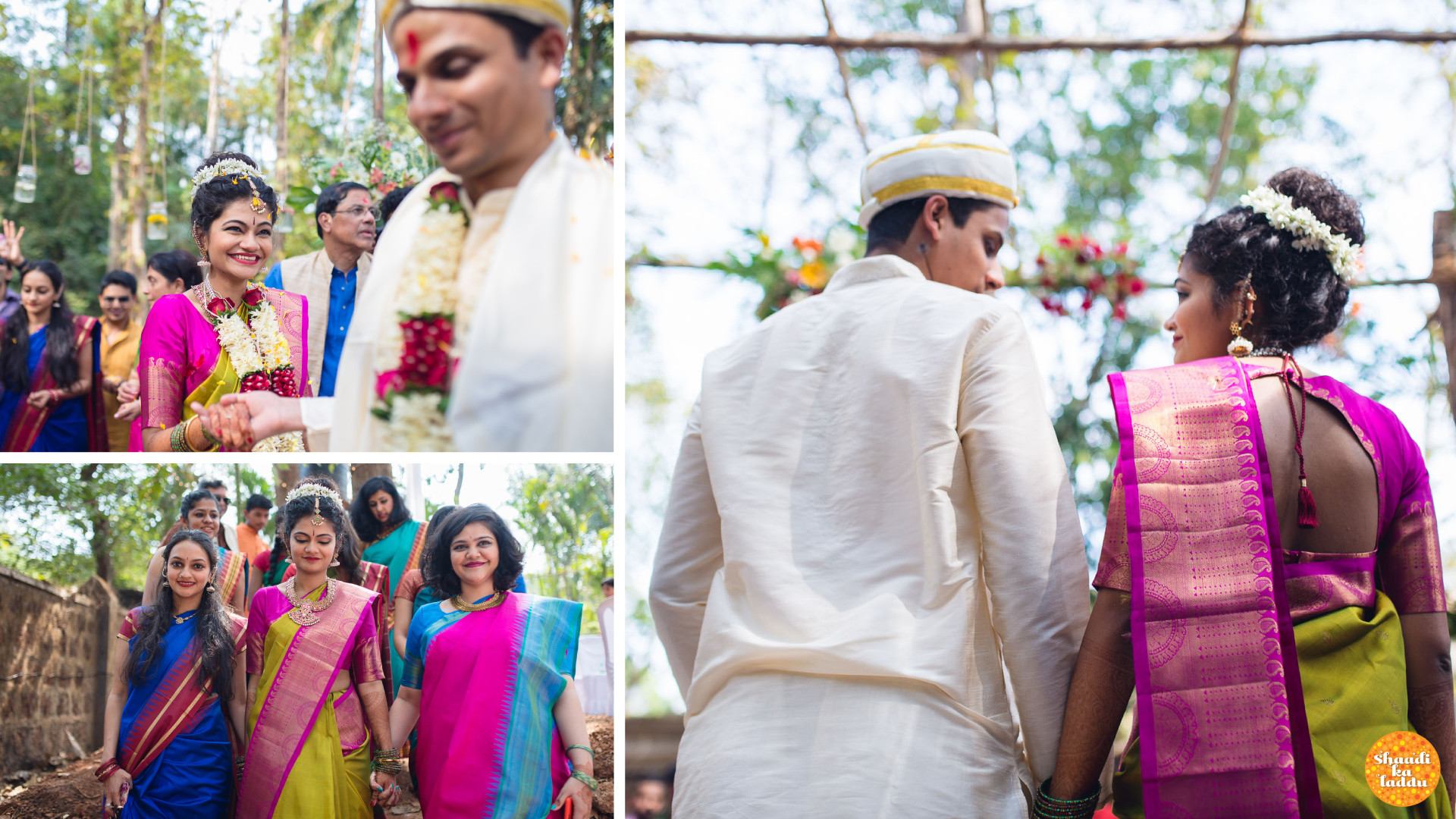 This Blockbuster Celebrity Wedding
Celebrity weddings are synonymous with glamour and a high profile guest list, resulting in a star studded, dreamlike affair. But what really moved us was Samantha Akkineni's gorgeous engagement saree. An elegant white saree with zari and bead-work never fails to stun, but Samantha's customized saree is very special in an equally unique manner. The saree was completely customized for Samantha, and the embroidery comprised of imagery of special moments shared by Samantha and her husband, Telugu film star, Nagachaithanya. The dedication and love witnessed here is beyond words.