Pre wedding shoots are all the rage. There's no better way to kick start your wedded life, than a fun filled photo shoot. Why the hype? Because they're exactly what you want them to be! Wedding photography can get a bit formal, but with pre-wedding shoots, it's a much more private affair, and the floor is entirely yours. Creativity knows no bounds and there are hardly any limits when it comes to pre wedding shoots. Here are some incredibly fun and creative props that you could use for your pre wedding shoot.
Light It Up With Lamps
Thinking of having an evening shoot for a dramatic set of photographs? Maximize on the drama with some incandescent bulbs or streamers of fairy lights. The soft warm glow definitely has an old world charm that brings out the best in photographs. Added lighting creates for such great ambience for photo shoots. And with the vast array of lighting options out there, you have an endless list of lamps to toy around with.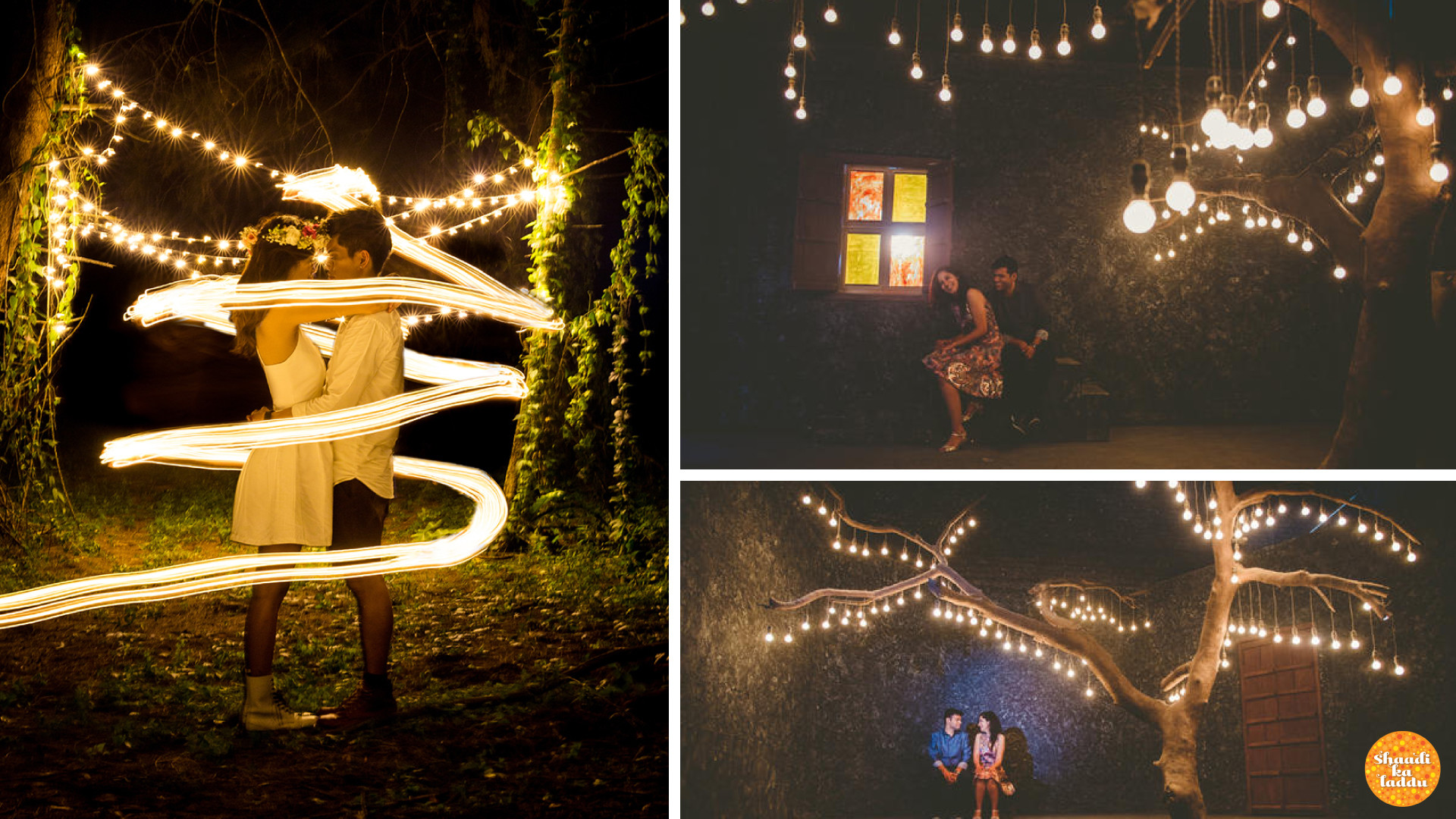 Bubbling With Love And Laughter
Nothing says fun quite like bubbles do. Bubbles floating in the air, and them ppoping just when you touch it are all reminiscent of simple childhood joys. Why not reflect the simplicity of joy by using bubbles in your pre wedding photo shoot concept. They're fun, they're easy to handle, and barely cost anything (we might have just found the ideal prop!)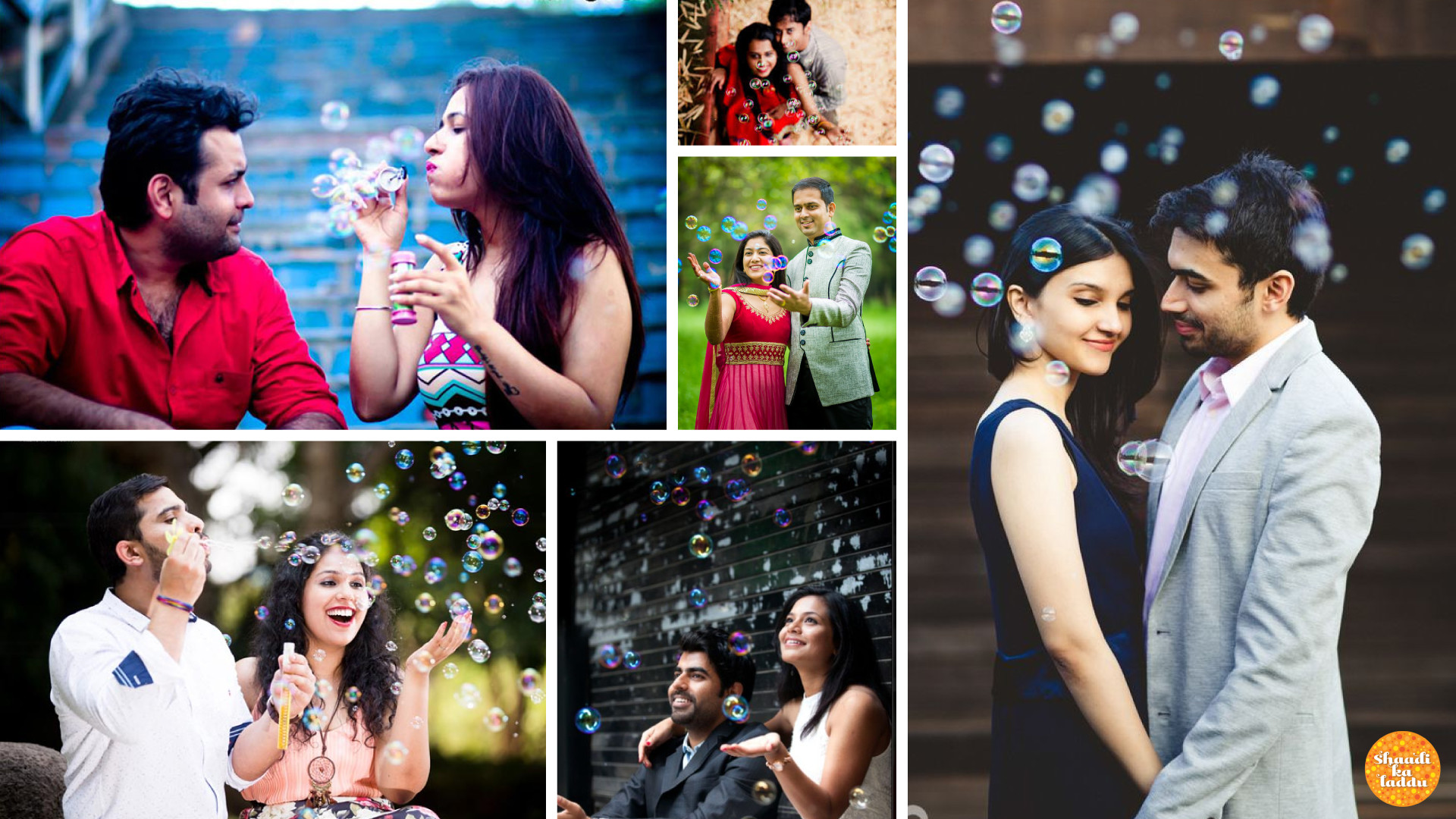 Flower Power
Weddings are synonymous with flowers and yes, you would have seen enough flowers for a lifetime by the time you're through with the entire wedding. But, we just can't get ourselves to do away with bouquets as a wedding prop. Flowers are quintessential to any wedding. Flowers stand for anything positive, and their bright and cheery presence can liven up any situation. Try thinking of innovative bouquets, or other floral arrangements as props to be used.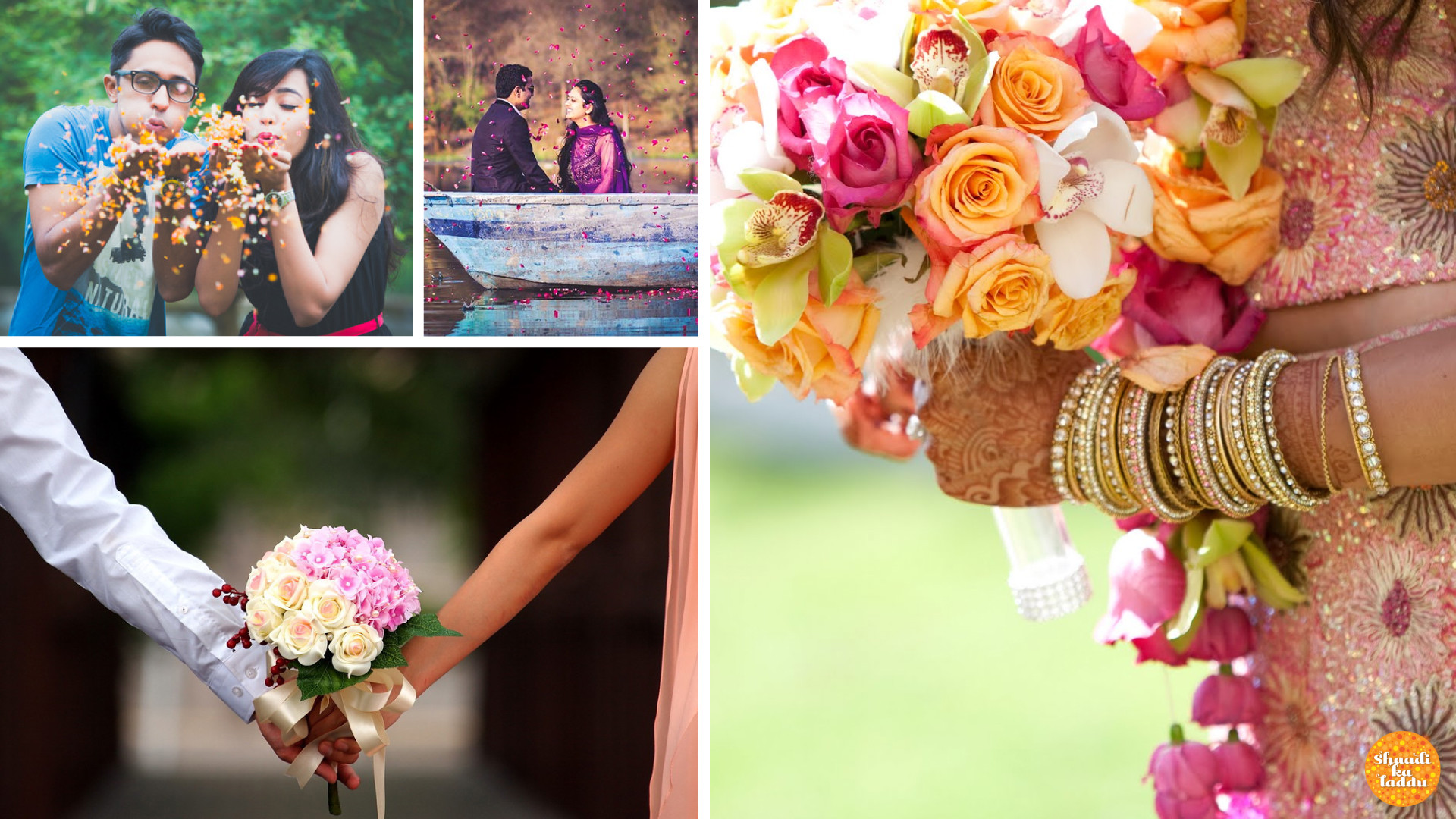 Your Family And Other Animals
We hate to call them mere props, but having animals in your pre wedding shoot is a wonderful idea! Why not bring along your family pooch for the shoot and make the photoshoot an even more fun process. Or think of a destination shoot in say, Rajasthan, with camels in the background – this already is beginning to sound like an idyllic setting for a photoshoot. You could even arrange for pictures to be taken in a public aquarium with fish swimming in the background.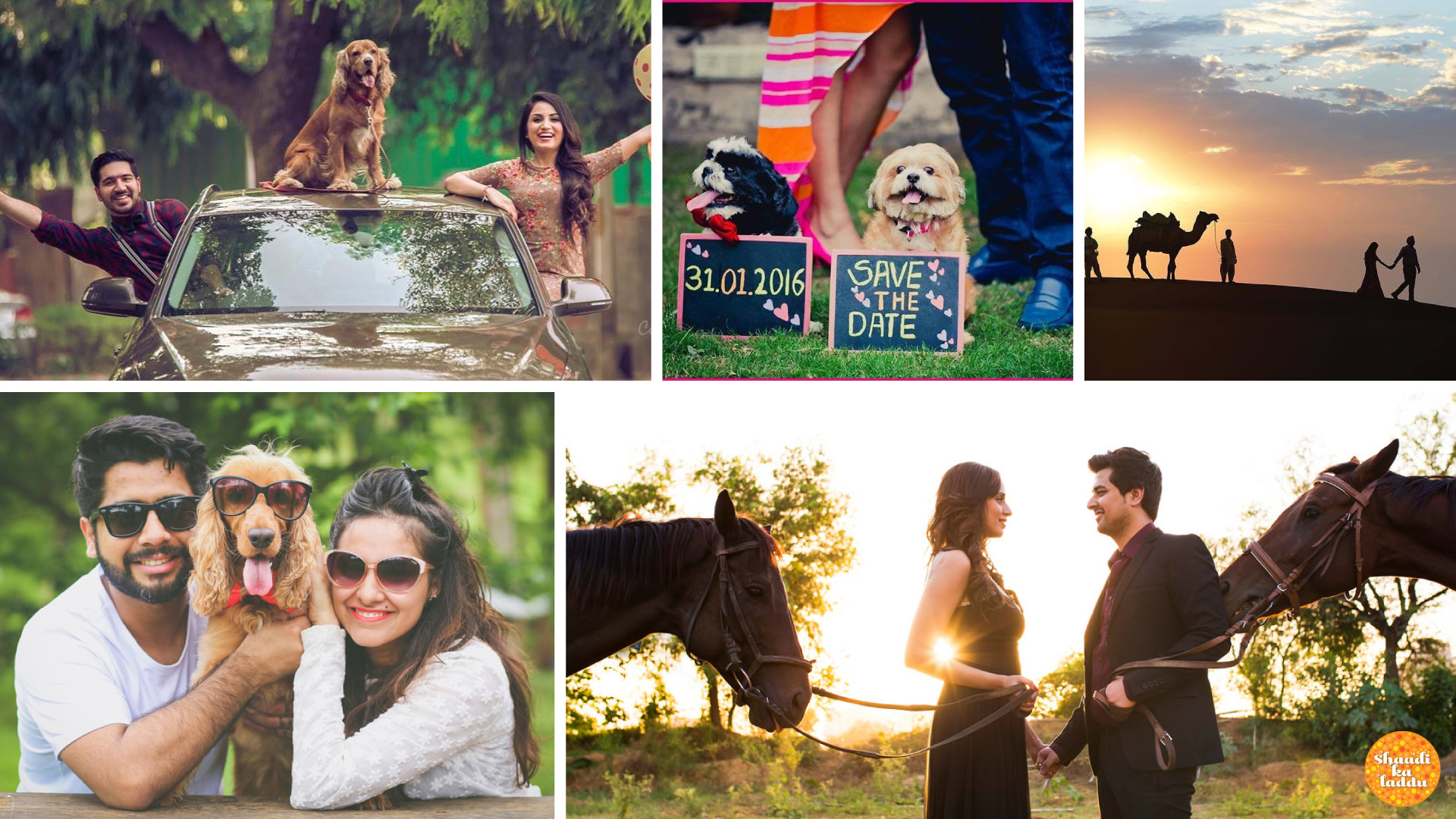 Color Bombs
Color bombs are currently in, and we absolutely love the effect they create. An enormous cloud of color surrounding you putting you in a surreal atmosphere, is a great idea for a pre wedding shoot. Think of using them in every manner possible. Have color bombs go off in the background, hold them and twirl around to create your own color cocoon, or just leave behind a seemingly endless trail of hues – whatever you do, you can quite literally have a blast!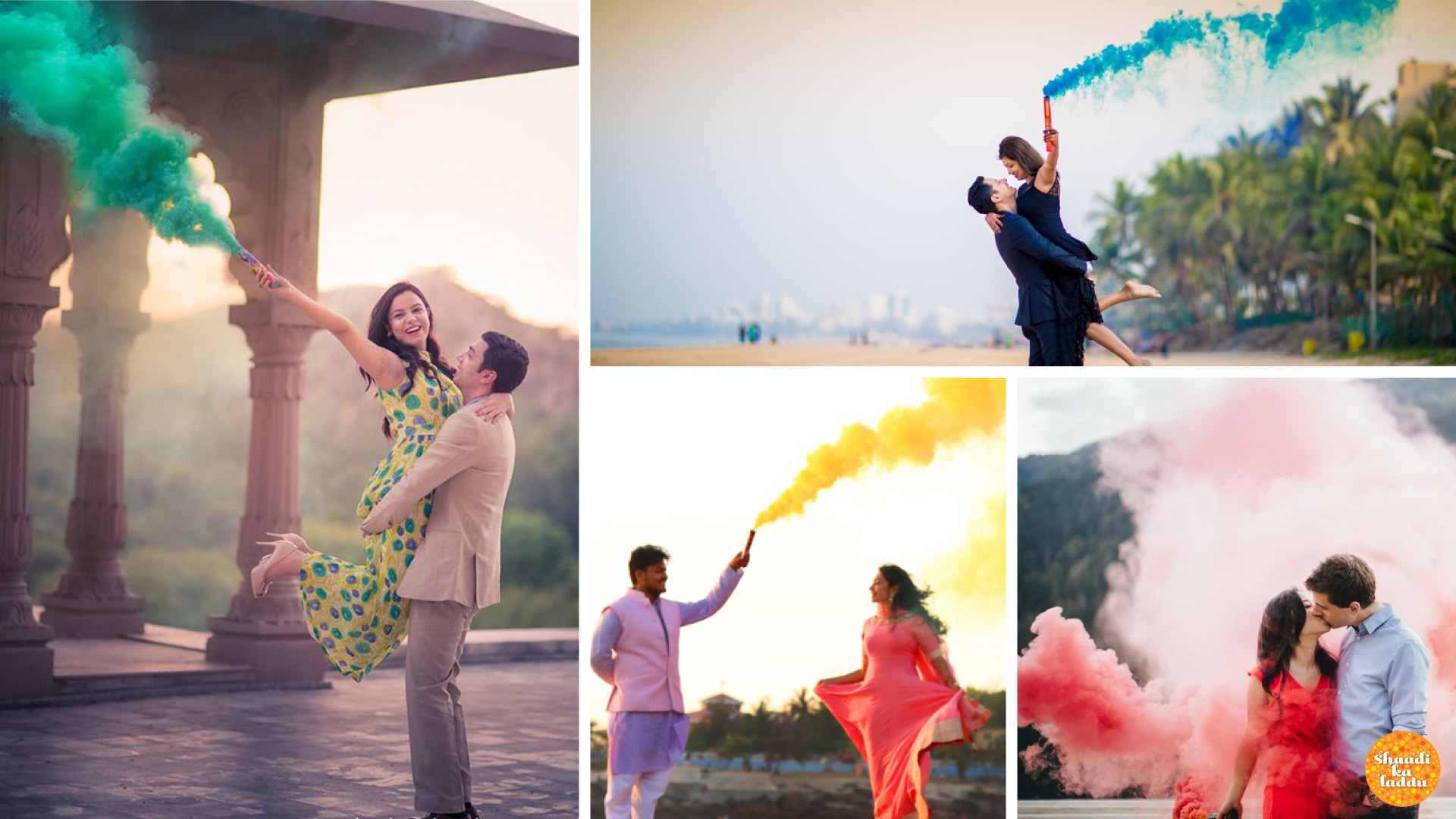 Balloons Of Every Colour
Balloons are undoubtedly the ideal party prop. Lightweight, easy to handle, and such a pleasant sight – balloons always bring back memories of the simple joys of childhood. Having balloons in your photoshoot will keep the mood light, casual, and sprightly. Not to forget, balloons are fun to have around for people of all ages. Somehow the irresistibility of balloons despite them being oh so common, is probably what make them such a great prop to work with.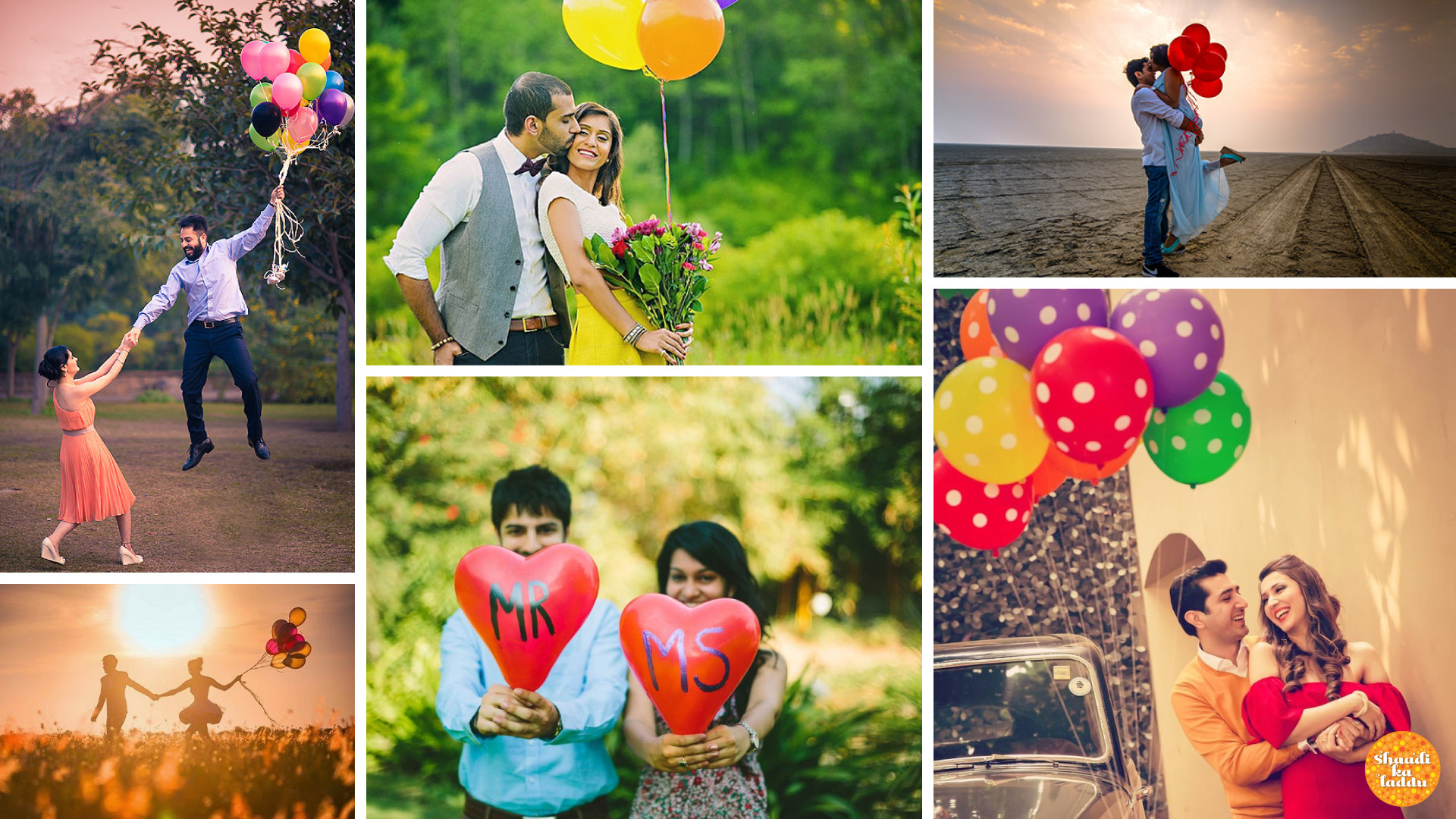 Out To Sea
While you plan on smooth sailing into wedded bliss, why not actually sail a bit for your pre wedding shoot? Boats are a quirky, and fun prop that are doing the rounds of pre wedding shoot concepts. Romantic and dreamlike, they create a wonderful ambience, quite like a fairy tale setting.