Every bride needs a perfect hairstyle that ties together their ensemble for the various wedding ceremonies, perfectly complementing each outfit. We bet you've spent days on figuring out which lehenga, dupatta, jewels and heels you will wear to your mehendi, but your hairstyle matters just as much! Be it a simple braid or an elaborate bun, here are some beautiful hairdos that'll emphasize your mehendi look with very little effort.
1. Messy Fishtail Braid
It never goes wrong with flowers and a simple loose fishtail braid. Decorate your loose braid with tiny flowers to match your attire, or keep it simple with white and yellow daisies which will complement your jewellery. You can even turn your side locks into loose curls and carry your braid on one side. To complete the look, wear a heavy mangtika or matha patti that goes with your outfit. It's the perfect in-between of casual and dressy!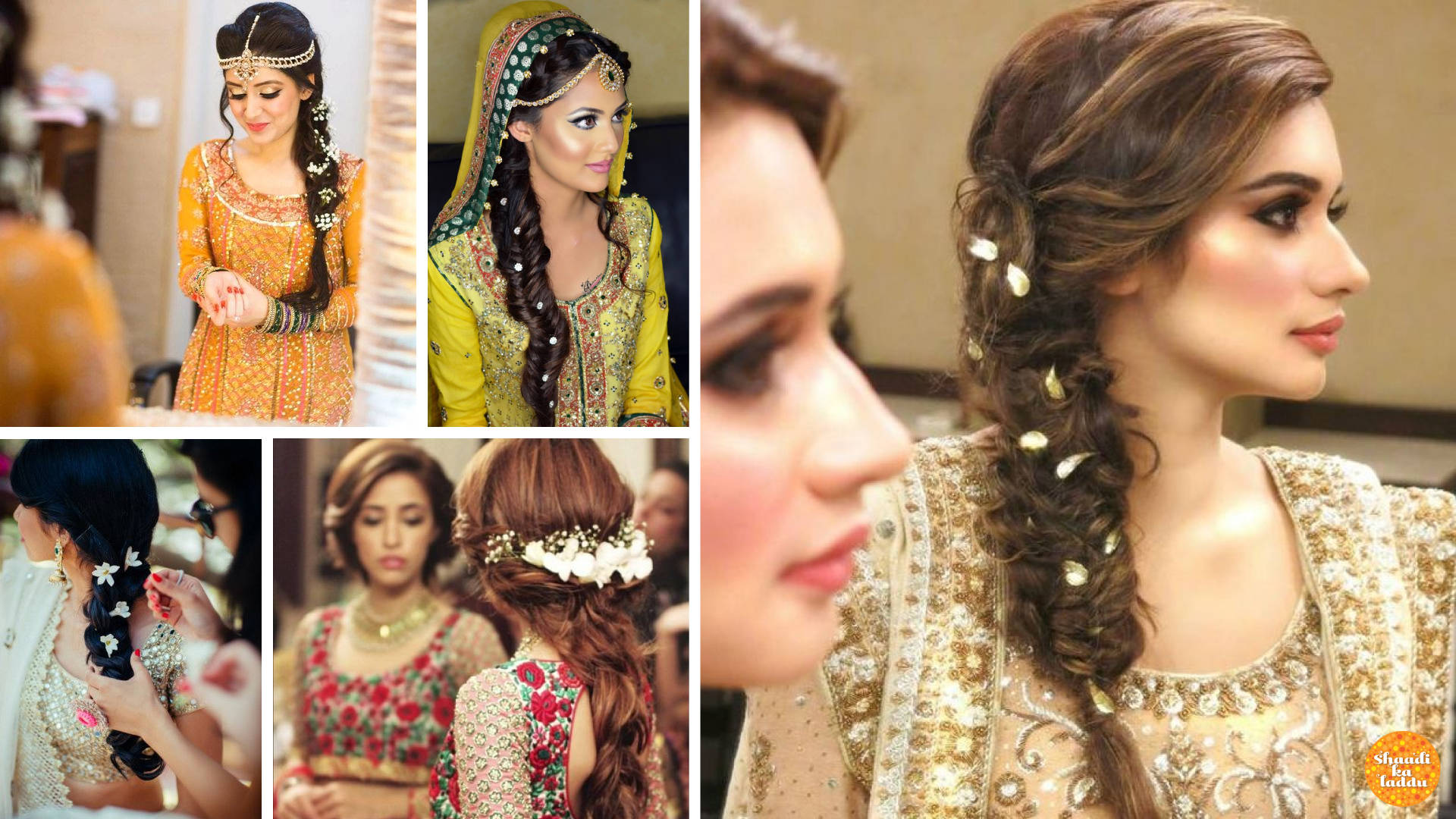 2. Traditional Gajra Braid
Looking to err on the side of tradition? Weave your hair into a tight braid, lining it with gajra all the way to the tip. The heavenly smell of mogra flowers never go out of fashion and its white colour would form a beautiful contrast with your traditional outfit. Accessorise with real Flower Maang tika and let the refreshing fragrance of your mehendi and mogra linger all around you.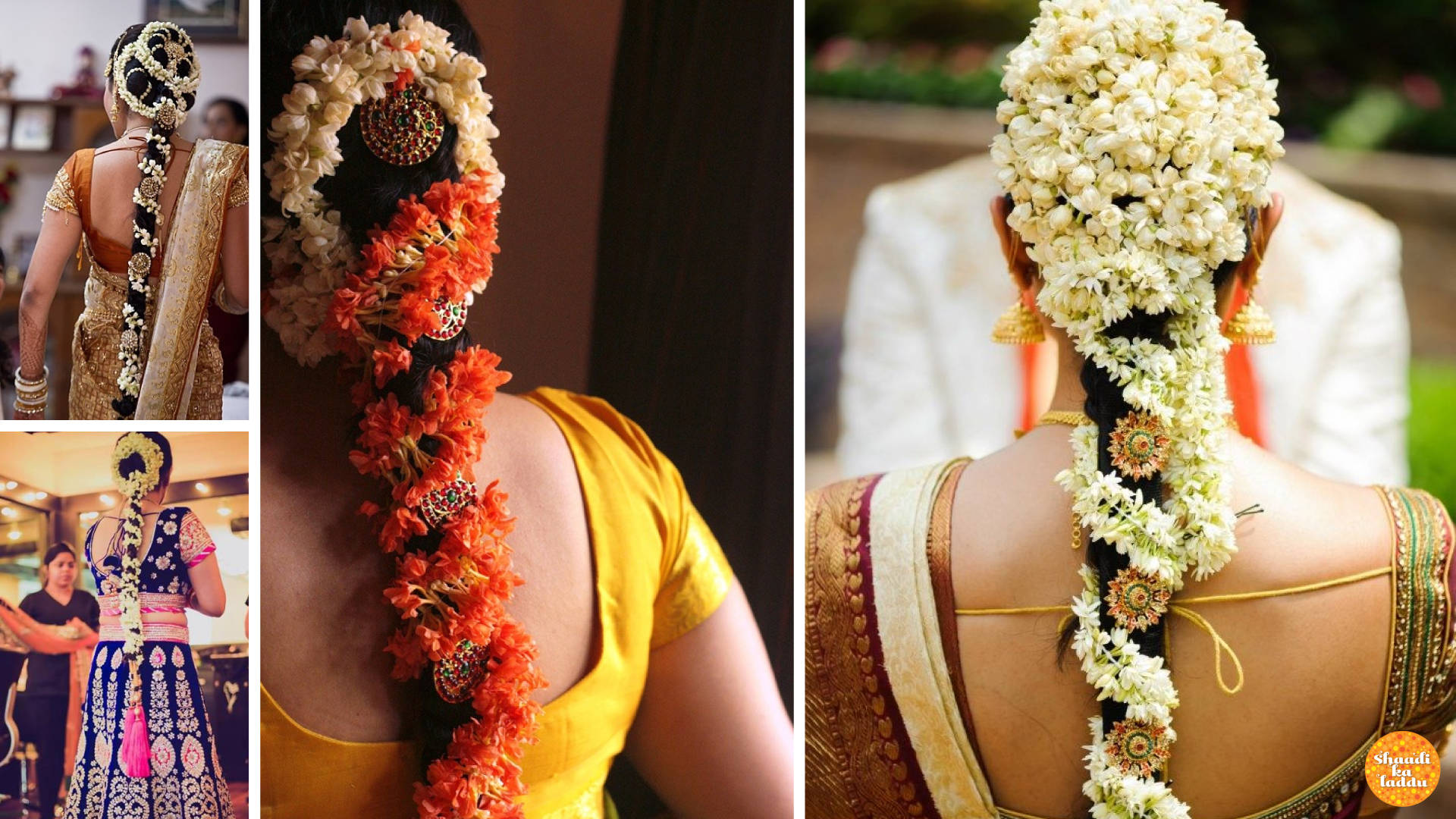 3. Side braids and Flower Bun
Buns are a saviour when you cannot handle loose hair; thank us later for rescuing you from the distracting strands. Loosely braid your hair from the sides and tie them together at the back. Then roll it upwards and roll them together to create a flower. Embellish your braids and low flower bun with tiny flowers and there you go brides, you have your very own tiara! Plus point, it will not loosen or fall for the entire length of the ceremony.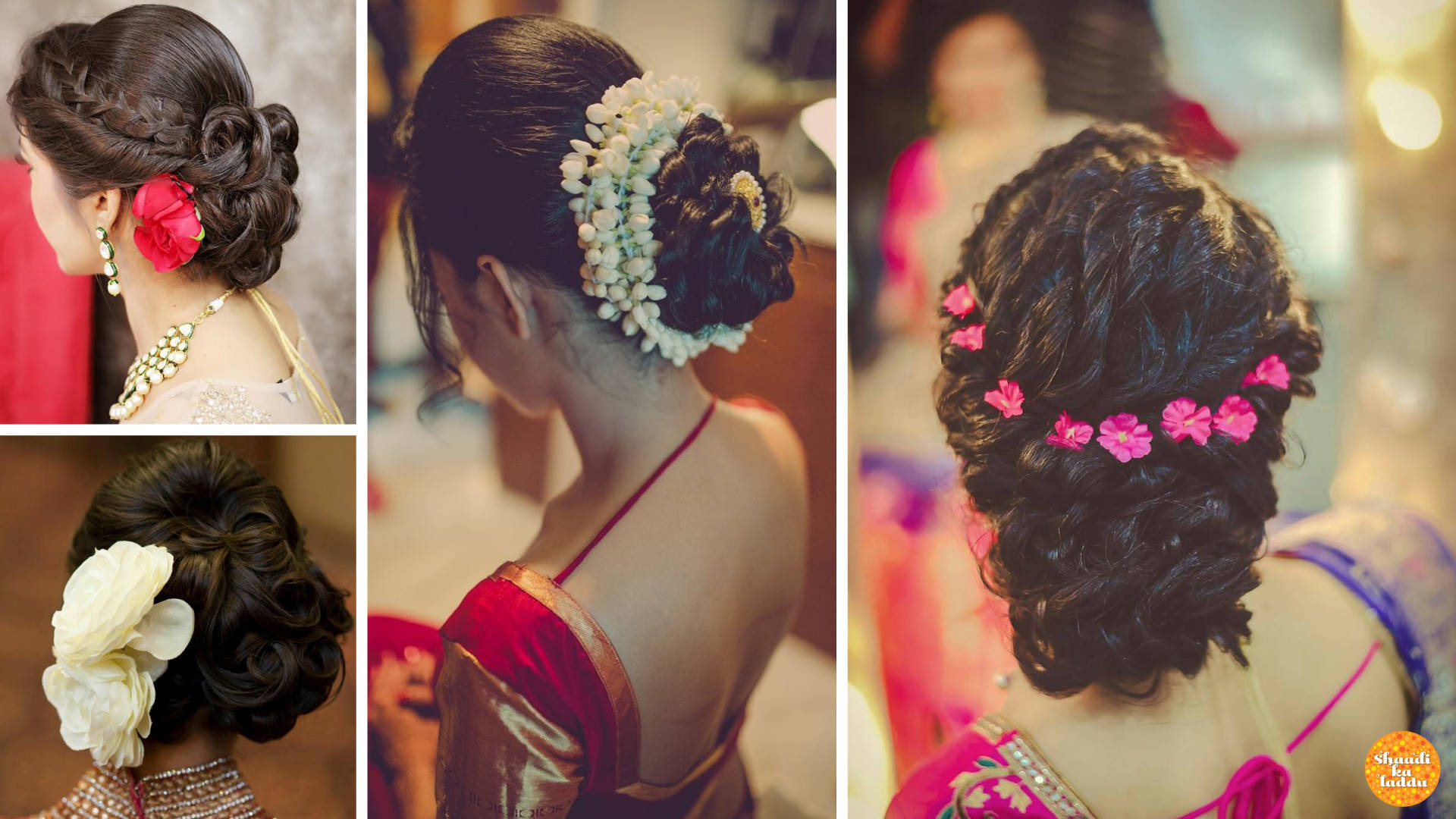 4. Wavy hair with Real Flower Tiara
Modern, a little retro with a touch of funk, let your hair open and adorn a floral crown! Brought into the fore by Bipasha Basu this year, string together your favourite flowers and wear your very own tiara. If you're looking to spice it up a step further, add temporary highlights to match your ensemble. The throne of the Queen awaits, but the days of being a princess are still not over, so enjoy!
5. Side Swept Curls
Part your hair sideways and curl them about two-thirds from the tip. Use a few bobby pins or a decorative slider to keep them tucked together. Clip a bunch of sweet smelling roses or lilies on either in the back or off-centre, and you're done!
6. Middle-Parted Twisted Bun
Part your hair and elegantly twist the side locks, tying them together at the back of your head. Make a low bun out of the loose hair and wear a gajra around it. Pair with large and dressy jhumkhas to complete the look.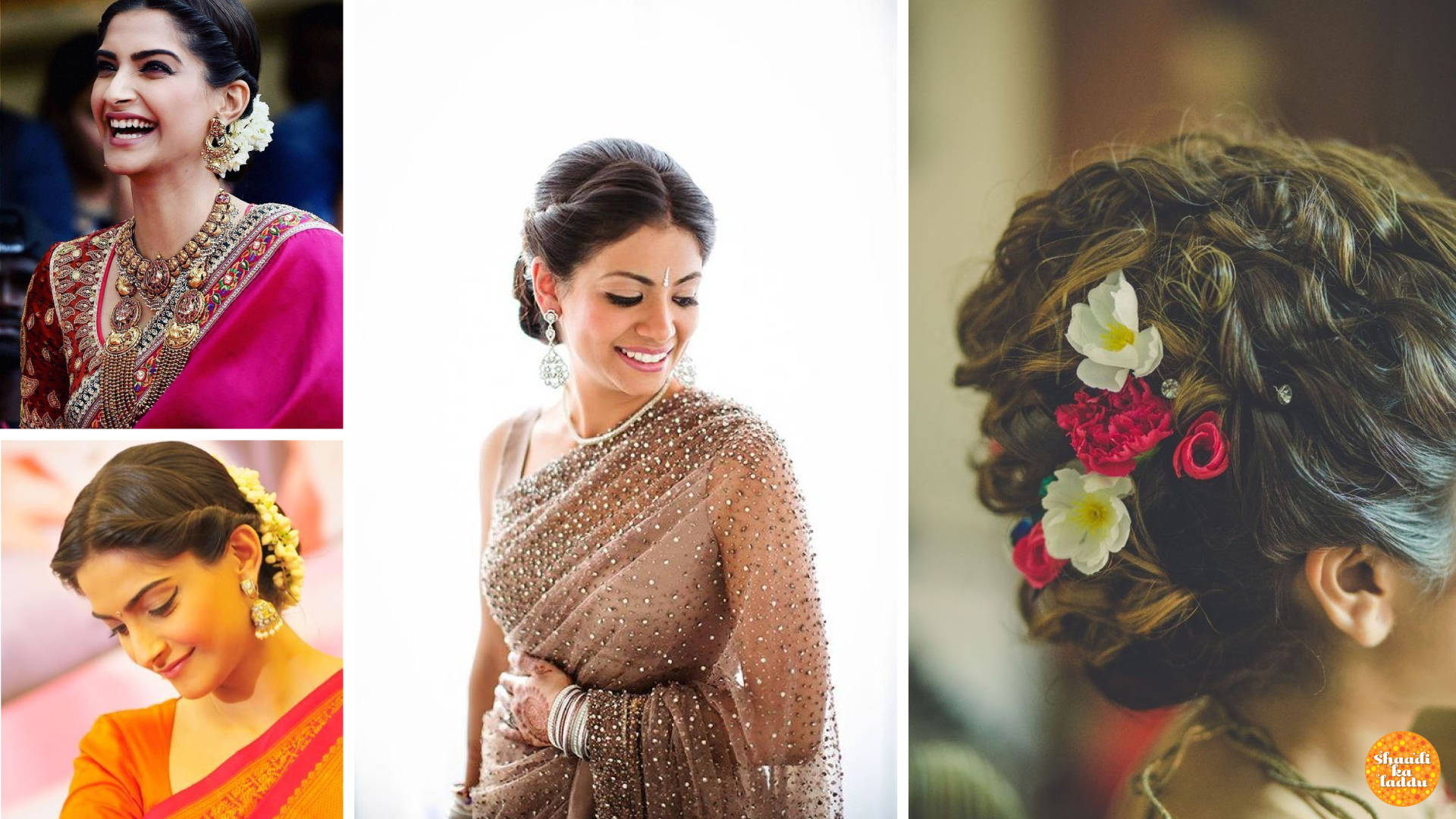 7. French Braid Studded With Flowers
A puffy French braid is simple and graceful. Tuck small Jasmine flowers in every knot to bring the best of the hairdo. Easy to handle and a sure way to keep your locks out of your eyes and face, if you have long hair then we definitely recommend this hair-do to leave you free and unhindered for your mehendi.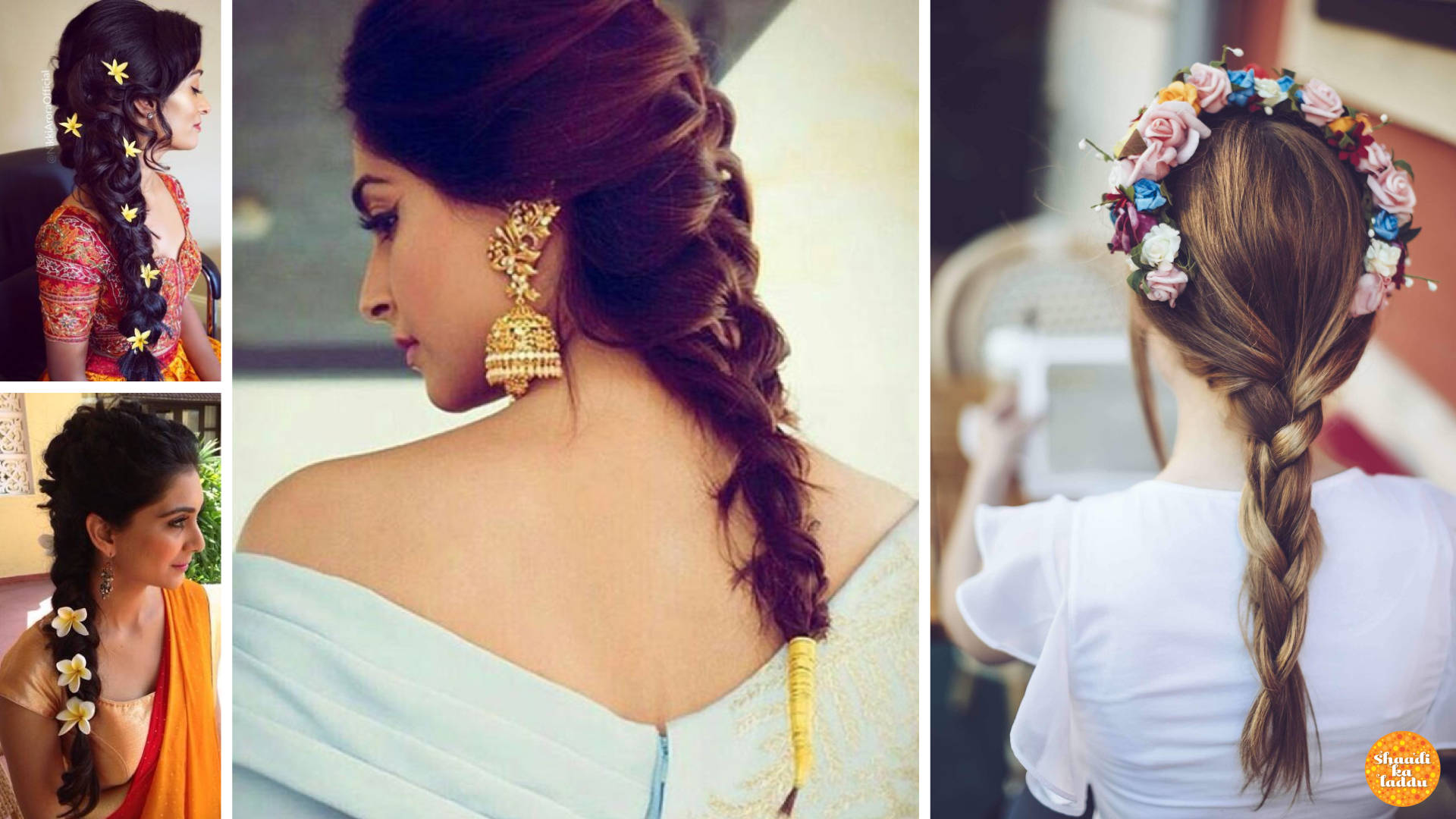 8. Rosy Ringlet Bun
Nothing goes wrong when you decide to wear roses in your hair. Tie your hair into a ponytail and roll all the hair into it to form a bunch of ringlets. Decorate your bun with some roses to add a splash of colour.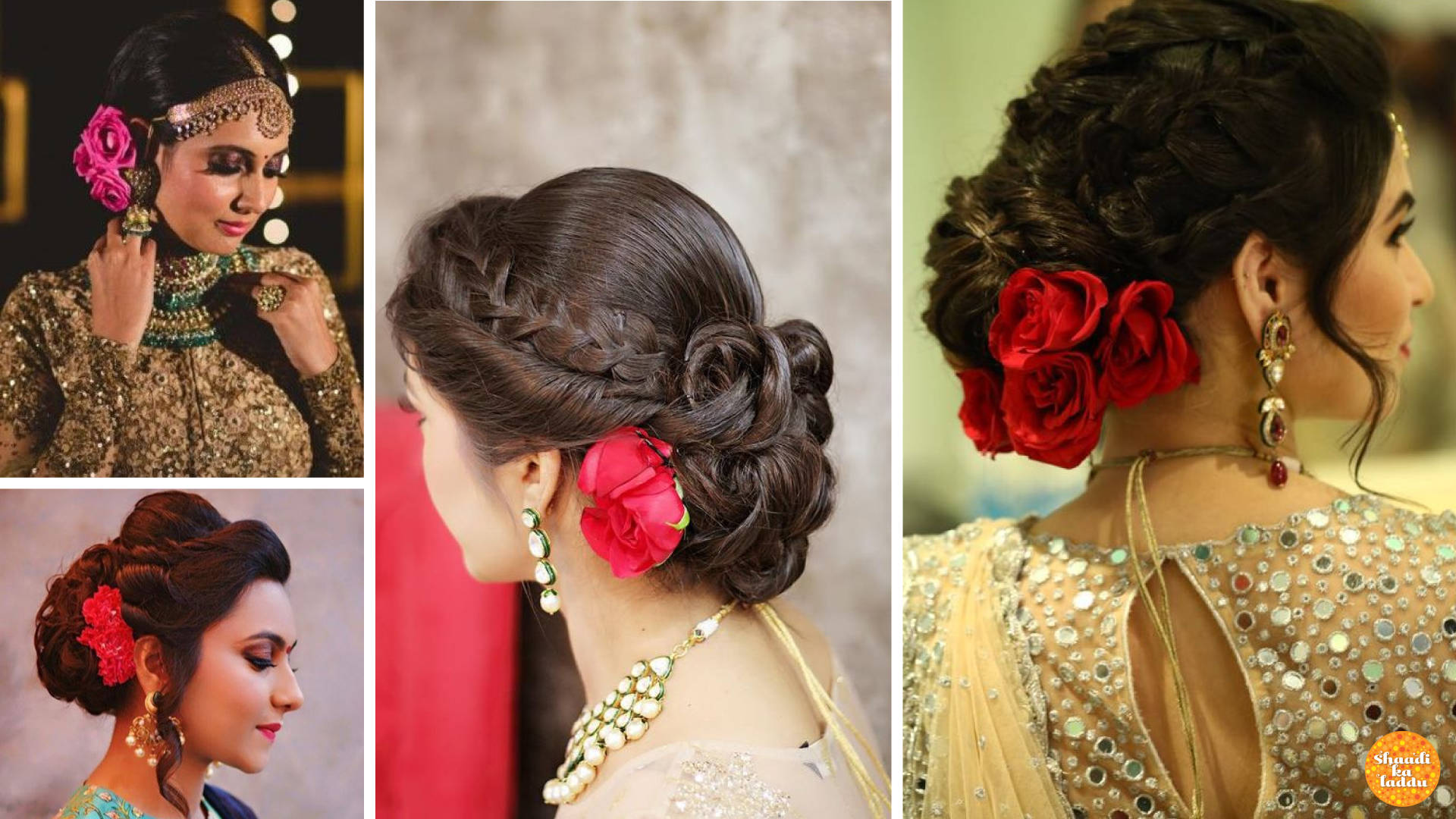 9. Low Messy Bun
Help yourself with a low messy bun and a few loose hair strands to get a hot and sexy look. Decorate your bun with wax or jewelled flowers on bobby pins, keeping the hairdo fool-proof but gorgeous!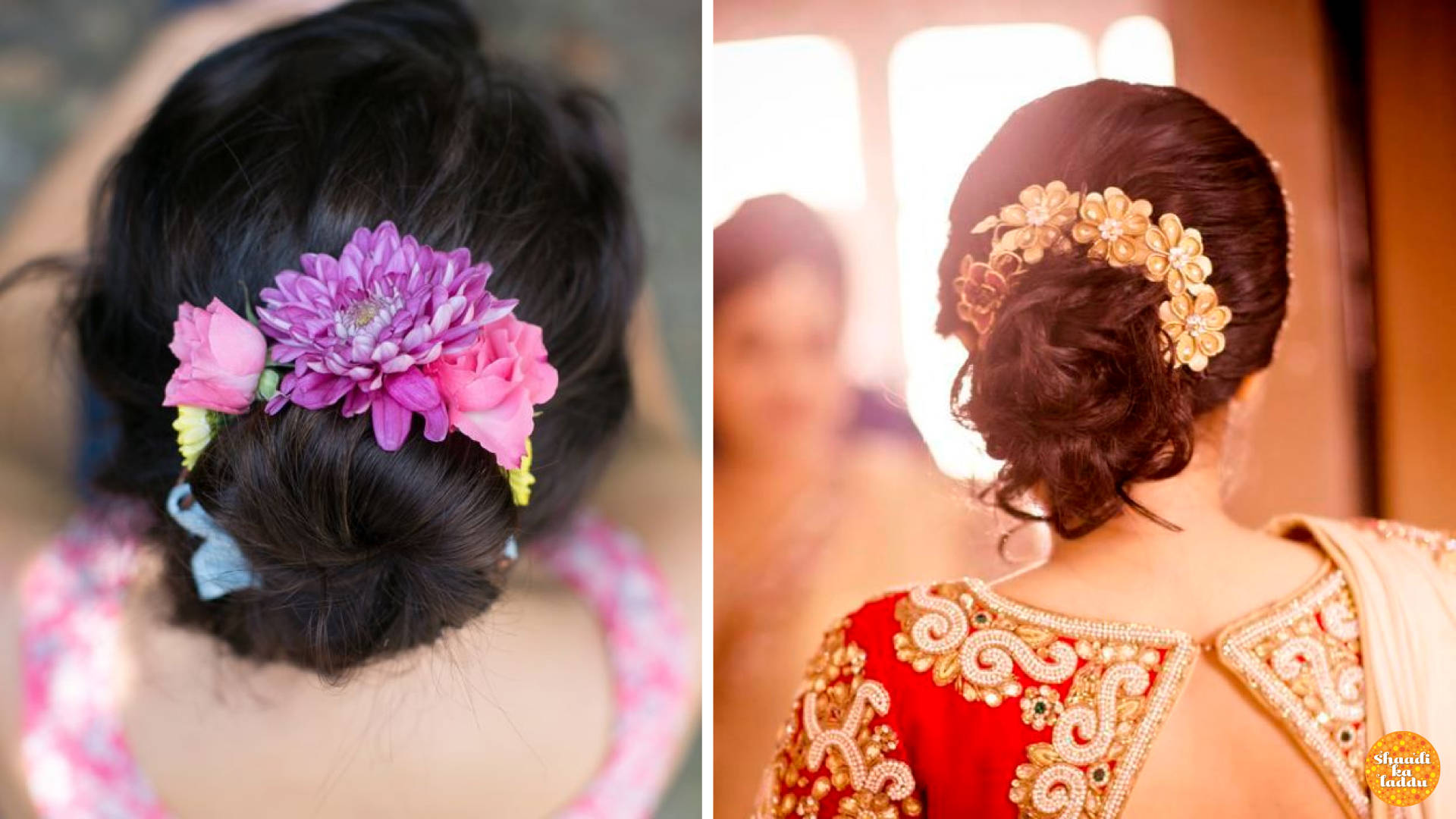 10. Open Soft Curls
Leave the hair simple and let the flower do all the work! It may seem a tad too casual, but leaving your hair loose and complementing it with a large flower with vibrant hues tucked behind your ear can also do the trick. Considering an ensemble that is jewel heavy, test this style in front of the mirror and see if it works for you before diving into elaborate curls and braids.