The elected oracle-equivalent for colour, Pantone, has spoken and has revealed to us that the colour which best defines the year 2018 is Ultraviolet. Pantone's choices have risen to a stature respected by all and for good reason. Their colour of the year is not just a trend— it is symbolic of the direction in which the world is moving and it reflects a current mood of the society.
Complex, contemplative, individualistic, nuanced, unconventional, ingenious and unique are some of the sentiments Pantone has used to describe Ultraviolet.
If we are choosing to follow in the footsteps of Pantone, we must follow them in full knowledge. Ultraviolet is a bold colour and should be used in a thoughtful, creative, selective, and careful manner. This being said, Ultraviolet is a team player and works wonderfully when paired with elements and in combinations! To paraphrase Pantone, sky is the limit when it comes to this colour and here are a few of the many ways you can utilize this colour at you wedding.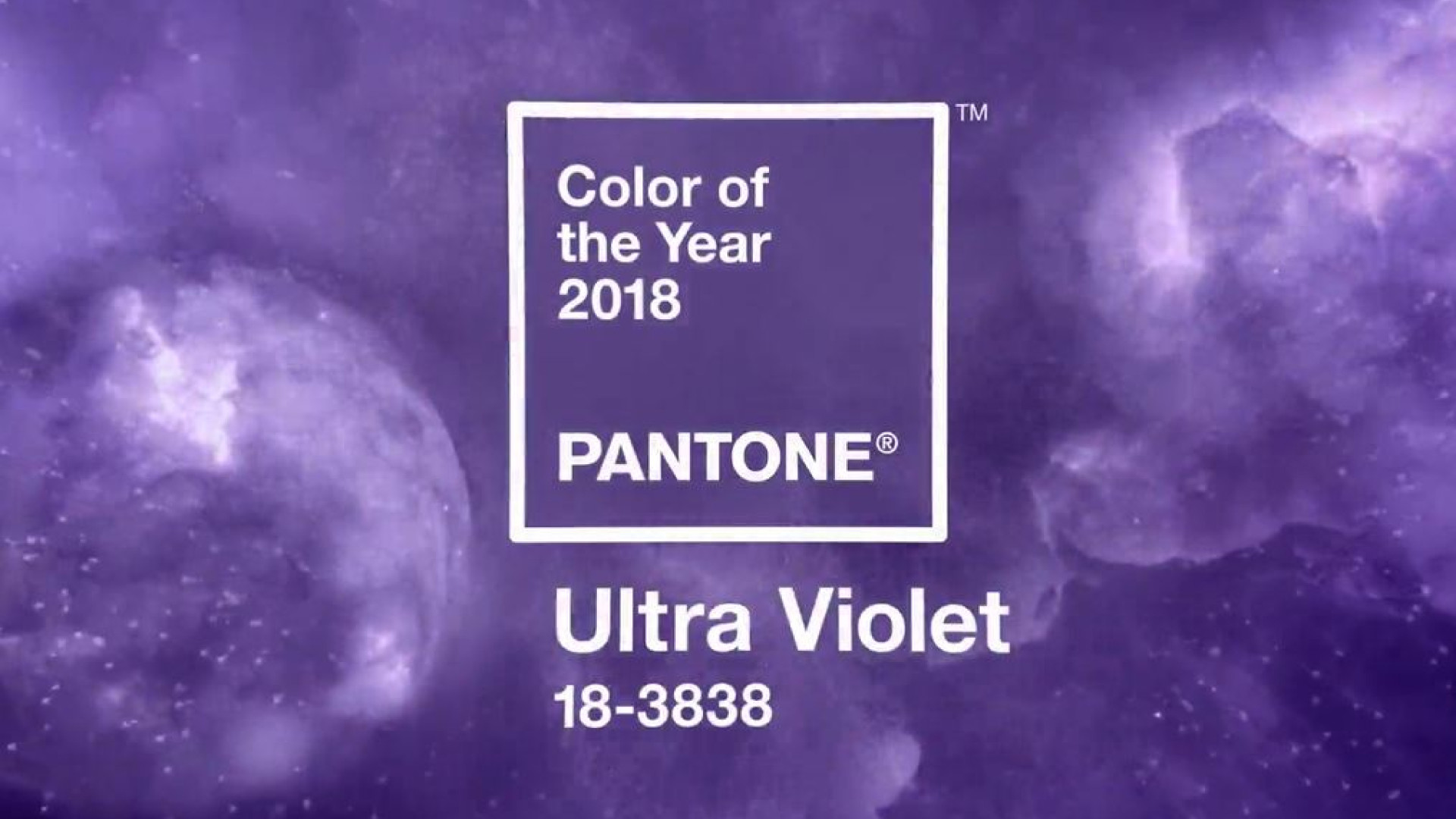 Flower Arrangements
Flowers are one of the most adaptable additions to a wedding ensemble. From the wonderful winter roses which are now accessible in a variety of colours and accents, from blue and violets to even—you guessed it—ultraviolet – to orchids and chrysanthemums with violet accents, there is quite a variety to choose from. Other slightly exotic or off-beat flowers which work well with ultraviolet are lilies, dahlias, tulips, peonies, bougainvillea and sunflowers. Here are some combinations you can try when it comes to flower arrangements.
Winter Bouquets
Since ultraviolet is a team player you could take it to the next level by adding a lot of muted tones and subtle variation. Look out for flowers with colours like mauve, deep purples, lilacs, accented pinks. A violet rose, fillers like interesting leaves, wild lilac chrysanthemums and an off-beat basil flowers – each one can have a part to play.
A Play Of Contrasts
While the conventional way to go about this would be to pair the ultraviolet with a white but instead, pair ultraviolet with a colour from the opposite side of the colour-wheel – a stunning yellow ochre for example. The colours of the passion flower can be a great inspiration!
Standalone
Using a single type of flower in ultraviolet, as a bunch or a singlet can also work.
You could use these combinations in other manners too: string them up to create a curtain or streamers to accent other aspects of the décor. Lastly, the traditions of throwing flower petals at the happy couple as the mangal sutra is tied is another great way to incorporate a little ultraviolet, mixed up with yellow and orange marigold.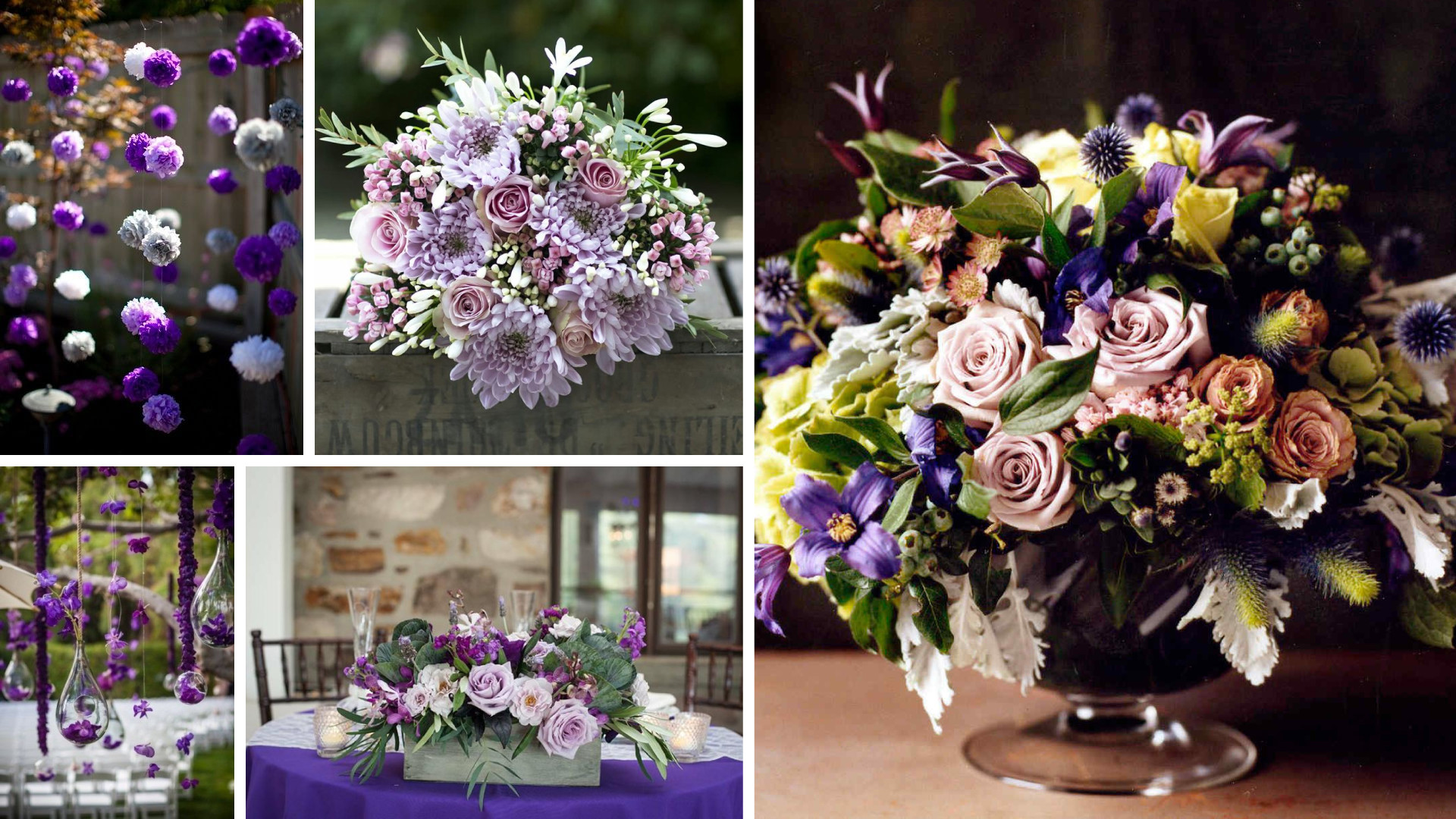 Décor / Furnishing, Linens and Accessories
Use colour blocking selectively: choose a few items and make them a solid ultraviolet colour. Now choose a neutral colour like white and alternate! An ultraviolet tablecloth with white chairs and napkins for example. Add dip dyed candles in the same combination while the cutlery could be of a pleasant pastel colour and viola! – you have yourself a splash of 2018's pantone in your wedding.
You can even have accents of ultraviolet by adding purely decorative objects – especially when it comes to décor that is more eclectic and modern, with knick-knacks, plaques and quirky additions.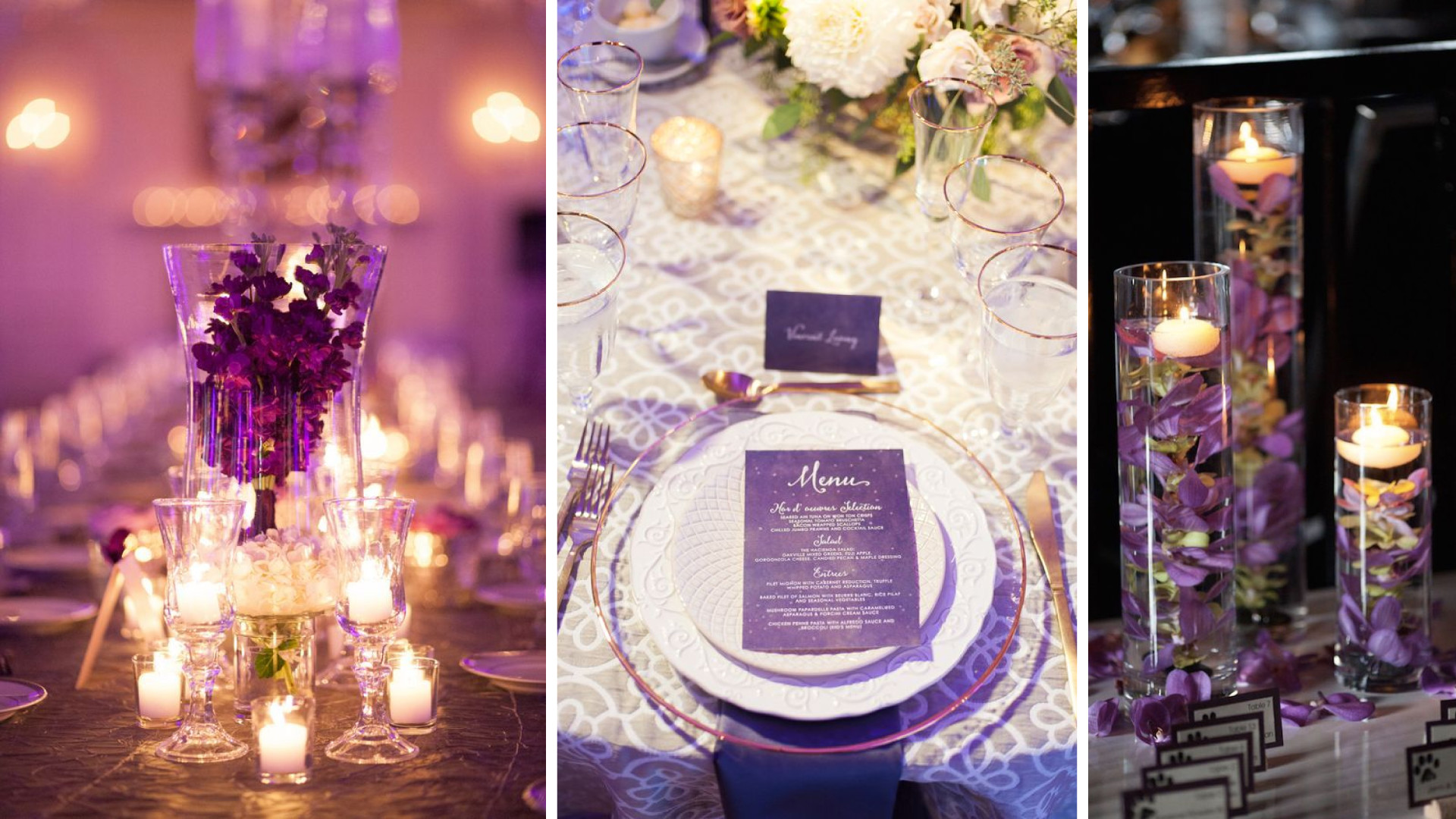 Edible Ultraviolet
The world of fruits, vegetables and flavour is rich with variety when it comes to the hues of ultraviolet. From a purple cabbage salad to a plum cake, just by tweaking these edibles slightly, you can relish the hue!
From blueberries, blackberries to plums and currants, their sweet and sour tastes, are a lovely way to introduce the colour through desserts and drinks.
You could also use edible flowers and food colouring for a unique presentation. These two options are a great way to combine flavour, colour and presentation.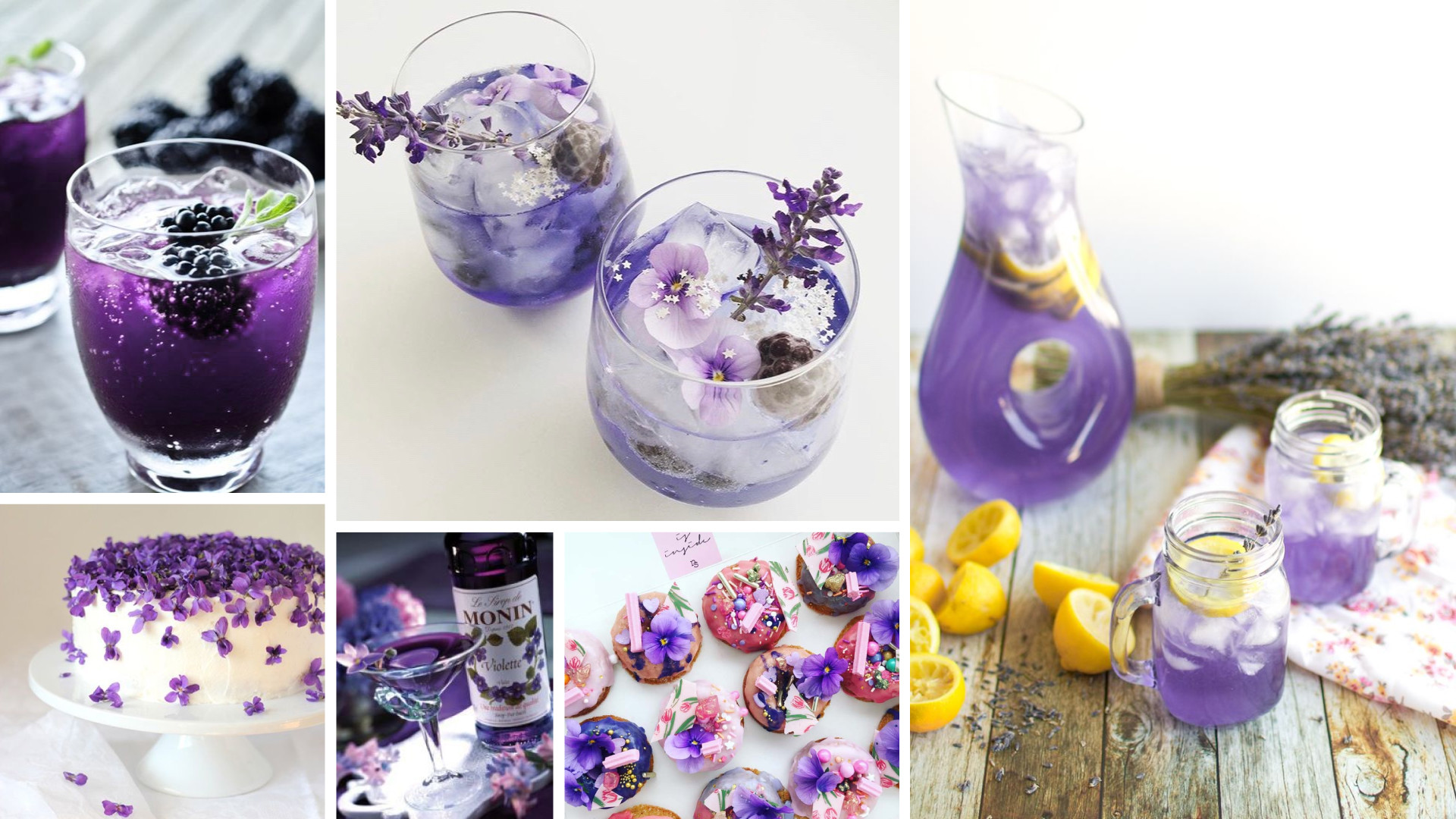 Lighting
Pantone mentions how purple toned lighting in places of gathering inspires synergy and activity, evoking positivity. Keeping this in mind, lighting is one place where ultraviolet can have its ultimate moment. Introduce an ultraviolet ambience which will engulf the crowd in the most outwardly celebratory moment in the wedding—the dance floor!
Additionally, you could use contrasting colours in the décor. For example have gamboge and saffron toned flowers (like calla lilies wall decoration). Or add hints of rust in the lighting here and there. This will balance out light and makes sure the décor holds its own when the party takes over.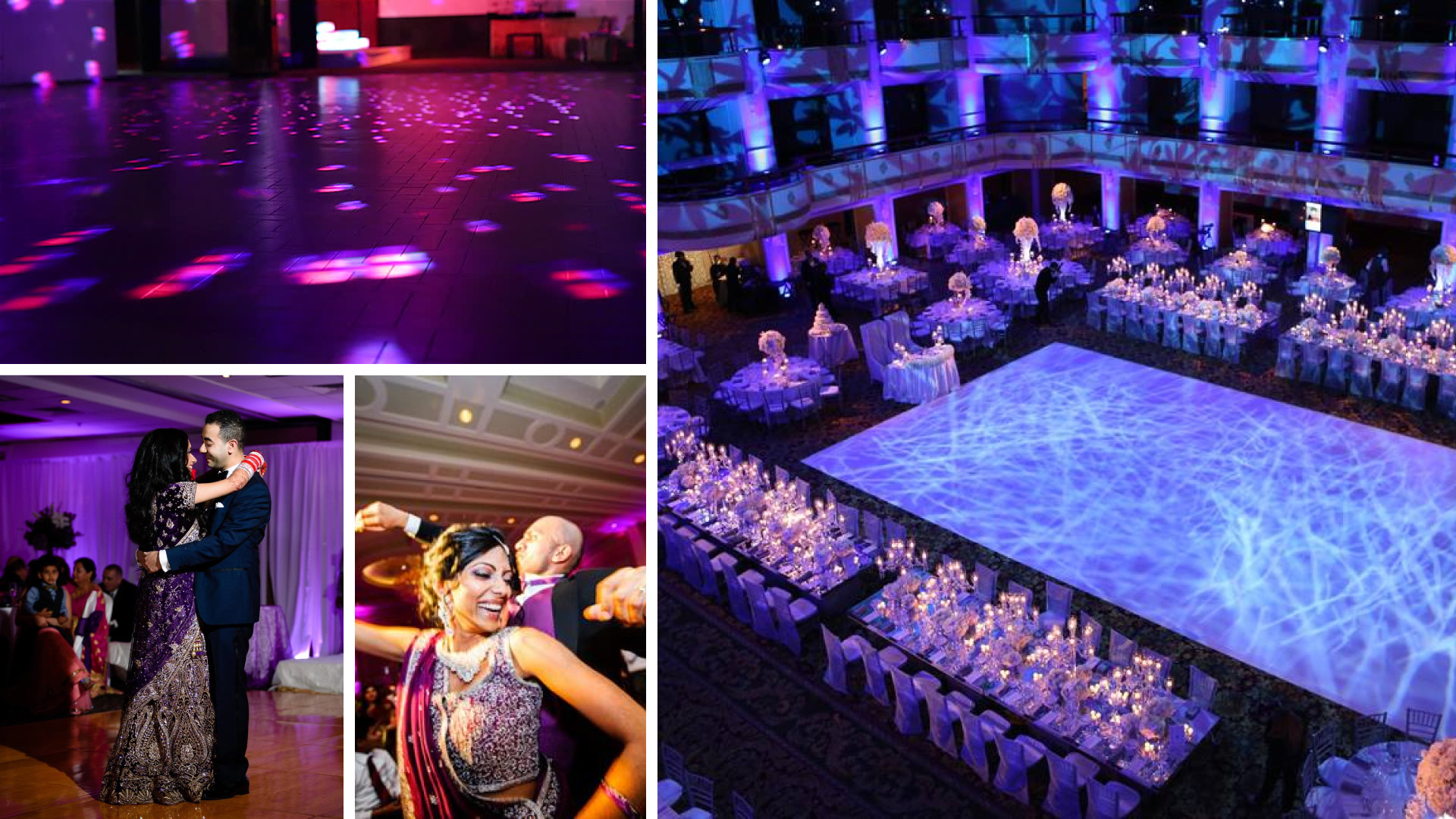 Wedding Ensemble
The Dress Itself
You could be unconventional and sporting by donning an ensemble with shades and tones of ultraviolet. But if your ensemble has one or two carefully created elements with a strong presence of the colour, it gives ultraviolet a moment to shine. Bead-work and embroidery is another option for accents.
Ornaments and Accessories
A finely made maang tikka or brooch which holds its presence would give an edge like no other. The stones which fit the bill most aptly would of course be the amethyst. But since you need to amp-up the glamour at an Indian wedding, you can pair the colour of the moment with pearls and diamonds – and emerald, rubies and jade for contrast and compliments.
Last but not least, flowers in the hair. You could be delicate here and add gajras or string flowers with your hair –  or be completely out there by sporting a headdress or head band featuring the glowing pantone!